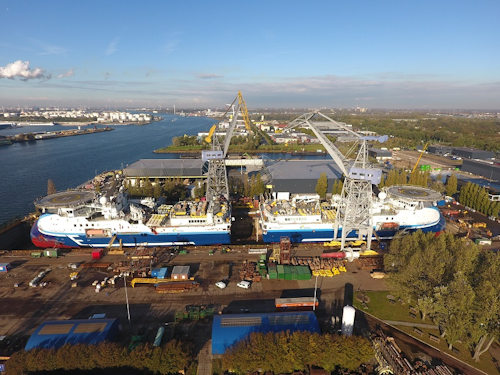 Offshore staff
GORINCHEM, the Netherlands– The Oceanic Sirius and Oceanic Vega have completed a round-the-clock, 10-day maintenance program at Damen Shiprepair Amsterdam (DSAm).
For eight of those days the two 106-m (348-ft) vessels were in the yard's 250-m (820-ft) drydock no.4 in a tandem arrangement, to maximize the efficient use of resources. The twin SX120 type seismic research vessels are owned by CGG Eidesvik Ship Management AS, a joint venture between Eidesvik Offshore and CGG.
The primary reason for their visit to DSAm was to have a series of repairs and upgrades as well as their hulls cleaned and repainted. The repairs and upgrades included maintenance on the propeller nozzles of both vessels and, by tenting the area around the propellers, DSAm was able to undertake the work without interrupting or delaying the paintworks. This helped minimize valuable time spent at the yard.
The two vessels departed the shipyard on Nov. 4.
12/21/2018