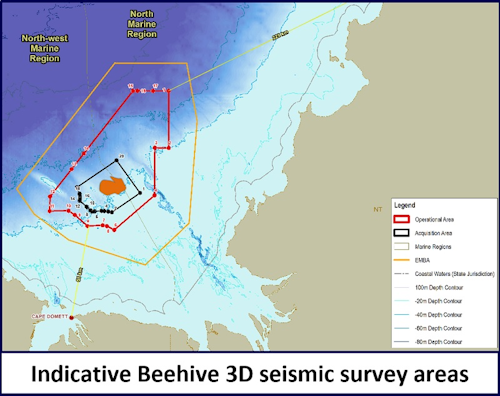 Offshore staff
MELBOURNE, Australia – Melbana Energy has contracted Polarcus for the 3D seismic survey over the Beehive prospect in the Joseph Bonaparte Gulf, 225 km (15.5 mi) southwest of Darwin.
Santos will operate the survey and co-fund it with Total, pursuant to a recently operations services agreement.
Melbana, which is carried for the program, expects acquisition to start next month and to finish before the end of August.
It will cover around 600 sq km (231 sq mi) with a larger operational area around it to allow for vessel turns and testing of equipment.
Results should help de-risk the potentially giant Beehive prospect and will simplify selection of the location for the Beehive-1 exploration well.
06/08/2018