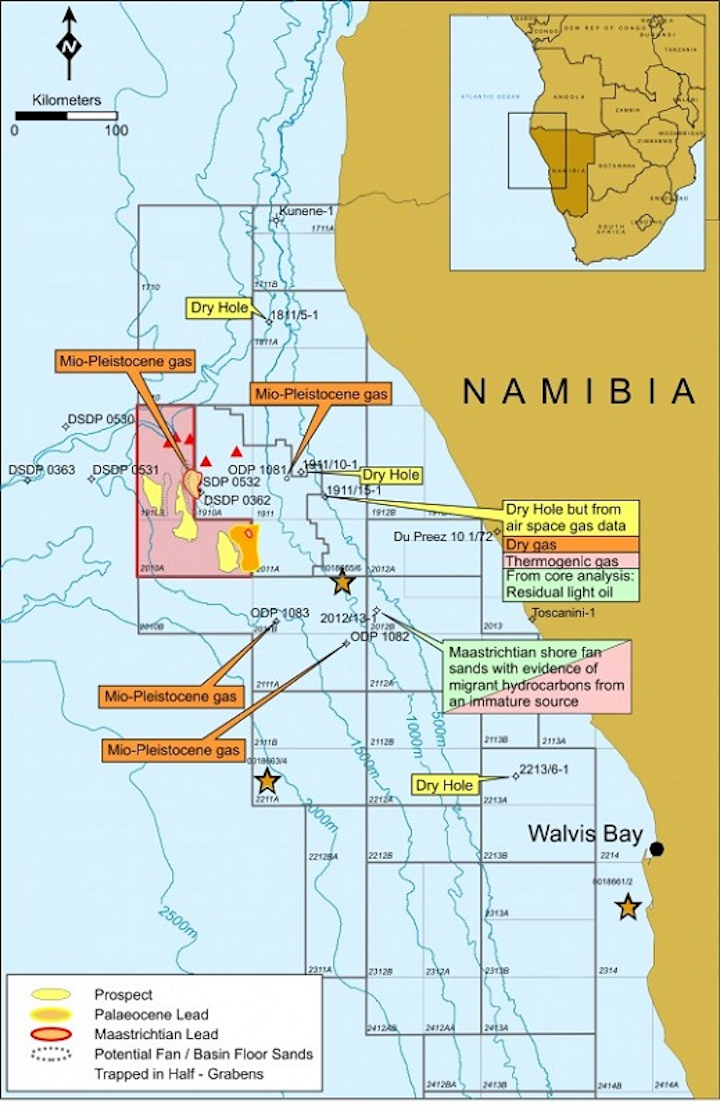 Offshore staff
BRISBANE, Australia – Global Petroleum subsidiary, Jupiter Petroleum (Namibia) has secured an extension to Dec. 3, 2018 for the first renewal exploration period for a license in the Walvis basin offshore Namibia.
Petroleum exploration license No. 29 covers blocks 1910B and 2010A. In addition, the Namibian Ministry of Mines and Energy (MME) has agreed entry into the second renewal period (Phase 3) effective from Dec. 3, 2018, for two years.
Global, via Jupiter, has an 85% interest in the licenses, which was originally granted in late 2010, and situated in water depths ranging from 1,300-3,000 m (4,265-9,842 ft).
A subsequently renegotiated minimum work program (MWP) involved reprocessing of all existing 2D seismic lines across the retained portion of the license and the acquisition of 800 km (497 mi) of long-offset 2D seismic data over the retained acreage, in place of the previous well commitment.
Jupiter completed interpretation of the new 2D data this October. The review has improved prospectivity across the license and over theGemsbok prospect.
Analysis suggests the known source rock intervals are likely to be within the oil generative window. This, combined with data showing repeating oil seeps along the faulted flanks of Gemsbok, has improved the chance of a major oil discovery.
The MWP for the one-year extension of Phase 2 calls for the acquisition of 600 sq km (231 sq mi) of 3D seismic data, pending conclusion of a farm-out agreement with a third party to fund the acquisition.
However, if the 3D acquisition is not completed during the Phase 2 extension period, it may be carried over into Phase 3, where the commitment at present is to drill one well.
Currently, Jupiter's other partners in the two blocks are NAMCOR and Bronze Investments.
12/01/2017