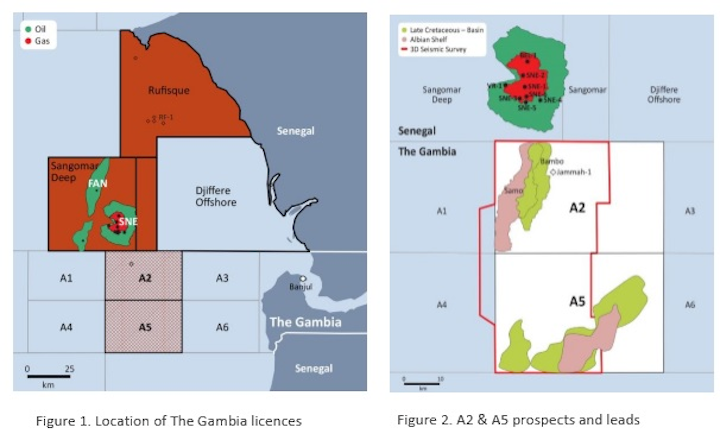 Offshore staff
MELBOURNE, Australia – FAR has completed geotechnical studies and a resource assessment over its two blocks offshore The Gambia, and is looking to drill its first well on the acreage.
Blocks A2 and A5 cover 2,682 sq km (1,035 sq mi), and are adjacent to and on trend with theSNE oil field discovery offshore Senegal to the north.
Both concessions are within theMauritania-Senegal-Guinea-Bissau basin, roughly 30 km (19 mi) offshore in water depths ranging from 50-1,500 m (164-4,921 ft).
From 1,504 sq km (580 sq mi) of modern 3D seismic data, FAR has identified large prospects similar to the shelf edge plays explored off Senegal, with two drillable prospects - Samo and Bambo - and additional leads.
Bambo is thought to hold a separate reservoir objective on the same structural trend as the Samo prospect. The two prospects could hold 1.1 Bbbl combined.
Samo has two target intervals and is on trend and shares many similarities with SNE. FAR added, with an estimated chance of success from drilling in one or both targets of 55%, as endorsed by consultancy RISC.
The leads extend into an area of poorer data quality outside the existing 3D seismic coverage. FAR plans further mapping once it receives the reprocessed seismic results from PGS, the initial aim being to optimize the location and design of the Samo exploratory well.
Managing Director Cath Norman said: "The Gambia represent a huge prize if successful. Given the eight successful wells drilled on the shelf to date in Senegal and into the key reservoirs in the Samo prospect, the geological chance of success for drilling this prospect is high for a frontier exploration well.
"The Samo well will be the only exploration well to be drilled offshore The Gambia since the Jammah-1 well drilled in 1979."
Preparatory activities are progressing, with long-lead items ordered, well design planning under way. Preparation has also started of an environmental impact assessment and contingency plan, while rig and shore base options are under investigation.
11/21/2017