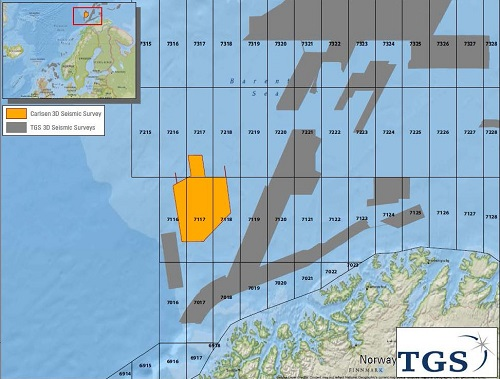 Offshore staff
ASKER, Norway – TGS expects to start a new 3D survey next month in the southwest Barents Sea.
Carlsen 3D (CAR17 3D) is a 5,490-sq km (2,120-sq mi)multi-client survey over open acreage between the Tromsø and Sørvestnaget basins.
There are multi-level targets within Pre-Cretaceous (in the oil window within the Senja Ridge), Cretaceous, and Paleogene intervals throughout the area: leads include rotated fault blocks and sand injectites.
Data will be acquired using triple source - 12.5-m (41-ft) shooting interval with a streamer depth of 12 m (39.3 ft) and a source depth of 7 m (23 ft) - to ensure laterally high density coverage. TGS will process results using its Clari-Fi broadband technology in combination with improved denoise and demultiple techniques to image the complex fault patterns.
03/13/2017