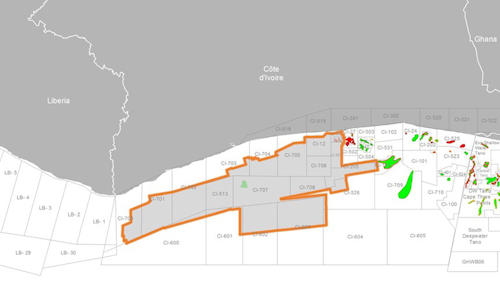 Offshore staff
LYSAKER, Norway – PGS has completed processing of its offshore Côte d'Ivoire MegaSurvey.
Results are now available to companies interested in assessing the prospectivity of the country's open western open blocks.
The CDI MegaSurvey covers an area of more than 23,000 sq km (8,880 sq mi) and combines full-stack GeoStreamer data with conventional datasets.
It encompasses all play types from the shelf to the deepwater and extends from the most westerly open block (CI-700) to productive areas around CI-205.
According to PGS, the dataset should assist understanding of depositional systems and decrease the risks associated with hydrocarbon migration and trap integrity.
Play types, confirmed by recent exploration activity along the Ivorian basin margin, include syn-rift and syn-transform structures and Late Cretaceous channel and fan systems.
The Morue-1X well, drilled by Anadarko and Total, andTotal's Saphir-1X well, are said to have proven a working hydrocarbon system in the hitherto underexplored western portion of the basin.
Lukoil's Capitaine East-1X and Anadarko's Paon discoveries have confirmed prospectivity in Upper Cretaceous oil-bearing stratigraphic plays in the deeper waters.
The new dataset is the latest addition to PGS' Côte d'Ivoire data library since the launch of the country's licensing round in 2017.
Last year the company also added 8,000 sq km (3,089 sq mi) of GeoStreamer data in the deepwater and shallow shelf areas.
04/25/2019