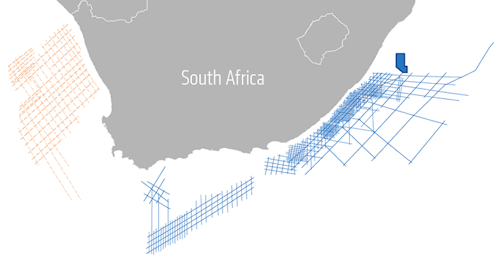 Offshore staff
OSLO, Norway – PGS plans an 11,000-line km (6,835-mi) 2D GeoStreamer exploration survey offshore the west coast of South Africa, from the Namibian border to Cape Agulhas.
Partners that commit to pre-funding will be able to make suggestions for the project's design, timing, and targets.
PGS says the resultant 2D GeoStreamer data should help understanding of the potential from shallow to ultra-deepwaters, and the multiple plays within the Orange basin.
Oil and gas prone source rocks are present throughout the region, with gas-condensate discovered in the Kudu and Ibhubesi fields and oil in the A-J field.
The company expects broadband imaging to reveal large untested areas and prospective traps and reservoirs.
Structural plays, it adds, include growth-fault related structures, rotated fault blocks within the continental shelf, and stratigraphic plays with deepwater fans, turbidite sandstones and slope truncations prograding into the basin.
Since 2014, the company has acquired more than 26,000 line km (16,156 mi) of modern 2D GeoStreamer data offshore South Africa, with coverage extending from the Greater Outeniqua in the south through the Transkei basin and Durban basin in the east.
03/19/2019