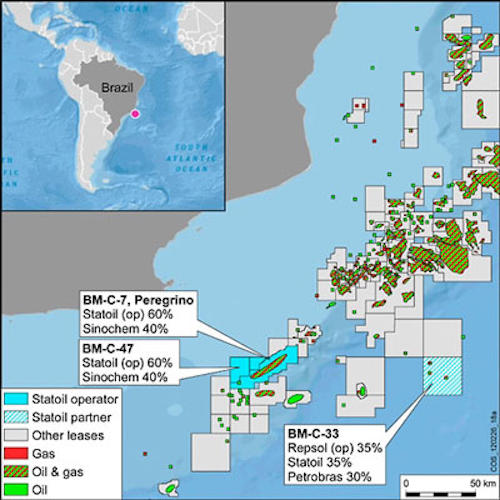 Offshore staff

STAVANGER, Norway –Statoil (OSE: STL, NYSE:STO) together with operator Repsol Sinopec and partner Petrobras confirm the potential of the presalt block BM-C-33 in the Campos basin offshore Brazil.

The total estimated resources of the block amount to more than 700 MMbbl of light crude and 3 tcf of gas. The estimate includes the Seat, Gávea, and Pão de Açúcar discoveries.

"The updated volumes for the presalt discoveries confirm the high potential in the Campos basin and it also strengthens our confidence in our position in the presalt Kwanza basin in Angola," said Tim Dodson, executive vice president for Exploration, Statoil.

"The development of BM-C-33, including the Pão discovery, in 2,800 m (9,186 ft.) of water will represent exciting new challenges for the partnership and the industry. Statoil's exploration strategy focuses on high impact wells and the deepening of core areas."

Statoil holds a 35% interest in the consortium with Repsol Sinopec Brazil as the operator (35%) and Petrobras (30%). The consortium is preparing an appraisal plan to be presented to the Brazilian National Agency of Petroleum, Natural Gas and Biofuels (ANP).

The high impact Pão de Açúcar well, as announced earlier this year, encountered a hydrocarbon column of around 500 m (1,640 ft.). The well is located 195 km (121 mi) offshore the state of Rio de Janeiro.

5/24/2012