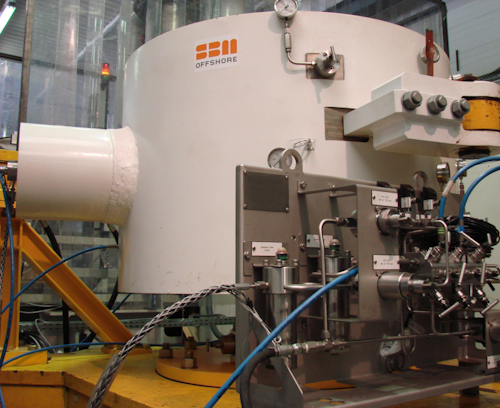 Offshore staff

HOUSTON – SBM Offshore has received a Spotlight on New Technologyaward at the 2014 OTC conference in Houston for its very-high-pressure (VHP) fluid swivel. As a pioneer in floating production and mooring systems, SBM Offshore continually pushes the limits of technology to deliver high-performing, cost-effective and safe solutions for the oil and gas industry. With its VHP fluid swivel,SBM delivers a solution that allows operators to utilize FPSOs for the development of ultra-high-pressure reservoirs, which to date has not been possible where a weather-vaning system was needed in conjunction with fluid re-injection into the reservoir.

Currently, fluid swivels are proven up to 520 bar. SBM's fully qualified VHP fluid swivel now increases this limit by almost 60% to reach operating pressures of up to 830 bar – a level sufficient for most applications foreseen today. Moreover, additional qualification testing is planned to take place during 2014 to further increase this capability to an operating pressure of 1,000 bar.

With the industry focused on the potential reserves of the Lower Tertiary fields in theUS Gulf of Mexico, this patented SBM swivel technology is applicable to the ultra-high-pressure/high-temperature challenges inherent in this region. The VHP fluid swivel enables gas or water re-injection into Lower Tertiary fields from a turret-moored FPSO, thereby helping operators to boost recovery factors. This capability opens up the option to the industry to use FPSOs for Lower Tertiary applications beyond the current early production systems, enabling their use for full field developments where re-injection will be needed.

This new VHP fluid swivel technology complements SBM's portfolio of products for deepwater and harsh environments, including the Lower Tertiary. These include disconnectable FPSOs suitable for steel risers, such as the FPSOTurritellafor the Stones project, and the MoorSpar system – both of which are featured on the company's OTC stand.

05/06/2014