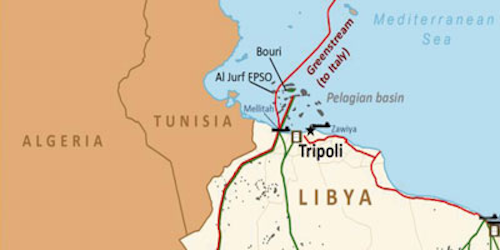 Jeremy Beckman
Editor, Europe
Foreign oil companies are keeping an open mind on Libya despite the country's domestic turmoil. Delegates at the recent 3rd New Libya Oil & Gas Forum in London organized by International Research Networks included representatives from ExxonMobil, Hess, Occidental, Petrobras, Shell and Total. Some of these companies were in the early phase of Libyan deepwater exploration prior to the fall of the Gaddafi regime.
In his keynote speech Eng. Mustafa Sanallah, the new chairman of Libya's National Oil Corp. (NOC), outlined some of the government's priorities. These include increasing production and enhanced oil recovery, and ensuring the security of project personnel. In addition, NOC is working with the government to establish a new petroleum law, due to be implemented early next year, which should form the basis for new E&P contracts.
Most of the country's offshore discoveries have come from the Pelagic Shelf basin off northwest Libya, where all current offshore production is centered. In the C137 block Tripoli-based Mabruk Oil Operations operates Al Jurf, one of two large producing offshore oilfields in this region, on behalf of Total, NOC and Wintershall. Al Jurf has been developed via a fixed drilling and production platform in 87 m (285 ft) of water linked to the FPSOFarwah. The current production-sharing agreement is thought to be in force until April 2017. To date production has not been affected by the unrest onshore.
Mabruk's chairman Elfeturi Belhaj said the Sirte basin in east-central Libya – the country's largest and most prolific basin onshore – also extends offshore, while the Cyrenaica region to the east too has offshore potential.
Among the country's more recent offshore discoveries was Hess' Arous Al-Bahar gas-condensate find in 2008, drilled in 2,807 ft (9,209 ft) of water in Sirte basin Area 54, 35 mi (56 km) offshore. The following year ExxonMobil drilled its first Libyan deepwater exploration well in Contract Area 20 in the Sirte basin, northeast of Misrata. At that point the company had also acquired 2D and 3D seismic surveys over offshore Contract Areas 20, 21 and 44. Belhaj added that among the country's frontier marine seismic campaigns in recent years, Azimuth had acquired 3D seismic using PGS' low noise Geostreamer technology. Others have applied electromagnetic techniques for prospect definition offshore.
In late-May Houston-based ION Geophysical announcedLibyaSPAN, a 2D multi-client survey due to be acquired in phases starting in mid-2014. The first will target more than 7,700 km (4,784 mi) of new long-offset seismic data covering Libya's entire offshore area, with the resultant deep imaging designed to improve understanding of new exploration plays ahead of the country's future licensing rounds. ION will manage the program with North Africa Geophysical Exploration Company (Nageco), supported by NOC.
Belhaj said that to reinvigorate exploration, the government needed to make available more acreage and that license terms should be more attractive to international oil companies (IOCs). "This may mean renegotiating old acreage held by IOCs for release," he suggested, adding that different models should apply for onshore and offshore licenses. He also called for action to speed up access to Libyan E&P data
David Bootle, a British consultant geologist, said that the Gulf of Sirte could hold "tremendous potential," although there is insufficient data at present to build a meaningful overall picture of the multiple petroleum systems. Of the few wells drilled to date, one operated by Agip tested oil in Aptian and Jurassic carbonates, while gas has been proven in mid-Cretaceous, transgressive sandstone.
Following the rapprochement between the West and the Gaddafi regime in the mid-2000s, BP entered an exploration and production-sharing agreement with NOC that included a large offshore block in the Sirte basin that extends out to water depths beyond 2,000 m (6,561 ft). The company is thought to have acquired one of its largest continuous seismic surveys anywhere over the offshore area in order to fully assess prospectivity.
Analysis to date suggests that the offshore Sirte basin was formed by Early Cretaceous rift elements, with continued structural rifting from the onshore into the offshore. BP is understood to have identified three potential plays: a carbonate play on the flanks, apparently charged from late Cretaceous source rocks downwards; an early Cretaceous clastics play in the central offshore area, charged from Albian-Cenomanian source rocks downwards; and an older rift system, particularly in the eastern offshore.
Most of the world's deepwater carbonate discoveries to date have come in the presalt regions offshore Brazil and on the conjugal margin off Angola – BP has participated in a recent discovery here. The company has established a carbonates center at its R&D complex in Sunbury, UK, which is examining available data from other fields throughout the world, some of which could be analogous to structures in the Sirte offshore.
Last winter Gardline Surveys conducted a multi-purpose campaign in the Sirte offshore that included collecting metocean data for riser analysis and rig operability ahead ofdeepwaterdrilling. The program, when it happens, will likely require a sixth-generation rig.