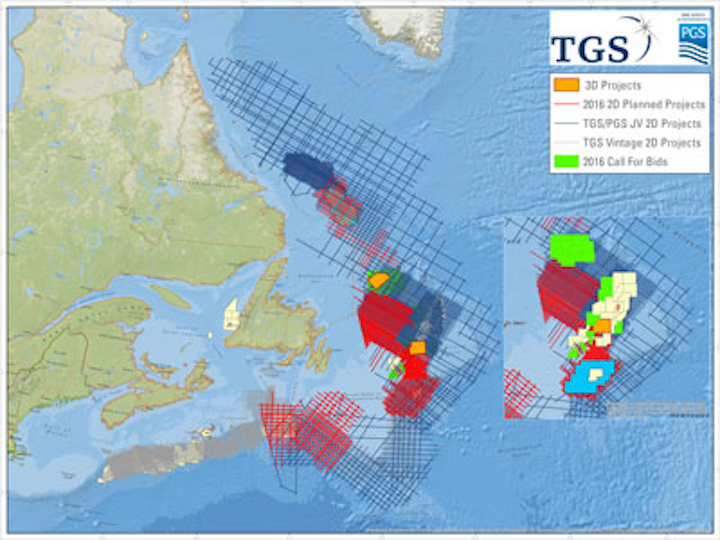 Offshore staff
ASKER, Norway – TGS plans to acquire more than 36,000 km (22,369 mi) of seismic data offshore eastern Canada this year, with partner PGS deploying two vessels.
The M/VsSanco Spiritand Atlantic Explorer, both employing PGS GeoStreamer technology, will acquire seismic and gravity data over the Labrador Sea, Newfoundland Orphan-Flemish Pass basins and Grand Banks areas, with acquisition starting in late May.
PGS will undertake pre-processing of the initial GeoStreamer while TGS will perform data processing. Final data will be available to clients next summer.
This new data will complement the existingTGS-PGS library that currently comprises more than 112,000 km (69,593 mi) of modern 2D data and 9,172 sq km (3,541 sq mi) of 3D data, in addition to 83,700 km (52,009 mi) of TGS vintage data.
In addition, TGS offers a well log library and various multi-client interpretation products that it says will improve play, trend, and prospect delineation in the region.
TGS CEO Kristian Johansen said: "Offshore Newfoundland and Labrador has been an area of high interest from exploration companies in an otherwise challenging market as evidenced by the successful licensing round in November 2015.
"This will be our sixth consecutive season acquiring data in partnership with PGS in this highly prospective region, targeting expected areas of interest to be released under the scheduled land tenure system."
05/02/2016
Share your news withOffshore at news@offshore-mag.com