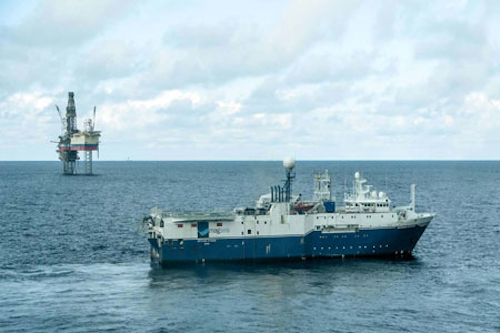 Offshore staff
YATELEY, UK – Magseis has contracted Sonardyne International to supply acoustic positioning equipment to support a deepwater ocean bottom seismic survey for Saudi Aramco over the Red Sea.
TheS78 project, which Magseis is performing with Chinese contractor BGP, is expected to take nine months to complete and will involve deployment of a large network of ocean bottom recording nodes.
Each will be accurately positioned using Sonardyne's Ranger 2 USBL (Ultra-Short BaseLine) and small seismic transponder (SST) technologies.

Seismic surveillance surveys using stationary receivers on the seafloor are said to deliver the highest definition imagery obtainable.
However, any uncertainty in node positions can blur these pictures and make the underlying reservoirs more difficult to spot.
The Ranger 2 USBL installed on a surface vessel, combined with SSTs fitted close to each node, should address this concern by providing high quality, repeatable positioning in all water depths, Sonardyne says.

Magseis will deploy its proprietary marine autonomous seismic system (MASS), which applies thousands of small nodes to create a grid pattern of receivers on the seabed.

As the cables must be laid in the correct positions and to avoid becoming entangled with subsea infrastructure, Magseis will attach the SSTs close to the nodes at regular intervals along the cable.
As the equipment descends through the water column to the seabed, each SST will be tracked in real-time using the Ranger 2 GyroUSBL transceiver from the vessel.

SSTs, being small and rated to a water depth of 2,000 m (6,562 ft), are said to be suited to the demanding operational needs of large-scale ocean bottom seismic surveys. They can also be left attached to the cables when these are recovered and reeled on to a drum, helping to minimize back deck manual handling operations.

Magseis has also ordered Sonardyne's lightweight release transponders (LRTs) and rope canisters for recovery of seafloor equipment following data acquisition. Following a command, the LRTs float back up to the surface, allowing the equipment to which they are attached to be hauled up.
07/20/2016

Share your news with Offshore at news@offshore-mag.com