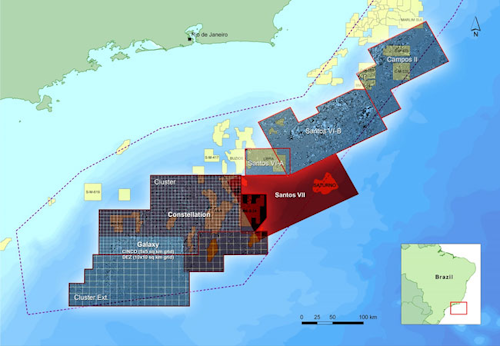 Offshore staff
MASSY, France – CGG has started acquiring an expansive broadband 3D multi-client survey in the presalt deepwater Santos basinoffshore Brazil.
Santos VII (Saturno) is the third phase of CGG's presalt project the Santos Basin Trilogy. This is designed to make available modern seismic datasets quickly in anticipation of Brazil's next presalt licensing round.
Santos VII (Saturno), which will cover an area of more than 13,900 sq km (5,367 sq mi), includes the Saturno prospect which currently has no 3D seismic coverage.
CGG is acquiring theBroadSeis dataset in two phases between now and June 2017. Data will be processed at the company's Rio de Janeiro subsurface imaging center to provide broadband images of Saturno using full-waveform inversion (FWI) technology.
First-phase fasttrack products should be available next spring with final products for both phases issued in summer 2018.
There are two other components of the Santos Basin Trilogy. Galaxy is a 3D-migrated grid covering around 34,000 sq km (13,127 sq mi) extracted from CGG's legacy Cluster and Cluster Extension surveys, providing a quick regional evaluation of the Santos basin.
Constellation is a 23,750-sq km (9,170-sq mi) reprocessing project upgrade these surveys with modern subsurface imaging technology, including 3D deghosting, bandwidth extension and TTI FWI velocity model building, to provide detailed broadband presalt images.
Santos VII (Saturno) will link these two reprocessed datasets to CGG's existing BroadSeis surveys, Santos VI-B and Campos II, forming a 75,000-sq km (28,957-sq mi) dataset over the region.
10/05/2016