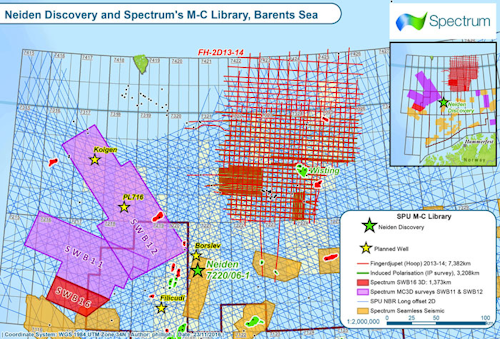 Offshore staff
WOKING, UK – Spectrum has completed the latest phase of its Southwest Barents Sea project, now comprising around 14,100 sq km (5,444 sq mi) of 3D seismic data, all of which is being reprocessed according to a modern processing workflow.
The project covers an area 23 km (14.3 mi) northwest of Lundin's recently announcedNeiden discovery: two more wells are likely to be drilled inside the area over the next 12 months.
Neiden (exploration well 7220/3-2) in license PL 609 discovered oil and gas. The well encountered a 21-m (69-ft) oil column and a 10-m (33-ft) gas column in a Permian Carbonate reservoir, with estimated resources of 25-60 MMboe.
The well was pursuing the same play that was targeted and proven by OMV and Lundin at theGohta and Alta discoveries to the south, and according to Spectrum is also likely to rely on the carbonate reservoir being karstified to enhance reservoir properties.
These finds on the Loppa High are thought to have been sourced by a combination of Palaeozoic and Mesozoic source rocks. Lundin has identified numerous other prospects across the Loppa High and has five further wells planned into 2017.
12/08/2016