COSL completes 3D seismic surveys in the Arctic, Far East
China Oilfield Services Ltd.'s 12-streamer vessel HYSY 720 has completed an operation in the North Pole Barents Sea.
Aug 9th, 2016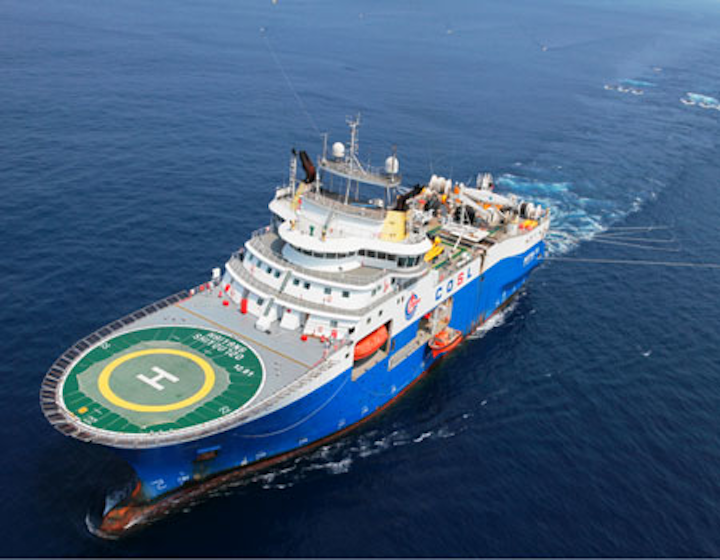 Offshore staff
BEIJING– China Oilfield Services Ltd.'s (COSL) 12-streamer vessel HYSY 720 has completed an operation in the North Pole Barents Sea. The company claimed it recorded a new monthly seismic data acquisition record of 1,820.58 sq km (703 sq mi), saying this was also a record in China.
The operation lasted for 100 days and concluded Aug. 9, taking place in north Barents Sea more than 900 km (559 mi) above the Arctic Circle. This is the first attempt by China in performing3D seismic data collection in ultra-high latitude and ultra-low-temperature waters.
The company's operation team manager Chen Zhiwei said: "We have no precedence to follow for this operation in North Pole. The low temperature operation, the persistent daylight and the narrow window that allowed operation to take place presented unprecedented challenges to team members and the exploration equipment."
There is only a short window of four to five months in a year for operations in the Arctic waters, COSL said. The crew implemented a round-the-clock operation routine and tackled the impact on team members from the prolonged daylight.
HYSY 720 is the first deepwater seismic vessel proprietarily built in China, the company claims. In addition, COSL said it is "the first 12-streamer dual-source large-scale seismic vessel in China driven by diesel-electric propulsion system capable of sailing to Class 1 unlimited navigation zone around the world."
In addition, the company recently completed its first exploration operation in the Far East, completing a 3D seismic acquisition survey first announced in June. The company used theHai Yang Shi You 718 (HYSY 718) for the job.
"The operation situation was complicated, including the complex fishery and year-round foggy weather. Also, operating in the shallow-water zone is a threat to the underwater equipment," COSL said.

To counteract these challenges, the company said it created what it called a "seamless solution:" preparing protection measures for the equipment according to weather and tidal cycles to lower the operation risks.
08/09/2016
Share your news withOffshoreat news@offshore-mag.com