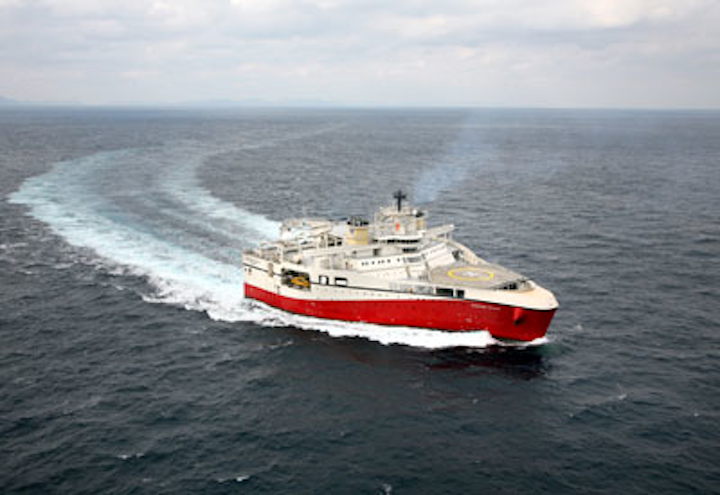 Offshore staff
NAGASAKI, Japan – PGS' latest Ramform Titan-class vessel has been named Ramform Tethys during a ceremony at the Mitsubishi Heavy Industries Shipbuilding yard.
The previous two first Titan-class vessels,Ramform Titan and Ramform Atlas were delivered in 2013 and 2014 and have performed beyond expectations, PGS said, in terms of safety, efficiency, and productivity.
Ramform Tethys will be followed by a fourth newbuild, Ramform Hyperion. These latest vessels will offer further improvements, PGS claimed, due to small modifications of equipment handling on the back deck and an increase in engine power to 26,400 kW, compared with 23,040 kW for both the earlier vessels.
Per Arild Reksnes, executive vice president operations, also highlighted the latest vessels' ability to tow multiple streamers, which should result, he said, in high data quality with dense cross-line sampling and cost efficient acquisition with wide tows.
The company claimedRamform Tethys is the world's most powerful and efficient marine seismic acquisition vessel, and with the Ramform Titan and Ramform Atlas, the widest ships ever at the waterline.
The design is said to adapt advanced maritime technology to the imaging capabilities of the company's GeoStreamer seismic acquisition technology. The 70-m (229-ft) broad stern is said to be fully exploited with 24 streamer reels: 16 aligned abreast and eight reels further forward, with capacity for 12-km (7.5-mi) streamers on each reel.
This givesRamform Tethys flexibility and redundancy for high capacity configurations, while the increased work space and equipment handling should lead to safer, more robust operations.
The vessel will carry more than 6,000 tons of fuel and equipment and will typically tow a network of several hundred thousand recording sensors over an area greater than 12 sq km (4.6 sq mi).
More rapid deployment and retrieval of equipment and greater operational capacity should also lead to faster completion of surveys and increased uptime in marginal weather, PGS added, while the period between major yard stays can be extended by around 50%.
03/17/2016
Share your news withOffshore at news@offshore-mag.com