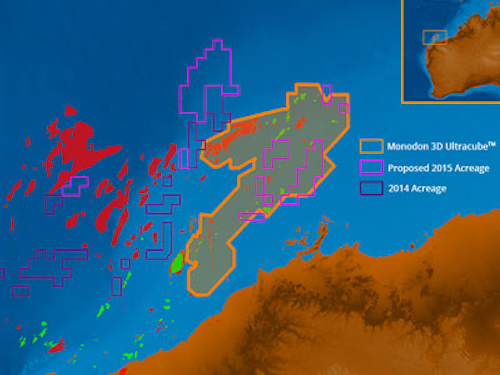 Offshore staff
WEST PERTH, Australia –Searcher Seismic and DownUnder GeoSolutions have agreed to market and license the Monodon Ultracube reprocessed data taken in the northern Carnarvon basin, North West Shelf, Western Australia. The Monodon Ultracube consists of approximately 14,700 sq km (5,675 sq mi) of 3D and 2,000 km (1,243 mi) of 2D reprocessed data.
The project incorporates a total of 16 individual 3D surveys and three 2D surveys shot between 1982 and 2004, and includes the reprocessing from field tapes using a state-of-the-art flow and algorithms that include linear noise removal and regularization.
The reprocessed data has been merged prior to anisotropic (TTI) pre-stack depth migration incorporating multi-iteration tomographic model building.
Data from all stages of the processing are available, including image gathers and angle stacks.
02/10/2015