TGS details progress on Atlantic Margin seismic programs
TGS has issued updates on its recent and current offshore seismic acquisition programs. Spectrum Geo will acquire and process 20,000 km (12,427 mi) of 2D broadband seismic over the Joint Management Area covering the Mascarene Plateau between Mauritius and the Seychelles. Total and Eni have awarded Shearwater GeoServices a 10,000-sq km (3,861-sq mi) marine seismic acquisition services contract for their 2018 exploration program offshore Myanmar.
Mar 1st, 2018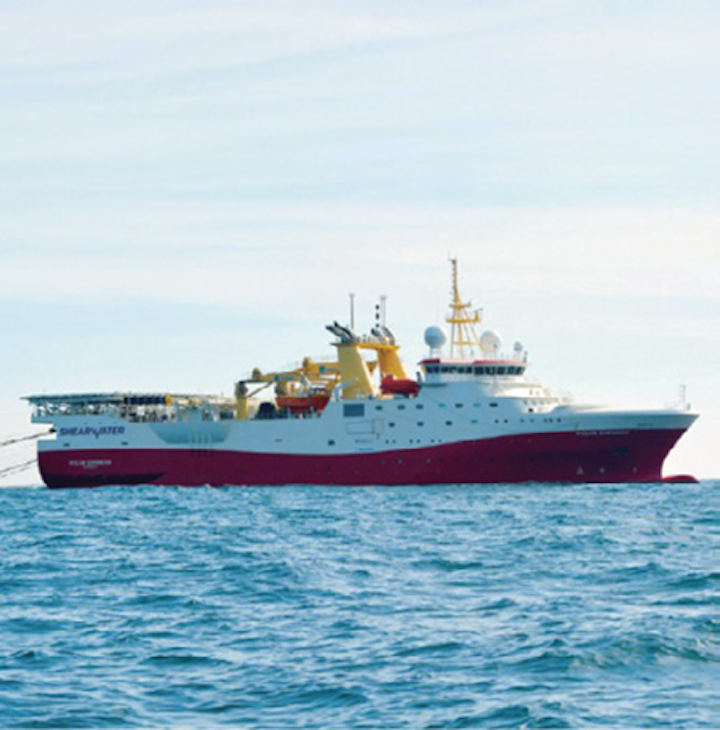 TGS has issued updates on its recent and current offshore seismic acquisition programs. Last October, the company completed the first season of data acquisition on the 40,000-sq km (15,444-sq mi) Atlantic Margin 3D AM17 project in the central-southern Norwegian Sea. Good progress means that only around 7,500 sq km (2,896 sq mi) of the committed area remains for the 2018 season. The project is the single largest 3D survey carried out by any company in northern Europe, the company claims, and covers largely open blocks in a relatively under-explored area with limited drilling to date.
Clients have received fasttrack data, and final results should be available next year.
In October, TGS completed the four-month 5,400-sq km (2,085-sq mi) Crean 3D survey in the Irish Atlantic Margin, designed to illuminate multi-level targets in an area of increasing exploration interest.
Last year's program offshore eastern Canada, completed in October, comprised 22,000 km (13,670 mi) of 2D data and four 3D projects of around 18,000 sq km (695 sq mi). This was TGS' seventh consecutive season working in partnership with PGS in the region, and the partnership's most active year to date.
Their combined library for the region will exceed 175,000 km (108,740 mi) of 2D data and 29,250 sq km (11,293 sq mi) of 3D data. In addition, TGS has 83,700 km (52,009 mi) of vintage 2D data.
The company's 289,000-sq km (111,583-sq mi) Otos seep and geochemistry program over the US Gulf of Mexico is designed to mirror its Gigante seep study in the Mexican sector, acquired during 2016.
Extended sea seep coring operations finished in early 4Q, with final available soon afterward.
Going forward, TGS notes that most of the oil companies that have commented on prospects for 2018 have signalled continued caution on the extent of exploration spending. Demand for new seismic data will therefore likely remain weak this year, from a historical perspective, although there could be an upturn if the oil price remains at the current level or rises as the year progresses.
Polar Empress goes to work offshore Myanmar
Total and Eni have awarded Shearwater GeoServices a 10,000-sq km (3,861-sq mi) marine seismic acquisition services contract for their 2018 exploration program offshore Myanmar.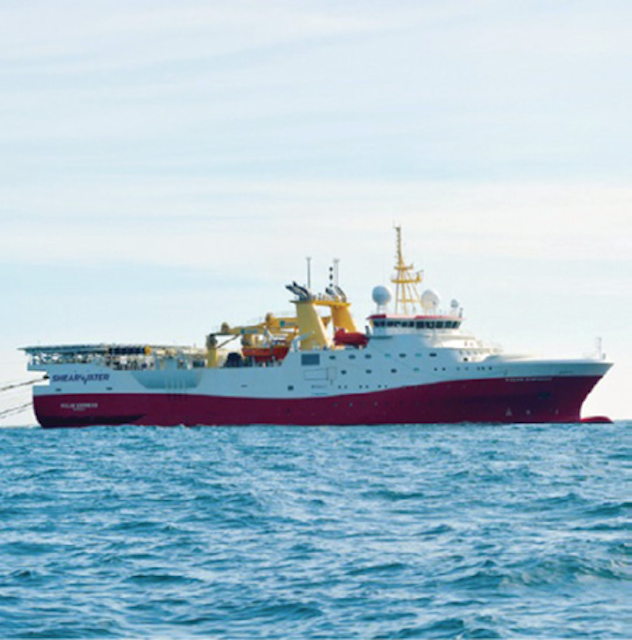 Built in 2015, thePolar Empress has a capacity for up to 22 streamers. (Image courtesy Shearwater GeoServices)
Shearwater is deploying the vesselPolar Empress for the six-month survey, which was due to start in January, over blocks YWB and MD-04, 300 km (186 mi) offshore. The Polar Empress, built in 2015, has a capacity of up to 22 streamers, and is claimed to be one of the world's most powerful and efficient seismic vessels.
NPD awards OfD seismic/well data support contract
The Norwegian Petroleum Directorate (NPD) has awarded Geofysikar Tømmerbakke and Moveout Data a two-year framework agreement. The two companies will provide assistance and training for storage and administration of physical media containing geophysical, seismic and well data for the NPD's Oil for Development (OfD) Program. This includes any requirements for reformatting and transcription services to newer media.
OfD is designed to help manage petroleum resources in a sustainable manner and to assist economic and social development.
UK-based Moveout Data specializes in quality control of seismic acquisition, processing and G&G data management, using the company's proprietary Metaseis software. It claims that its 're-mastering' solution helps streamline, cleanse, and standardize clients' data media count. In addition, the company's cloud‐based management services allow clients to view, access, and share data in real time worldwide.
Tullow, Eco progress reviews of offshore Guyana block potential
Tullow Oil and Eco (Atlantic) Oil & Gas have identified various leads on their Orinduik block offshore Guyana that could contain more than 1 Bboe. The leads are drawn from studies of several thousand kilometers of 2D data, regional well logs and seismic correlations to ExxonMobil's nearby Stabroek block wells. Some of the leads appear to be equivalent in age to the Liza reservoir.
Last year WesternGeco completed a 2,550-sq km (984-sq mi) 3D seismic survey over Orinduik, and PGS is currently processing the results in the UK.
Eco has contracted Gustavson Associates in Colorado to provide independent interpretation services. Gustavson will also provide a competent persons report under AIM Guidelines and an NI-51-101 report under TSX Guidelines: the consultant has previous experience in the Guyana basin.
In addition, Eco has received the initial, conditioned PreSTM and fasttrack 3D data sets and has forwarded these to Total, which is considering farming into Orinduik, for its own interpretation.
CGG GeoSoftware updates reservoir characterization software
CGG GeoSoftware has released updates across its entire geoscience portfolio. Recent developments bring new capabilities within each individual solution while offering increasingly integrated workflows from geology and geophysics to reservoir engineering. For example, the new 'Load-Once-Use-it-Everywhere' capability enables Jason users to operate on HampsonRussell seismic stores and vice versa without the need to duplicate, move, or reload seismic volumes.
Jason 9.7.1 extends and enhances reservoir characterization capabilities with the integration of a rock physics template in Jason crossplots and interpretation as well as a new functionality for Bayesian facies classification and inversion analysis in facies and fluids probabilities. Advanced geostatistical reservoir characterization is also now available to extract the full value from seismic data, whether 4D, multicomponent, depth or wide-azimuth.
For geophysical interpretation and analysis, HampsonRussell 10.3 offers much faster loading and processing of huge data volumes than previous versions, while pre-stack inversion now requires fewer iterations, which reduces turnaround. Other features include new functionality for quick AVO modeling with rock physics inputs, horizontal well correlation, a new process for de-spiking, and new advanced spectral decomposition attributes for pre-inversion analysis and improved resolution.
PowerLog 9.7.1, GeoSoftware's petrophysical solution for well log analysis, includes an improved well selector and better data management. Windows-linking lets users set up preferred interpretation workflows including multiple viewers and processors to vastly improve analysis of large data sets. Implementation of a Python Extensions plug-in architecture is, the company claims, a game-changer for developing custom interpretation modules.
InsightEarth 3.4 allows streaming of large seismic volumes, so that users can work on large data sets. Other enhancements include a redesigned trim-and-seal process, new spectral decomposition algorithms, and better quality and tightness of fault images from Automated Fault Extraction.