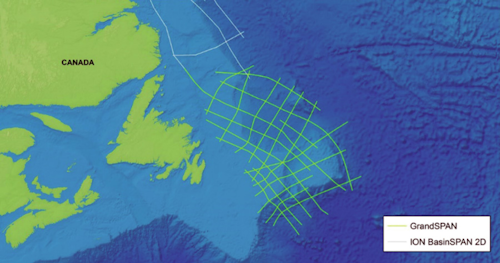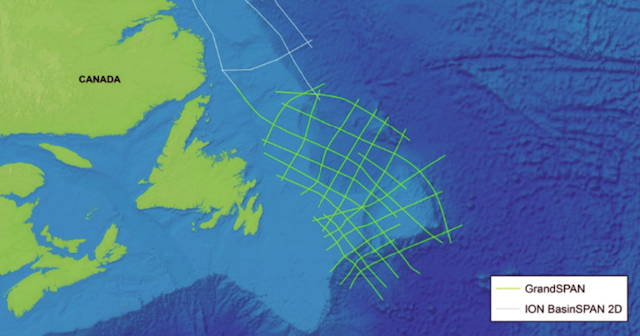 GrandSPAN will integrate with two other BasinSPAN programs in the area. (Courtesy ION Geophysical Corp.)
ION to conduct 2D seismic survey offshore northeastern Canada
This month ION Geophysical Corp. is expected to start a 2D multi-client seismic acquisition program in the Grand Banks offshore Newfoundland.
In the first phase of GrandSPAN, ION will acquire about 10,000 km (6,214 mi) of data with an expectation to sanction a second phase of about 5,000 km (3,107 mi) of data farther south in 2019.
The industry-supported program is designed to investigate the architecture, evaluate the petroleum potential of proven basins, and understand the geologic differences between producing and non-producing areas.
GrandSPAN will integrate with two other ION BasinSPAN programs in the area, providing a contiguous regional seismic data set of more than 20,000 km (12,427 mi) offshore northeast Canada.
Initial deliverables are expected to be available in 3Q 2018.
Elsewhere, ION has started its seventh 3D multi-client reimaging program offshore Mexico.
The Perdido South 3D reimaging program consists of more than 16,000 sq km (6,178 sq mi) across six surveys in the southern part of the Perdido area. The data will be delivered in phases over the next 10 months, with initial deliverables available in May, to accelerate subsurface knowledge and inform upcoming bid round decisions.
"We are pleased to be collaborating on another large project offshore Mexico, where we anticipate strong client demand in upcoming license rounds," said Brian Hanson, ION's president and CEO. "Our approach to reimage the raw data using the most advanced imaging technology into a seamless data set will jumpstart exploration efforts in this largely untested basin."
TGS concludes 2D seismic survey in the Red Sea
TGS has completed acquisition of a 10,000-km (6,214-mi) 2D long-offset, broadband multi-client seismic survey in the Egyptian Red Sea, and expects to deliver final data in December.
The project was part of an agreement with South Valley Egyptian Petroleum Holding Company (GANOPE) that gives Schlumberger and TGS a minimum 15-year period of exclusive multi-client rights in a ~70,000-sq km (27,027-sq mi) open offshore area in the Egyptian Red Sea.
Elsewhere, Fugro is working with TGS on a new hydrocarbon seeps survey in the Campos and Santos basins offshore Brazil. The company has deployed theFugro Brasilis and Fugro Searcher vessels to acquire high-resolution multi-beam echo-sounder and sub-bottom profiler data.
The survey is designed to mirror TGS' 2016-2017 Gigante and Otos projects in the Gulf of Mexico, where Fugro also participated. It will cover around 200,000 sq km (77,220 sq mi), and Fugro will use the data to identify prospective locations for geochemical sampling. Final results are expected to be released in late 2019.
CGG unveils integrated package for exploration screening
CGG GeoConsulting has introduced the Robertson New Ventures Suite, an integrated and digitally transformed series of geoscience tools and databases designed to assist global new ventures screening and frontier exploration.
The six main products are Basins & Plays, Geochemistry, Plate Kinematics, Predictions, Provenance, and Analogues, based on the Tellus, Frogi, Plate Wizard, Merlin+, ProvBase, and ERGO brands.
According to CGG, whether licensing the entire suite or individual components, exploration teams can use the databases to better identify, understand, evaluate, and de-risk emerging opportunities and plays so they can determine the best acreage to acquire and increase their success rates.
The New Ventures Suite also complements CGG's multi-client offering that includes Seep Explorer, a gravity and magnetics database, GeoSpec enhanced legacy data, integrated JumpStart geoscience packages, and an extensive library of seismic data.
Shearwater to conduct two 4D seismic surveys in the North Sea
Shearwater GeoServices has been awarded two 4D surveys for the North Sea market. The 4D surveys will begin in 2Q 2018 and will be conducted back-to-back over a period of about two months.
CEO Irene Waage Basili said: "Over the last month, Shearwater has announced confirmed backlog of more than 15 vessel months to be performed over the next two quarters. We see this as a signal of a slowly improving market…"
In addition, Premier Oil has contracted Shearwater GeoServices to acquire high-resolution 3D seismic over the Tolmount gas field in the UK southern North Sea. This month, thePolar Duchess will start the 400-sq km (154-sq mi), one-month survey.
Tolmount, off the Yorkshire coast, is one of the largest recent discoveries in the southern gas basin.
Offshore Morocco, Shearwater GeoServices will acquire 3D seismic this summer for Genel Energy in the Sidi Moussa license. The survey will include dual, FlexiSource and multi-azimuth shooting, for appraisal and exploration targets, and will involve acquiring more than 3,500 sq km (1,351 sq mi) of 3D data over a three- to four-month period.
Total to expand role of artificial intelligence in E&P
Total and Google Cloud have agreed to jointly develop artificial intelligence (AI) solutions for subsurface data analysis for oil and gas exploration and production. The focus will be on AI programs that can interpret subsurface images from seismic studies (using Computer Vision technology), and others to automate analysis of technical documents (using Natural Language Processing technology).
Total expects these programs to help its geologists, geophysicists, reservoir and geo-information engineers explore and evaluate oil and gas fields faster and more effectively. The company's geoscientists will work alongside Google Cloud's machine learning specialists within a team based at Google Cloud's Advanced Solutions Lab in California.