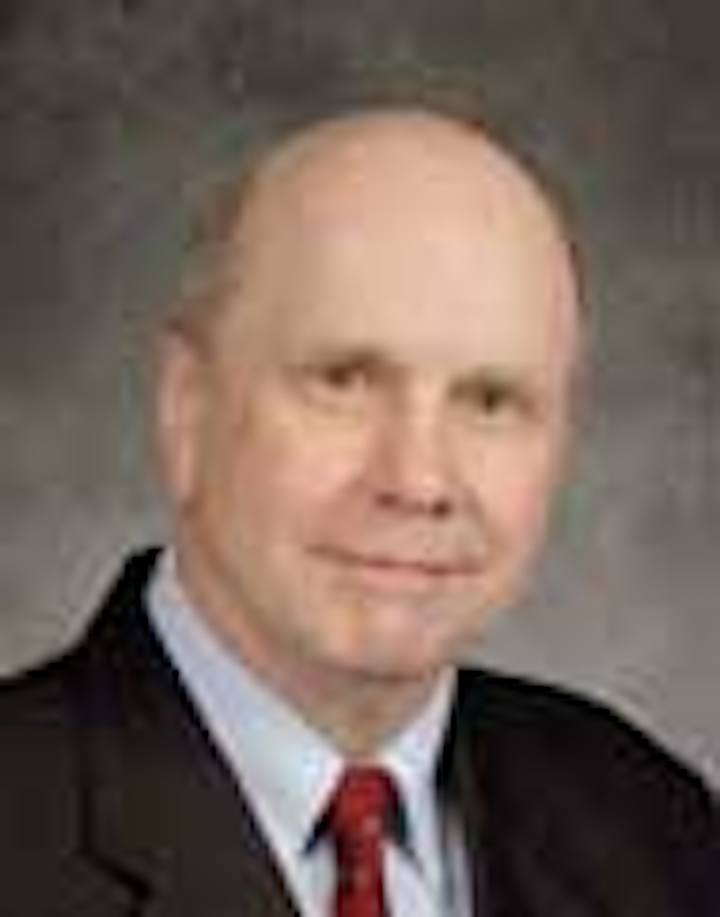 | | | |
| --- | --- | --- |
| | | Gene Kliewer • Houston |
Barents Sea
TGS in partnership with Electromagnetic Geoservices ASA have agreed to jointly invest in a 3D electromagnetic multi-client survey covering 11 blocks, or approximately 3,300 sq km (1,274 sq mi), in the Hoop area of the Barents Sea.
The 3D EM data is being acquired by theM/V Atlantic Guardian. Data will be available to clients through both EMGS and TGS. Under terms of a previously announced agreement, EMGS will have access to TGS' 2D seismic data for survey planning and integration purposes, while TGS will obtain access to 3D EM data to evaluate and plan subsequent multi-client work over the area.
Eni and Rosneft started seismic operations in the Fedynsky and Central Barents license areas, in the ice-free part of the Russian sector of the Barents Sea. The 2D seismic survey is planned to cover 9,950 km (6,183 mi) over the two license areas.
The seismic survey, preceded by environmental and fishery studies, is in compliance with Russian legal environmental requirements and license agreements. During the seismic survey a program of environmental monitoring will be implemented.
Eni and Rosneft formed joint venture companies to operate each of the Russian offshore projects, with Rosneft holding 66.67% and Eni holding the remaining 33.33%.
Dolphin Geophysical'sPolar Duchess will acquire a new UtStord Multi-Client Survey in the Norwegian North Sea. The 3,500-sq km (1,351-sq mi) survey should be under way and will run until September/October. To assist clients with initial acreage reviews, Dolphin will perform high-end fasttrack processing on-board the vessel, and complete the full PSDM at the Dolphin UK processing center.
"The UtStord 3D Multi-Client survey will position Dolphin in a new attractive area of the Norwegian North Sea where recently several large discoveries have been made," said Ian T. Edwards, Dolphin VP Global Multi-Client Surveys & New Ventures, "sparking a new level of interest from industry in the remaining unlicensed acreage."
Following successful 79-well Barents Sea and 61-well mid-Norway rock physics studies, RSI has started a 100-well North Sea Rock Physics Study and Atlas of Seismic Expression.
The principal goals of the study are to condition the log data for quantitative interpretation (QI) and to examine the response of seismic data, and optionally electromagnetic data, to changes in fluid saturation.
The 100-well study will include representative wells from 25 "classic" fields (Troll, Statfjord, Ekofisk, Gukllfaks, etc.), 50 wells .of general interest, and 25 wells provided by early participants in the study. All wells will be conditioned top-to-bottom for geophysical purposes using RSI's comprehensive geophysical well log analysis workflow. Rock physics modeling will assess the seismic AVO response to changes in fluid saturation.
In addition, RSI will deliver a suite of rock physics templates based on the study wells. RPTs are utilities that facilitate the prediction of lithology and hydrocarbons from well log and inverted seismic data by combining depositional and diagenetic trends with fluid substitution so that both lithology and fluid effects are considered. The final set of deliverables will be a reference tool for understanding reservoir property signatures in seismic data.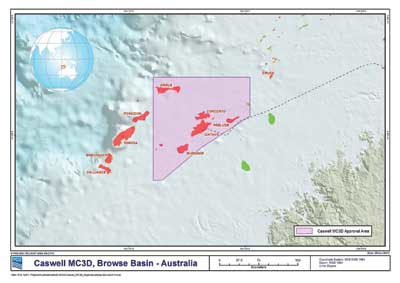 Petroleum Geo-Services is in the process of acquiring a new GeoStreamer Multi-Client 3D marine seismic survey (Caswell MC3D) in the Browse basin offshore Western Australia. The Caswell MC3D survey will cover 15,000 sq km (5,792 sq mi). The approval area covers several exploration permits where there has been recent drilling success in addition to three of the 2013 release areas (W13-1, 2, and 3) and adjacent open acreage. The survey is expected to last into December 2014. For more information about seismic surveys under way or planned, see active geophysical survey work elsewhere on this page.
Caribbean Ocean
CGG has received a contract from Anadarko Petroleum and partner Ecopetrol to acquire and process 5,500 sq km (2,124 sq mi) of 3D BroadSeis seismic data on the Caribbean coast offshore Colombia. This is the largest marine seismic program ever acquired in Colombia and the first proprietary BroadSeis survey to be conducted in the country, said CGG.
The survey, covering portions of the Col 5, Ura 4, Fuerte Norte, Fuerte Sur, and Purple Angel blocks, will be acquired by the CGGViking towing a 10 x 100 x 7,050 m spread in a BroadSeis configuration using steerable Sercel Sentinel solid streamers and CGG's proprietary Dovetail acquisition designed to provide more regular sampling and reduce infill. The survey will start in 3Q 2013 and is expected to take four months. The survey data set will be processed in CGG's Houston data center.
Asia/Pacific
Electromagnetic Geoservices has a letter of intent to extend its on-going $35-million contract in Asia. The contract extension will bring the total contract value to at least $50 million. It is expected that the vesselBOA Thalassa will complete the entire program, including the contract extension, in October 2013.
Canada
Petroleum Geo-Services and TGS are back offshore eastern Canada for the third year to complete acquisition of a 2D multi-client survey off Newfoundland. The current program will acquire additional data over approximately 16,000 line km (9,942 mi) of the Northeast Newfoundland Slope. Final processed data will be available in spring of 2014.That will bring the total survey to 46,000 line km (28,583 mi) off Newfoundland and Labrador.