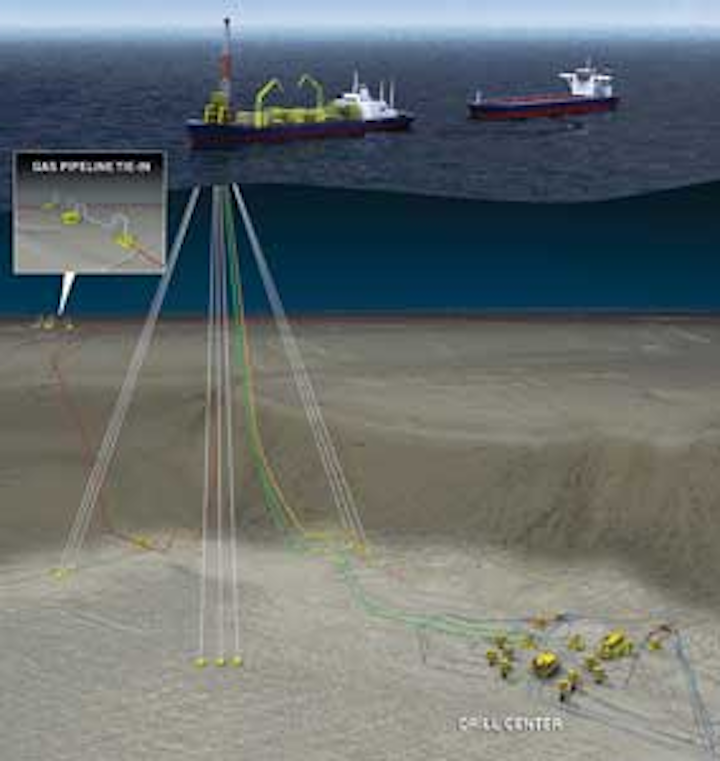 Russell McCulley
Senior Technical Editor
Significant technological and financial challenges to development notwithstanding, the past several months have witnessed a flurry of activity in the Gulf of Mexico's Paleogene play, also known as the Lower Tertiary. The ultra-deepwater region has been the site of some recent – and massive – discoveries, while some long-simmering development projects have been given the green light, leading some industry observers to declare the Lower Tertiary the scene of a 21st century "gold rush" for the offshore industry.
Shell, the first operator to bring Lower Tertiary production to market with the Perdido development in 2010, in May announced that it had settled on an FPSO field development concept for the 100%-owned Stones prospect, in 9,500 ft (2,896 m) water depths. The field spans eight lease blocks surrounding Walker Ridge 508 and is estimated to hold more than 250 MMboe of recoverable resources. The first phase will kick off with two subsea wells tied back to the FPSO, followed by another six production wells, with peak production reaching 50,000 boe/d.
The announcement came a day after Robert Patterson, Shell senior VP of deepwater projects, spoke toOffshore at the 2013 Offshore Technology Conference in Houston about the company's Lower Tertiary plans.
"It's clearly a significant opportunity area in the Gulf of Mexico," Patterson said. "I don't think I'd characterize it as a 'gold rush.' I'd probably characterize it as an innovation rush. We have something new to try and unlock, so from that point of view, it's exciting."
Innovation has helped address the Lower Tertiary's many challenges: very deep water; very deep reservoirs characterized by extreme temperatures and pressures; the need for artificial lift; the presence of thick salt formations; and the weight of umbilicals needed to reach seafloor depths of up to 10,000 ft (3,048 m).
Big discoveries
In late April, Anadarko Petroleum Corp. announced that its Phobos-1 well in Sigsbee Escarpment block 39 had encountered 250 ft (76 m) of high-quality oil in Lower Tertiary reservoirs. The well is in 8,500-ft (2,591-m) water depths about 11 mi (18 km) south of the company's Lucius discovery, now in development. The find came on the heels of a March announcement that Anadarko's Shenandoah-2 appraisal well, in 5,800-ft (1,768-m) water depths in Walker Ridge block 51, had hit more than 1,000 ft (305 m) of net pay, heralding one of the company's largest ever Gulf of Mexico discoveries.
"We've had an unprecedented amount of activity in the deepwater Gulf of Mexico this year, with great success thus far," said Anadarko spokesman Brian Cain. The company is currently drilling the Raptor prospect, in the Norphlet trend, with results expected in 2Q 2013, and is participating in the Yucatan prospect, in Walker Ridge 95, "which is another test of the emerging Shenandoah basin," he added.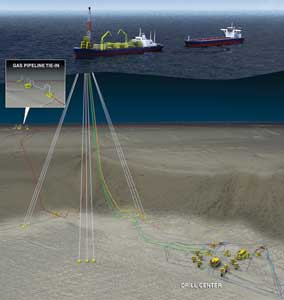 Shell plans to develop the Lower Tertiary Stones field using what will likely be the Gulf of Mexico's second FPSO. (Image courtesy Shell)
"The unique aspect about Anadarko's Shenandoah basin position is the porosity, permeability, and fluid qualities are far superior to any other Lower Tertiary Wilcox reservoirs found in the deepwater Gulf of Mexico to date," Cain commented. "Though it's too early to go into detail about potential development options, we believe Shenandoah may become one of the biggest fields in the Gulf of Mexico and once again shows the Gulf of Mexico is the basin that keeps on giving."
The Nansen Deep well, which will begin drilling in coming months, "will continue to explore the Lower Tertiary trend to test our geologic model for the better reservoir and fluid quality" Cain explained. "It is a large subsalt four-way closure sitting right next to our Nansen facility, which could enhance economics and facilitate early production."
Cracking the Paleogene
Statoil has theMaersk Developer under long-term contract to conduct the company's drilling program in the deepwater Gulf of Mexico, including its Lower Tertiary prospects. In May, the rig was scheduled to spud an appraisal well at the 2011 Logan discovery, located in water depths of 7,500-8,000 ft (2,286-2,438 m) in Walker Ridge blocks 925 and 969. The company has drilled at Bioko, a Lower Tertiary prospect in Walker Ridge block 698, north of the Lucius development.
Also in early May, Statoil and ExxonMobil announced the sanction of the $4-billion Julia development, a 50-50 joint venture operated by ExxonMobil that spans Walker Ridge blocks 584, 627, 628, 540, and 583. The companies plan to launch a drilling campaign next year and have targeted first production in 2016. The field will be developed as a tieback to facilities at Chevron's Jack-St. Malo development, which is slated for first oil in 2014. Julia is believed to hold up to 6 Bboe in place.
Raising the recovery rate from ultra-deepwater Gulf of Mexico fields like Julia is the aim of Statoil's "Cracking the Paleogene" campaign. The company has used technology to reach recovery rates of 60% on the Norwegian shelf, and plans to implement similar techniques in its Gulf of Mexico deepwater projects, where recovery rates now hover at around 10%.
"We hope to get recovery factors to north of 20%," Jason Nye, Statoil's VP of offshore in the US, said at OTC. "We're never going to get to 50% or 60% in the Paleogene. The rocks are just not going to get us there. But going from 10% to 20% is certainly a possibility, utilizing the technology that we've developed in Norway."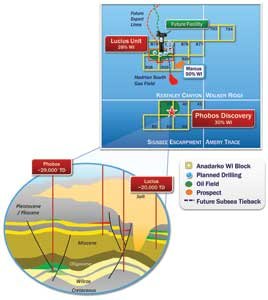 Anadarko's Phobos-1 well, the company's first foray into the Sigsbee Escarpment area, found oil in Lower Tertiary reservoirs. (Image courtesy Anadarko)
One strategy that has worked well in Norway, he said, is the drilling of multi-lateral wells. While water depths in the Lower Tertiary are far greater than those in the Norwegian North Sea, "there's no reason we can't do multilateral wells," Nye said. The technique will help reduce the overall cost of drilling programs in the Lower Tertiary, where drilling and completion of a single well can run $200 million to $300 million, he said.
"Another challenge in the Paleogene is that this is fairly dead oil," Nye continued. "There's a low gas/oil ratio, so that there's not a lot of energy in the system. The oil just doesn't want to flow naturally to the surface like it does in the Miocene reservoirs."
Statoil will use subsea pumps or electric submersible pumps deployed in the wellbore for artificial lift. The company is also exploring the use of water and gas injection to boost production, as Gulf of Mexico operators have done in Miocene reservoirs. "The Holy Grail of unlocking the Paleogene is going to be water and gas injection," Nye said. "Eventually, gas injection may get us from that 10% to 20% recovery."
Logan, Statoil's first operated discovery in the deepwater Gulf, could be developed as a standalone project or a subsea tieback, depending on further appraisal results. Early estimates indicate that the field could contain more than 200 Bbbl of recoverable resources, Nye said.
"It's a good neighborhood," he said, referring to the nearby Lucius, Hadrian, and Buckskin prospects, in the Keathley Canyon's southeast corner. "And in terms of Paleogene reservoirs, this is some of the highest quality oil that we've found, and some of the best rocks."
With the lease set to expire in 2015, Statoil plans to fasttrack the Logan development. "So we're doing a lot of things in parallel instead of in sequence," Nye said. "We're looking at what a standalone concept would look like. I have to say that our preferred solution would be a tieback at this point." Resource estimates from upcoming appraisals "would have to be extremely large" to justify a standalone development, he added: "We'd have to have some pleasant surprises with this appraisal well."
Logan could be producing as early as 2018, he said. "Hopefully, (the appraisal well) will be successful, which we think there is every chance it will be, and we'll be off to the races."
String of successes
Earlier this year, Chevron announced a discovery at the Coronado prospect in Walker Ridge block 98, where the exploration well encountered more than 400 ft (122 m) of net pay. The field, in which ConocoPhillips, Anadarko, and Venari Offshore are partners, lies in 6,127 ft (1,868 m) water depths in the Shenandoah basin, southeast of Anadarko's discovery.
Chevron is also conducting appraisal operations at two previously announced Lower Tertiary discoveries: Buckskin, a 2009 find in 6,920 ft (2,109 m) of water in Keathley Canyon block 872; and Moccasin, in Keathley Canyon block 736, where a well drilled in 6,759 ft (2,060 m) of water turned up more than 380 ft (115 m) of net pay.
In late February, the company said it had conducted a successful production test on the St. Malo PS003 well, with oil flow rates exceeding 13,000 b/d. The Jack and St. Malo fields, located roughly 25 mi (40 km) apart, will be tied back to a floating production platform moored in 7,000-ft (2,134-m) water depths. The FPU, scheduled to be installed later this year, was designed to produce up to 177,000 boe/d. At peak, Jack and St. Malo will contribute some 94,000 boe/d, with the remaining capacity available for third-party tiebacks.
Shell's Stones development will include what's likely to be the second FPSO deployed in the Gulf of Mexico, following Petrobras' Cascade-Chinook development, which began receiving production from the Cascade field in February 2012. In September, the Chinook field came onstream. The Lower Tertiary project is in water depths ranging from 8,200-8,900 ft (2,499-2,713 m), placing it among the deepest subsea developments to date.
Meanwhile, BP is still appraising its Lower Tertiary Kaskida and Tiber prospects. Tiber, a 2009 discovery, is in 4,132 ft (1,259 m) of water in Keathley Canyon block 102. Kaskida is in Keathley Canyon block 291 in 5,675-ft (1,730-m) water depths.
Developing the fields will test the limits of deepwater technology, BP executive VP Bernard Looney said at OTC in 2012.
"Each of these fields has accessible hydrocarbons today, but each also has resources that lie beyond our industry's current limit of 15,000 pounds per square inch and 275°F," Looney said.
The company has launched a research and development initiative to increase those limits to 20,000 psi and 350-400°F.
In March, Cobalt International confirmed that its North Platte-1 exploration well had encountered more than 550 ft (168 m) of net pay in multiple Paleogene reservoirs. The discovery is in 4,400-ft (1,341-m) water depths in Garden Banks block 959. Drilling operations were under way at the company's Ardennes-1 exploratory well in Green Canyon block 896, targeting both Miocene and Lower Tertiary reservoirs. Once completed, Cobalt planned to move theEnsco 8503 rig to Keathley Canyon block 163 to drill the Aegean exploration well in 5,400 ft (1,646 m) of water, said Cobalt chairman and CEO Joseph Bryant.