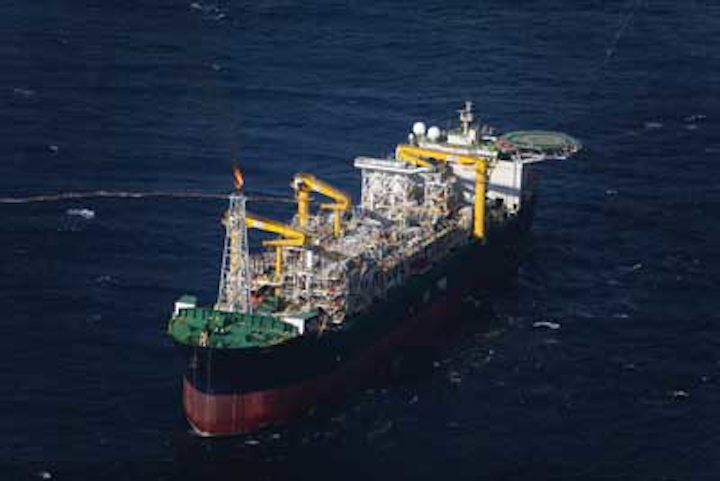 Company moves from exploration into drilling; eyes presalt blocks
Doug Gray
Contributing Editor
Moving out of the considerable shadow of state-owned Petrobras, Brazilian oil and gas company OGX has shown the advantages of its streamlined private sector operations since its creation in 2007.
Armed with experienced personnel and their intimate knowledge of Brazil's offshore prospects, OGX was valued on the stock exchange at $17 billion before exploring its first concession. As a result, the company embarked on a rapid, highly successful program of exploratory drilling starting in September 2009. The first oil production in the Tubarão Azul field in January 2012 marked a record time frame of just 27 months between acquisition and production, and delivered an impressive statement of intent about the company's project delivery capacity.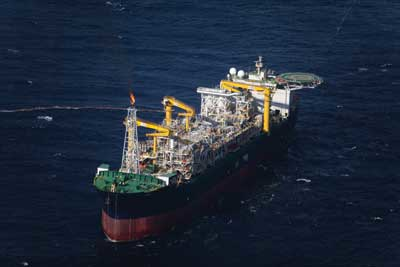 The OGX FPSO is in operation in the Campos basin offshore Brazil.
This year will see a more general move from exploration into drilling, but following the Agencia Nacional de Petroleo's (ANP) granting of an ultra-deepwater license in October 2012, the possibility of acquiring blocks in the first presalt bid round scheduled for November 2013 will also be high on the agenda. A recent high-profile purchase from Petrobras looks to have underlined OGX's plans for the high-cost, highly prized fields.
Personnel changes
The shift already has sparked several changes of key personnel, most recently with the appointment of Paulo de Tarso Martins Guimarães as exploration officer, but also Luiz Carneiro's assumption of the CEO position from another experienced former Petrobras executive, Paulo Mendonça. As the former head of exploration and production at Petrobras, Mendonça, and the team he brought with him, had imbued much of the early confidence in OGX's ability to deliver, and the ongoing reshuffling of know-how at the top will create an impressive catalog of experience in Brazil's key offshore fields. For his part, Carneiro had 30 years with Petrobras with a strong history in production.
Currently operating 25 oil exploration blocks in Latin America, including five in Colombia, and eight gas exploration blocks in Maranhão, the investment required to instigate the company's next phase of production received a billion-dollar share option boost from controlling shareholder and Brazil's wealthiest individual, Eike Batista, in November of last year.
In the Campos basin alone, OGX has drilled over 60 wildcat and appraisal wells and the Tubarão Martelo field's Waimea accumulation has an estimated recoverable volume of 285 MMbbl, more than double that of neighboring Tubarão Azul's Wakiki accumulation. The near-90% drilling success rate suggests that the catalog of knowledge in which Batista originally invested had been well worthwhile.
First production
First production to the Korean-built FPSOOX-1 was through the horizontal well OGX-26 in January 2012. A second well followed four months later. Production at the Tubarão Azul has, nonetheless, been slower than expected. At first it was restricted to 5,000 boe/d but rose to 10,200 boe/d this past November. That still is somewhat disappointing given the 10,000-20,000 boe/d production rate first estimated. The company says that a third well is coming online imminently to help reach those targets, with a fourth scheduled for later in 2013, along with two further injection wells.
Delays in the construction of the company's wellhead platforms (WHPs) being built in Brazil by Techint has increased the urgency of readying two further FPSOs currently being built in Singapore by Single Buoy Moorings and Modec International. Deployment of those vessels through 2013 in place of the planned WHPs will significantly increase operating costs. WHP-1 and WHP-2 are now scheduled for early 2014, each with the capacity to drill up to 30 wells. Two further WHPs are to be built at the Superport do Açu, under construction by OGX parent company EBX.
It was viewed as something of a surprise in the money markets, therefore, when OGX announced the purchase of Petrobras' 40% share of the BS-4 field, in the Santos basin, in November of last year. This was the first asset sale under Petrobras' new divestment program that was an integral part of its more conservative 2012-2016 business and management plan. There was concern that the $270 million price tag would significantly eat into OGX's cash holdings, putting further investments either on hold or at more serious, long-term risk. Strategically speaking, however, BS-4 could prove a key asset for deciding the company's path in 2013.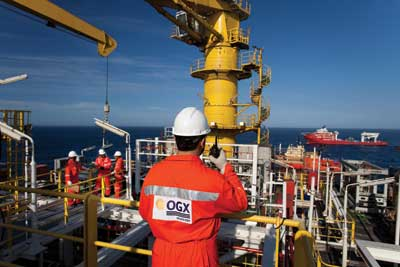 First production reached the OGX FPSO in late 2012.
Deepwater blocks
The BS-4 block comprises the Atlanta and Oliva fields, 185 km (115 mi) off the Rio de Janeiro coast at a water depth of just over 1.5 km (4,921 ft). The remaining concession rights belong to the operating consortium Queiroz Galvão Exploração e Produção SA and Barra Energia do Brasil Petróleo e Gás Ltd., which also holds a 30% participating interest.
As a neighbor of the Libra presalt oil field, the acquisition makes OGX well-placed to explore the geology of the region further and, in partnering with the deepwater expertise of Queiroz, it is hoped that the 2 Bbbl of heavy crude estimated in Atlanta and Oliva will be proven by 2014. The company says it plans extensive 3D seismic surveys and the drilling into the presalt layer of a prospect called Piapara, and a future extended wellhead test.
All of which points to 2013 proving to be another headline-grabbing year for OGX, whose natural gas operations in the Parnaiba basin off the coast of Maranhão, northern Brazil, are scheduled for commercial production in early 2013.
The addition of Colombian blocks in 2010 indicated intent to diversify its portfolio, too, but operating partners and investment will be crucial as the company looks to ramp up production through 2014 and finally turn a positive balance sheet. Matching exploration records with production records would undoubtedly complete the already remarkable OGX story.