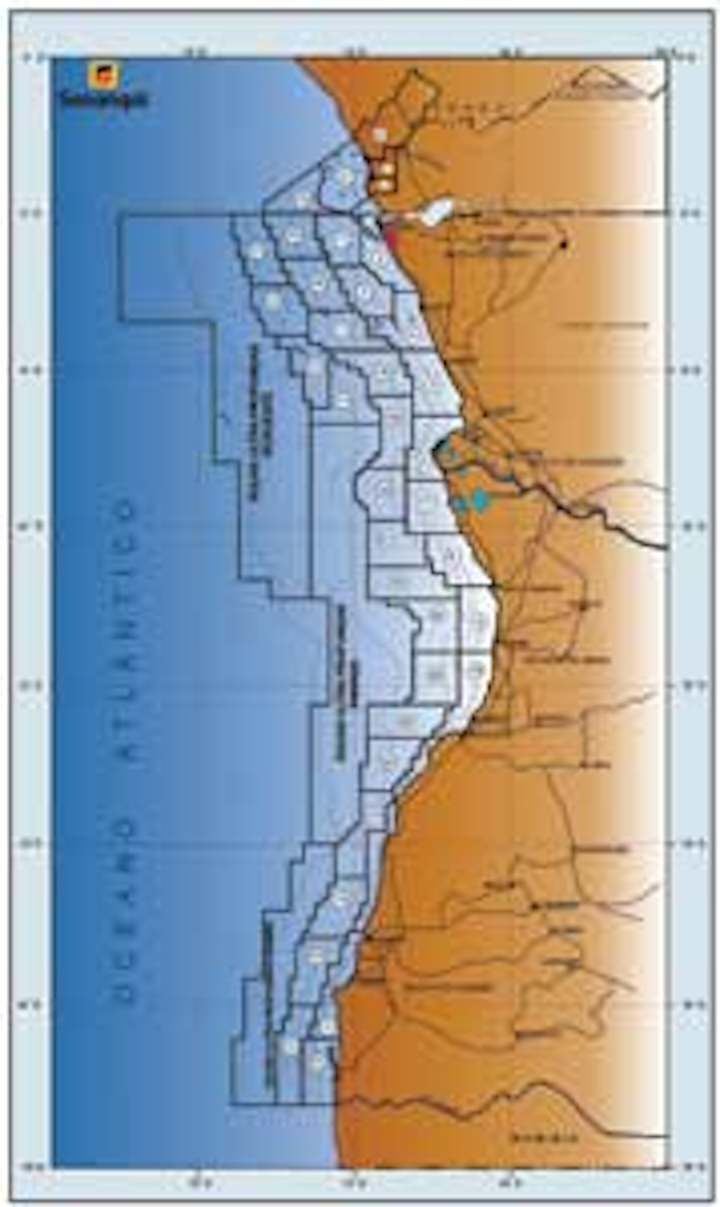 Angola discoveries, bid round fuels exploration rush
Russell McCulley
Senior Technical Editor
Among the frontier areas around the globe, West Africa's presalt is generating considerable interest, with 2013 shaping up to be an active year for both seismic and exploratory drilling in the region's deepwater presalt prospects. While onshore and shallow water presalt discoveries in Angola, Gabon, Congo, and the Democratic Republic of Congo (DRC) date back decades, current efforts - driven by a healthy crude price and better imaging techniques - involve the much more difficult task of targeting presalt reservoirs in deeper realms.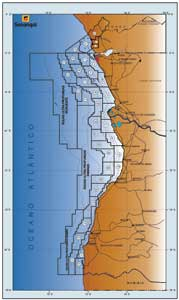 Drilling is scheduled to accelerate this year in Angola's deepwater presalt blocks, where operators are hoping for Brazil-scale success.
The hope is that Africa's offshore areas, particularly Angola's Kwanza and Benguela basins, will hold the presalt riches similar to those found offshore Brazil (seeOffshore, July 2010). Geologists believe that, about 100 million years ago, the Kwanza basin and Brazil's Santos basin were linked and that other West African presalt reservoirs could be analogous to Brazil's.
"There's a lot of 3D seismic going on, and the drilling is coming," says Mohamed Zine, regional director, Africa, for IHS. "Companies are very quiet. It's a new subject, and we're in the early days. There are only a few wells in deep offshore."
According to IHS data, there have been four presalt discoveries in Angola's Kwanza basin: Denden 1, a well drilled in 1983 by Cities Service Co.; Mobil's Baleia 1 well, in 1996; and Houston-based Cobalt International Energy's Cameia 1 and Maersk Oil's Azul 1 wells, both spudded in 2011. Azul 1, in block 23, was drilled to a final depth of 5,334 m (17,496 ft) in 923 m (3,027 ft) of water and was the first deepwater presalt discovery in the basin.
Cobalt soon followed suit, announcing in February 2012 the results of well tests at Cameia 1, drilled in block 21 in 5,518 ft (1,682 m) of water to a total depth of 16,030 ft (4,886 m). The well encountered 1,180 ft (360 m) gross continuous oil column and flowed at a sustained rate of 5,010 b/d of 44° API oil and 14.3 MMcf/d of gas. In July, the company announced that an appraisal well, Cameia 2, "confirmed the presence of a large hydrocarbon accumulation in what is a high quality reservoir" and proved lowest known oil to be at least 135 m (440 ft) deeper than that observed in the Cameia 1 well. Cobalt was preparing for a drillstem test when the DP system on the Diamond Offshore Drilling rigOcean Confidence malfunctioned; Cobalt released the rig in late September for repairs and said test results would be delayed until 2013.
Initial results were enough for the company to declare the Cameia discovery "an exceptional success" and, in November, to put out tenders for a range of development services. In conferences, Cobalt has discussed internal pre-concept development plans, including the possible use of an FPSO on the field. The company will take delivery 1Q 2013 of Petroserv's newbuildSSV Catarina semisub, which has been contracted at an average day rate of $600,000 for a firm three years to support the company's presalt Angola drilling campaign.
Cobalt has a 40% operated interest in block 21, with partners Sonangol (20%), Nazaki Oil and Gáz (30%), and Alper Oil (10%).
A deepwater Angola presalt licensing round held in 2011 drew winning bids from Cobalt and a handful of majors. BP was awarded operatorship and 50% interest in blocks 19 and 24, 20% non-operating interest in block 20, and 15% in block 25. Separately, the company acquired a 40% stake in block 26 in the Benguela basin in a farm-in deal with block 26 operator Petrobras, which also holds 40% interest. Angolan state oil company Sonangol has the remaining 20%.
Statoil will operate blocks 38 and 39 in the Kwanza basin with a 40% share in each. The company also acquired a 20% stake in each of blocks 22, 25, and 40. "Statoil believes that its technical and subsurface competence, experience in international deepwater exploration programs, and established track record in planning and executing large complex offshore projects will be beneficial in unlocking the exploration potential of the presalt play in Angola," the company said at the time of the announcement.
France's Total, which marks a half-century of operation in Angola this year, signed production sharing agreements with Sonangol for operatorship of blocks 40 (50%) and 25 (35%) as well as a 15% non-operated share of block 39. Total and its partners plan to collect 3D seismic data on 14,000 sq km (1,405 sq mi) and drill five exploration wells with presalt objectives on the blocks over the next five years.
Eni was awarded a 30% operated interest in block 35; Sonangol and Spain's Repsol hold 45% and 25% interest, respectively. Eni said the venture partners would conduct 3D seismic surveys on a 2,500 sq km (965 sq mi) area and drill two wells during the first five years of exploration. Repsol, meanwhile, claimed operatorship of block 22.
ConocoPhillips will operate blocks 36 and 37 with 30% interest in each. Sonangol holds 50% interest in both blocks; Repsol has 20% interest in block 37 and China Sonangol, a joint venture of Sonangol and a group of Hong Kong investors, has a 20% stake in block 36. Water depths in the blocks range from 5,600 ft (1,707 m) to 8,200 ft (2,500 m). First drilling is planned for 2013 and 2014.
By the end of this year, TGS will have completed processing data from a 3D multi-client seismic survey covering more than 16,500 sq km (6,370 sq mi) of blocks 35, 36, and 37, adding to a growing body of data mapping Angola's presalt geology. Seismic studies are also under way in the Namibe basin, which extends south from Angola into Namibian waters, and which is believed to be analogous to Brazil's Santos basin.
Deepwater presalt interest extends north to Gabon's Diaba block, where Cobalt, operator Total, and Marathon Oil, which farmed into the block in June 2012, plan to launch a drilling campaign in 1Q 2013. While Gabon currently produces oil from onshore and shallow offshore presalt reservoirs, the Diaba block, containing the Mango and Mango South prospects, will mark the first deepwater presalt exploration in the country. Offshore bid rounds in Gabon have been postponed several times and are now tentatively scheduled for June 2013, says IHS's Zine. Congo, likewise, is expected to award licenses for deepwater presalt exploration in coming months, although no date has been set, Zine says. "It could be bid rounds, or one-to-one discussions" with operators, he says.