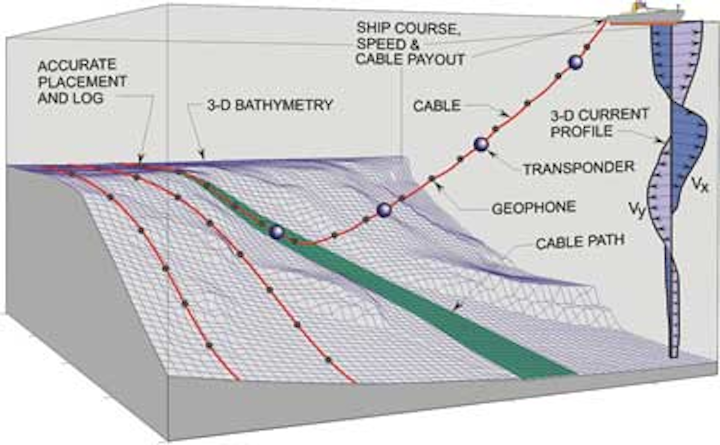 Repsol Sinopec Brasil has contracted Fugro to supply geophysical, geotechnical, and metocean services in support of the development offshore Brazil in block BM-C-33. The project includes a marine survey employing Fugro's newest vessel, MVFugro Brasilis, the MV Geo Prospector, and an AUV.
The geotechnical work includes jumbo piston coring and cone penetration testing together with data processing. The metocean data will be acquired over a 12-month time span.
Campos basin block BM-C-33 is in deepwater and is operated by Repsol Sinopec Brasil with consortium partners Statoil and Petrobras. Water depths range from 2,600 to 2,900 m (8,528 to 9,512 ft) and the block is about 200 km (124 mi) off the coast of Rio de Janeiro state.
The contract value is approximately BRL 40 million ($18.5 million) and work is expected to commence in 3Q 2013.
SAIC elects OBC simulation service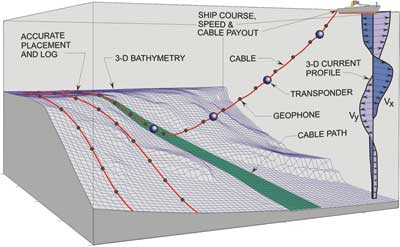 Schematic of subsea cable placement simulation.
SAIC has two MakaiLay Seismic licenses and one MakaiPlan Pro Seismic license to use with its existing cable lay equipment for deployment of ocean bottom cables.
MakaiPlan Pro Seismic is a simulation tool to plan installation and retrieval of ocean bottom cables in mid- and deepwaters. It enables 3D dynamic simulations of the cable installation and retrieval. The simulations can be used to test the feasibility of the planned lays, make equipment selection, train cable engineers, conduct pre-lay and post-lay analyses, and create a ship plan for installation.
MakaiLay Seismic is designed to help accurately install and retrieve seismic OBC arrays. Makai says it can run on a laptop computer. It takes in data from an acoustic Doppler current profiler and transponders on the cable(s) and produces a vessel navigation and cable payout plan.
TGS wins new surveys offshore UK and Newfoundland
TGS will conduct three new multi-client surveys: a 3D survey in UK west of Shetlands and two 2D surveys offshore Newfoundland-Labrador.
Rona Ridge 2013 (RR13) is a 2,420-sq km (934-sq mi) 3D survey that will be the first 3D acquisition in the UK West Shetland basin. Data processing will be performed by TGS with initial data available to clients in 4Q 2013 ahead of the UK 28th Licensing Round.
The Labrador Sea Deep basin 2D survey covering 3,000 km (1,864 mi) and the Labrador Sea 2D Infill survey covering 7,100 km (4,350 mi) will complement and infill the existing 22,167 km (13,774 mi) of 2D data acquired in 2011 and 2012. These surveys will further define and delineate the Henley, Chidley, and Holton basins.
Both surveys will be acquired in partnership with PGS and use the PGS GeoStreamer technology. Data acquisition was scheduled to start this past August, and initial data is to be available to clients in 2Q 2014.
All three surveys are supported by industry funding, said TGS.
CGG collects more Barents Sea data
CGG has completed its second BroadSeis multi-client seismic survey offshore Norway in the Barents Sea. Fasttrack results from the 2,300-sq km (888-sq mi) survey are scheduled to be available by year-end, with final processing results by August 2014. The survey, in the southeastern part of the Barents, is adjacent to the recent extension of Norwegian territorial limits following an agreement between Norway and Russia. CGG's first BroadSeis survey in the area targeted the Halten Terrace. CGG said the area covered should be a strong candidate for inclusion in the scheduled 23rd licensing round set for the second half of next year.
CGG also has completed its first BroadSeis-BroadSource survey in Australia. The Sandman survey was done on the Northwest Australian shelf for Shell Development Australia.
The 2,810-sq km (1,085-sq mi) 3D BroadSeis survey was acquired by theViking Vision towing a 12 x 100 x 6,000 m (39 x 328 x 19,685 ft) spread of steerable Sercel Sentinel solid streamers and equipped with BroadSource, the company's proprietary broadband marine seismic source.
The survey data set is currently being processed in CGG's Singapore Subsurface Imaging Center and is expected to be completed in 2Q 2014.
ARKeX, Lockheed Martin sign deal
ARKeX has entered a 10-year agreement for Lockheed Martin to supply next-generation full tensor gravity gradiometers for ARKeX geophysical survey applications.
The new equipment will offer a significant improvement in resolution over the current instrumentation, said ARKeX, and will give the company an opportunity to develop new products and services. This will not only allow new resources to be discovered but also reduce exploration timelines and costs, concluded ARKeX.
---
South Africa turning into hotbed of seismic activity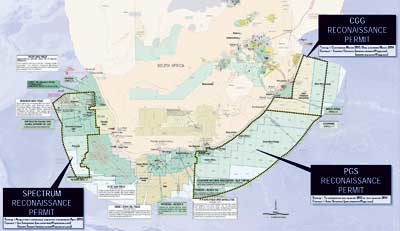 CGG has a permit to explore an area 25 km (15.5 mi) offshore to 300 km (186 mi) offshore of the KwaAulu-Natal coast as an extension of a recently completed program in the area. This second survey is designed to cover 5,000 km (3,107 mi) within an 80,000-sq km (30,888-sq mi) exploration block that reaches from Margate north to the Mozambique border. Sasol Petroleum and Silver Wave Energy are suggested to be the clients.
Recently, Spectrum finished a 2D multi-client survey in the deepwater Orange basin off the western coast, and PGS is planning a survey off the eastern coast to the south of the CGG program down to Port Elizabeth.