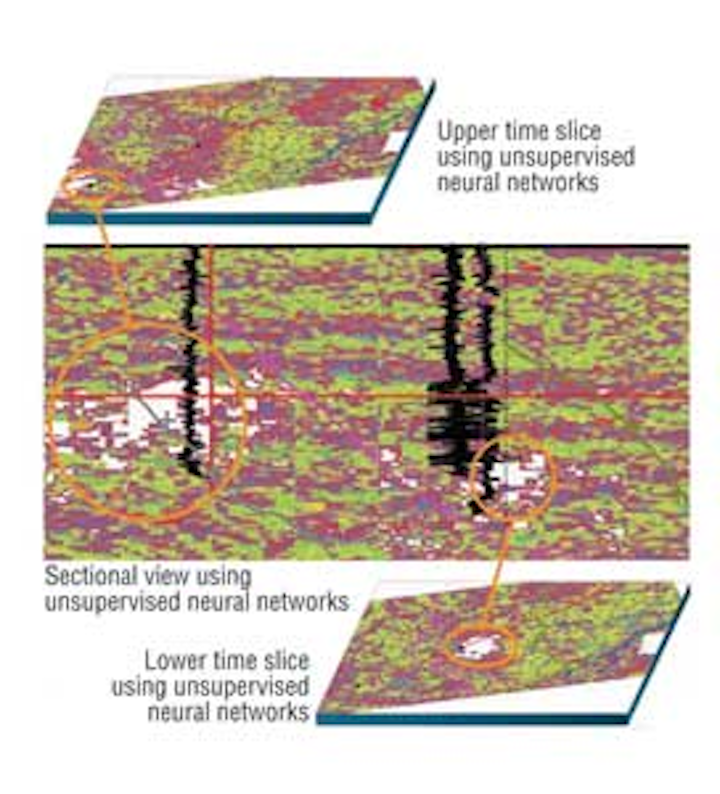 SEG 2013 draws big crowd to see new technology
Gene Kliewer
Technology Editor, Subsea & Seismic
The 2013 annual meeting of the Society of Exploration Geophysicists brought with it more than the usual number of technology announcements.
The broad effort to make information out of data that follows the explosion of data acquisition volumes is compounded by on-going efforts to combine as much subsurface data as possible to improve both discovery and recovery. This includes steps to integrate well logs, drilling information, etc. with geophysical data such as seismic analysis to help better represent the true circumstances found downhole. It also puts added burden on processing speed and storage to accommodate the trend toward keeping a single database so that everyone is using the same information, regardless of purpose. In response, there is a burgeoning trend toward returning to a more centralized storage and processing system and away from desk computing.
Now to some of the specific advances.
Integrated workflow
ARK CLS released a new data collaboration technology called GeoDataSync at SEG 2013.
GeoDataSync brings order to the workflow, said ARK CLS, allowing interpreters to use multiple interpretation systems within the same unified workflow. Data can also be accessed without the need to copy it, reducing storage costs for the large seismic 3D data volumes.
The initial implementation of GeoDataSync is as a plug-in to Schlumberger's Petrel seismic to simulation software. Through a separate plug-in, GeoDataSync allows users access to 3D seismic data volumes and other data stored within dGB Earth Sciences' seismic interpretation system, OpendTect.
"Running quietly in the background and lightweight, fast and efficient, GeoDataSync unifies the seismic interpretation workflow and enables interpreters to focus on their number one priority – accurately characterizing the subsurface," said Adrian Bennetton, managing director of ARK CLS.
Geophysical Insights announced the commercial launch of Paradise.
Paradise is an advanced analysis software platform that reduces exploration risk by providing geoscientists new insights in seismic and engineer data, said Geophysical Insights. The suite enables rapid analysis and comparison of different aspects of seismic and engineering data, and shows data relationships.
Paradise executes and manages workflows based on advanced pattern recognition methods, including Self-Organizing Maps (SOM) and Principal Component Analysis (PCA). The suite features guided workflows, interactive world maps, 3D imaging, and a 2D color mapping capability that is integrated and interactive with 3D imaging.
"Paradise has been rigorously applied by our geoscientists in a wide variety of onshore and offshore geologic settings worldwide, including unconventional resource plays," said Dr. Tom Smith, president and CEO of Geophysical Insights. "We have excellent test results that give us confidence that Paradise will accelerate the creation of geoscience knowledge while substantially reducing exploration risk. Applying Self-Organizing Maps running as background tasks, it is the only geosciences software that can operate on seismic-related files automatically as new data files are added to the system."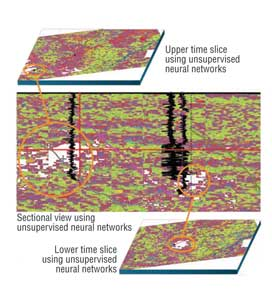 Images courtesy Geophysical Insights
Paradigm has unveiled Epic open and integrated platform in the Paradigm 2014 release at the SEG Annual Meeting & Exposition. In addition to Epic, the release has new workflows for full-azimuth imaging, tomography, formation evaluation, facies analysis, and modeling.
Epic will be released in stages, said Paradigm, with the infrastructure that unifies the suite into a single, integrated console scheduled for release this year. Connections with Petrel, JavaSeis, and ArcGIS will be available later this year and early in 2014 to go with existing connections to OpenWorks, GeoFrame, and OpenSpirit.
Epic adds a common user interface to reduce the learning curve and make information shareable in real time. It also allows creation of custom workflow templates.
"This is the first time that users will be able to select specific applications from Paradigm to connect into their existing primary platform," said Duane Dopkin, executive vice president of technology at Paradigm.
Roxar Software Solutions division of Emerson Process Management has another approach to workflow and data integration for complex subsurface models.
"We made a segue from QC into interpretation," said Garrett Leahy, technical product manager, Roxar. "We designed a new tool that leverages structural modeling to give a model-driven interpretation."
It uses uncertainty in combination with the interpretation and modeling phases, he said, plus, the result is a fully 3D geologically consistent model.
"By capturing uncertainty and building models directly from the data, we generate a more complete representation of the data, and do it faster," said Leahy.
Including the uncertainty can keep poor data quality from delaying the process. That uncertainty stays with the interpretation during the entire modeling workflow.
CGG's Jason company released a new version of its seismic reservoir characterization program, Jason 8.4. The software suite optimizes field development, reservoir management, and well planning with a streamlined workflow, the company said. It incorporates inversion and geostatistical analyses. The system can help define the reservoir container, determine optimal frac zones, and reduce water incursion.
Jason's new 3D interpretation application is said to enable better visualization of subsurface data including wells, horizons, faults, seismic, and rock property volumes.
Microseismic events
One area of geophysics with increased emphasis and development is microseismics.
Baker Hughes and CGG have signed a letter of intent to realign the VSFusion joint venture to focus on microseismic monitoring, processing, visualization and interpretation, plus permanent monitoring. The venture, announced at the SEG annual meeting, is now called Magnitude.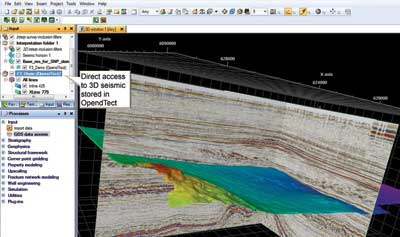 GeoDataSync allows multiple interpretation systems within one workflow and allows access to the data without needing to copy it.
"The launch of Magnitude merges borehole and surface microseismic," said Douglas Stephens, president, Pressure Pumping for Baker Hughes.
"Magnitude integrates the latest innovative technologies from Baker Hughes and CGG, combining downhole and surface data to help oil and gas operators reduce risk in their reservoir development investments," said Lionel Lhommet, executive vice president of Strategy, Integration and Partnerships for CGG.
Fernando Lopez, president of the Magnitude JV, said the value of the new arrangement is in an optimized network for better understanding of the reservoir resulting in improved production rates and efficiency.
Magnitude will use reservoir models that integrate log-derived, near-wellbore geomechanical and petrophysical properties from Baker Hughes with calibrated seismic data from CGG to help in well placement and completion design.
MicroSeismic Inc. showed PSET 5.0, its next generation of Passive Seismic Emission Tomography, at the SEG 2103 Annual Meeting.
"PSET 5 is the next step in the evolution of PSET," said Dr. Peter Duncan, founder, president, and CEO of MicroSeismic. "It uses scaled estimates of the real size of the real fractures and where the proppant goes. It addresses the question of 'How many wells does it take?'" to maximize production without over-drilling of wells.
"PSET 5 will tell you how effective your frac is, and the high-definition microseismic indicates the extent of the fractures, proppant placement, treatment efficiency, and presence of geo-hazards," said Mike Mueller, vice president, technology development.
With this latest release, MicroSeismic also introduced controlled amplitude processing to allow provision of true magnitude for each event. This lets operators compare event magnitudes from well-to-well and basin-to-basin, and allows for highly accurate discrete fracture networks.
Productive-SRV (stimulated reservoir volume) introduces a novel method to estimate how much of the stimulated fracture remains open through proppant placement. Productive-SRV incorporates three microseismically derived calculations to estimate target zone productivity:
1. A magnitude calibrated Discrete Fracture Network (DFN)
2. The Propped Fracture Estimation
3. The Fat Fracture Drainage Estimation.
The combination of these techniques can be used to estimate 90-day cumulative production, says MicroSeismic.
Other topics
TGS is using its Clari-Fi technique to recover broadband data in both shallow and deep sections by addressing both the ghosting and earth filtering, said Zhiming Li, senior vice president of data processing and R&D.
"Enhanced bandwidth ties into lithology," Li said, "and we now go to 5 m [16 ft] from what used to be 15-20 m [49-66 ft], and resolution is the critical part."
The attenuation solution uses a constant Q correction for a balance between the recovery of high frequencies and the minimization of noise.
TGS also featured its work on 4D seismic in Statoil's Gullfaks field. In this one field, Statoil estimates the 4D program has added a value of $1 billion. More proof of value for 4D seismic technology is expected when the results of additional installations planned in the North Sea, Caspian Sea, and offshore Brazil are available.
Kongsberg Seatex has added two features to its SmartWing instrumentation on the eBird Seismic Streamer Control System.
The eBird now has a compass plus a GNSS receiver in the wings which can improve efficiency not only during launch and recovery, but also while running lines, says Kongsberg Seatex.
The built-in compass is fully integrated with SmartWing and provides heading information while submerged.
"We always try to find improvements to our solutions and these new features are excellent examples of how we combine our core technology and expertise to create improved value for our customers," said Gard Ueland, president of Kongsberg Seatex AS.
Petroleum Geo-Services and Toisa Seismic have agreed to invest in Seafloor Geophysical Solutions. The agreement gives PGS exclusive rights to market SGS subsea node services in the Brazilian market.
PGS and Toisa said SGS and its ocean-bottom seismic services, when coupled with Toisa Ltd.'s marine capabilities, will supplement PGS' GeoStreamer and OptoSeis technologies.
According to the agreement, PGS will control 33.4% and Toisa will have 55.4% of the operation.
Geophysical Insights is developing and applying new technologies to reduce exploration risks and the time required for interpretation. Some of those technologies include unsupervised neural networks (UNN) and principal component analysis (PCA). These are non-linear methods to seismic interpretation.
Unlike "supervised" neural networks, unsupervised neural networks do not require well logs for calibration but operate on multiple seismic attributes simultaneously. UNN reduces the dimensionality of the interpretation problem by enabling an interpreter to visualize the combined effect of multiple attributes in a 2D map.
The SEG Advanced Modeling (SEAM) Phase I research project on "Deepwater Subsalt Imaging" was completed shortly before the SEG 2013 event. This joint-industry project started in 2007, and involved 24 participating companies and a budget of $5.2 million.
The high resolution earth model includes complex salt and realistic stratigraphy over an area of 40 km x 35 km x 15 km (25 mi x 22 mi x 9 mi) deep. Almost 500 terrabytes of densely sampled geophysical data were collected, including an acoustic simulation, an acoustic simulation without sea surface multiples, an acoustic TTI anisotropic simulation, an elastic simulation, a gravity simulation, a CSEM simulation, and a magnetotelluric simulation. These data provide benchmarks to test approaches to acquisition and processing including acquisition geometry, imaging algorithms, demultiple techniques, joint inversion of seismic and non-seismic data, VSP processing, and Scholte wave investigations of seafloor engineering parameters.
---
Ice navigation system may extend operations season in arctic environments
Visualization and analysis of enhanced ice radar data. (Courtesy ION)
While it may have a broader application than only seismic acquisition, ION introduced its Narwhal ice management system designed to extend the operations season in the Arctic and other ice-affected areas.
Narwhal can gather, monitor, and analyze data from multiple sources to track and forecast ice threats. Combined data can come from satellites, ice charts, radar, metocean data, and on-board observation. This all goes into making informed go/no-go decisions, to plan passages, and to identify escape routes during single or multi-vessel seismic runs and also during drilling operations.
"The system's unique enterprise capability allows multiple vessels, platforms, and onshore operations to share and visualize all available information in a common operational picture, thereby improving efficiencies and providing the entire operation with greater situational awareness," said Des Flynn, vice president, ION Concepts Systems.
"Narwhal extends ION's Orca and Gator II nav systems," said Chris Usher, ION executive vice president and COO of GeoScience. "It automates the tasks and uses whatever information is available in the right place for informed decisions. It monitors ice and alerts of intrusion into an alarm zone."