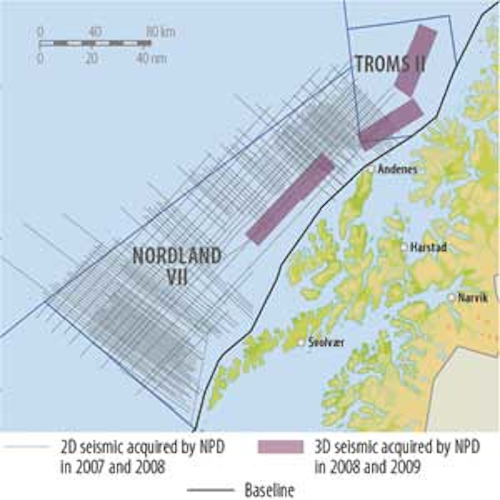 With the prospects of drilling picking up in the Gulf of Mexico, seismic data acquisition is ongoing.
TGS, in partnership with WesternGeco, has begun to acquire the first orthogonal 3D multi-client, wide-azimuth seismic data collection survey covering 11,655 sq km (4,500 sq mi) of the GoM. This is the first orthogonal WAZ survey to cover much of the existing Freedom WAZ data set, says TGS. The two data sets will be combined and the resulting WAZ portfolio will cover more than 39,000 sq km (15,054 sq mi).
The new seismic data is being acquired by a four-vessel WAZ fleet. The data will be processed by TGS and preliminary products will be available to participating companies in 2013 with a final processed product expected by 1Q 2014.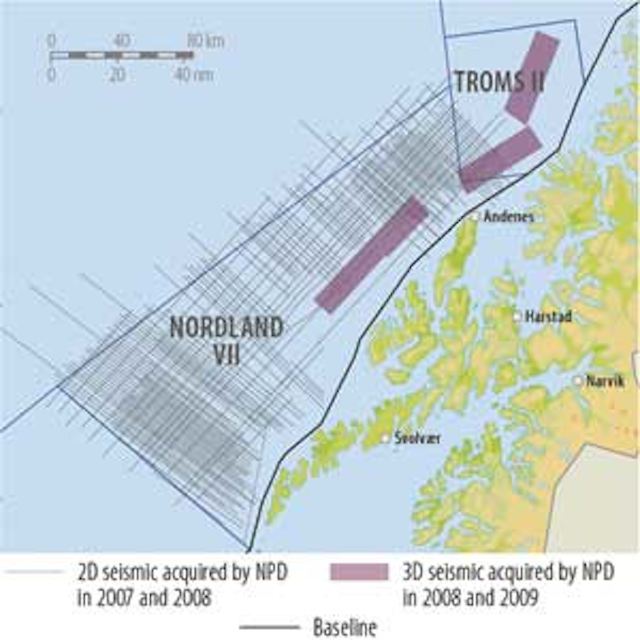 The Norwegian Petroleum Directorate (NPD) is selling in one package 2D and 3D seismic data collected off Lofoten, Vesterålen, and Senja (Nordland VII and Troms II). The package, with data from five different surveys is priced at NOK43.2 million ($7.5 million) plus tax. The 2D data scheduled for reprocessing in 2012 will be available upon completion of the processing. Elsewhere offshore Norway, the NPD and the University of Bergen have acquired samples from steep parts of the seabed on the Jan Mayen ridge between Norway and Iceland. Data was acquired on both the Icelandic and Norwegian sides of the ridge, under an agreement with Icelandic authorities (Orkustofnun). NPD is investigating the potential for petroleum in the region. Good-quality sandstone was also discovered, as were rocks of the same age as source rocks on Greenland. Water depths in the survey area range from 600-2,000 m (1,968-6,561 ft). The areas were selected in part based on seismic data available for this part of the Norwegian Sea. More seismic will be acquired on the Jan Mayen Ridge next summer. Last year Norway's government started a process to open seas in this area for potential petroleum activity.
Further south, CGX Resources Inc. has hired Petroleum Geo-Services to conduct a 3D marine seismic survey offshore Guyana. TheRamform Challenger is scheduled to begin the five-week project in mid-December.
"This 3D seismic program has been designed to better image the up-dip limits of the Eagle Deep stratigraphic play at the Turonian and Campanian and to cover the two early Cretaceous, Albian prospects (Crabwood and Kabukalli) which are underlying the company's 100% owned Corentyne offshore Petroleum Prospecting License (PPL) and for which CGX obtained an independent resources evaluation report from DeGolyer and MacNaughton of Dallas earlier this year that provided a total best estimate (P50) of prospective resources of 325 MMbbl of oil," said Stephen Hermeston, president and CEO of CGX Resources.
On the other side of the world, MEO Australia Ltd. says its Seruway Offshore Exploration Ltd. subsidiary has started seismic acquisition offshore Indonesia over the Ibu Horst area. As operator for the Seruway PSC, SOEL is collecting 705 sq km (272 sq mi) of 3D seismic data with the PGSM/V Pacific Explorer. Work is expected to take 30 days.
MEO says this will fulfill its 2011 work program commitment and is expected to generate several drillable prospects for a commitment well due by the end of 2012.
MEO acquired the Seruway PSC, covering 3,635 sq km (1,403 sq mi) and containing two significant gas discoveries: Gurame and Kuala Langsa, from Transworld Exploration Ltd. in 2011. These discoveries intersect multiple reservoir horizons (Baong, Keutapang, Belumai, Peutu), says MEO, which are believed to be highly prospective.
New leads are emerging from re-processed 2D seismic on the Tarfaya block offshore Morocco, according to Tangiers Petroleum. Three new prospects have been identified to date, named Apollo, Hermes and Hercules, all within the lower Cretaceous Tan Tan intervals.
Historic well log data from these intervals suggest they are a series of stacked sand units with good reservoir qualities and likely porosities of 25% or more in the upper portion of the unit.
Seismic interpretation of the lower Cretaceous will continue in order to mature other leads to prospect status. On completion of the Cretaceous mapping, Tangiers will start to determine prospective resource volumes.
Lansdowne Oil & Gas has taken delivery of the processed 3D data taken in seismic surveys earlier this year over Amergin, Rosscarbery, and Midleton prospects in the North Celtic Sea basin offshore Ireland.
"We are pleased to receive our processed 3D seismic datasets on schedule," said Dr. Steve Boldy, Lansdowne CEO. "Lansdowne believes 3D seismic will provide the key to unlocking the potential of the North Celtic Sea basin. Interpretation is now under way and this will be followed by farming down ahead of planned exploratory drilling in 2012."
EM safe for fauna
The International Association of Geophysical Contractors has released its study on the environmental impact of electromagnetic surveys on the marine environment.
The study concludes that EM sources as used now for petroleum exploration has no potential significant impact on fish, seabirds, turtles, or marine mammals. It also says that cumulative effects of EM surveys are negligible compared to natural EM events.
EMGS and Schlumberger have announced the intention to enter a cooperative agreement effective Jan. 3, 2012, to offer marine electromagnetic related processing, advanced modeling, and earth model building. The two companies also have entered a cross-license of patents agreement regarding CSEM acquisition.
"We look forward to building on both companies' strengths and are hopeful that this agreement will enhance the adoption of EM technology," says Roar Bekker, EMGS CEO. "Furthermore, our combined service offerings will provide the global oil and gas industry with improved integration capabilities and accelerate the growing portfolio of EM applications."
Blueback Reservoir continues to expand its collection of Petrel plug-ins for exploration and production with the release of Blueback Toolbox v11.
In addition to geology, geophysics, project management, and reservoir engineering, the new version includes a Seismic Reservoir Characterization Toolbox to help in reservoir characterization. Blueback says the current content focuses on estimating seismic net pay for thin-bedded reservoirs and classification of seismic data using AVO analysis.
The five modules seamlessly integrate with Petrel with the same familiar Petrel user interface.
More Offshore Issue Articles
Offshore Articles Archives
View Oil and Gas Articles on PennEnergy.com