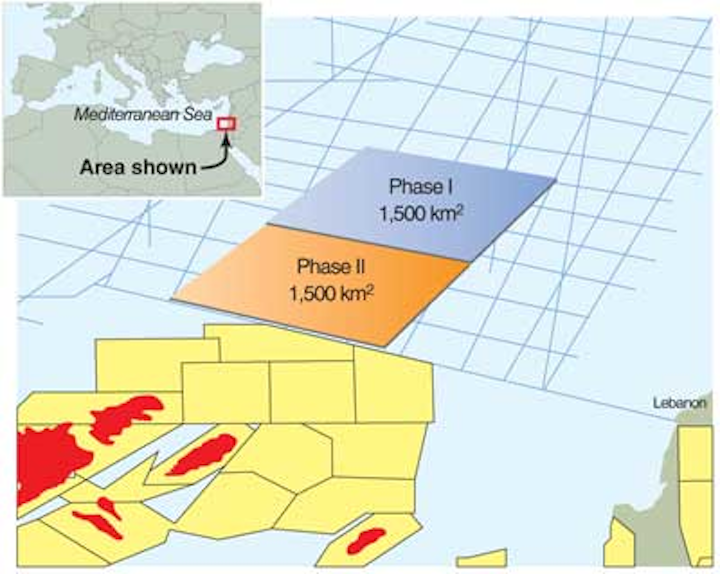 Gene Kliewer • Houston
OYO Geospace and Statoil have a non-binding letter of intent for 600 km (373 mi) of seabed seismic reservoir monitoring at Snorre and Grane fields on the Norwegian continental shelf. Statoil will pay $2.5 million for pre-award work and about $160 million over three years if the final contract is executed this month.
TGS at work in Faroe Shetland basin
TGS is acquiring a 3D multi-client survey over 1,520 sq km (587 sq mi) in quads 208 and 217 of the Faroe Shetland basin on the UK continental shelf, west of Shetlands. The Erlend West 2012 (EW12) survey is the first 3D survey in the area and covers the western most margin of the Erlend basin. The EW12 3D survey covers both held acreage and open blocks, and expands on TGS' 3D coverage in this developing petroleum province. TheM/V Polar Duchess is acquiring the data. A fasttrack volume will be available for delivery and licensing during 1Q 2013.
Petrobras, PGS celebrate record-setting survey
Petrobras and PGS have celebrated the completion of the largest HD4D project ever acquired. Among the records the companies say were set are largest HD4D spread, largest HD4D survey area, and longest continuous deployment.
The PGSRamform Sovereign produced 21.3 billion seismic traces while sailing a distance equivalent to 3½ times around the Earth's equator. The 13,031-sq km (5,031-sq mi) HD4D program delivered baseline data for future monitoring for some of the most important Brazilian subsalt oilfields. Over 45 months, a vast array of recording equipment was towed behind the ship: 14 cables, each 8,100 m (26,575 ft) long and packed with electronics were towed in formation, 50 m (164 ft) apart. The entire streamer array was kept continuously in the water for 9½ months with cleaning and maintenance done from work boats.
Romania gets offshore seismic survey
Melrose Resources has started exploration on the Muridava and Est Cobalcescu blocks offshore Romania. Both are in shallow water with oil and gas potential in proven plays on trend with discoveries elsewhere in Romanian waters. Melrose's preliminary mapping of the area was based on vintage regional 2D seismic data. The first stage of the program involved the acquisition of 1,930 sq km (745 sq mi) of 3D seismic data over both blocks, using theVyacheslav Tikhonov seismic vessel. Interpretation will be fasttracked ahead of a multi-well drilling campaign, with two wells planned in 2013 and four wells in 2014.
As the planned work program is capital intensive, the company plans to reduce its equity on both blocks to 40%, while retaining operatorship. It is in discussions with one company interested in a 30% stake in Est Cobalcescu.
EMGS looks at Asia 3D EM record survey
Electromagnetic Geoservices ASA has a letter of award for a $20-million contract from a major international oil company to acquire 3D electromagnetic (EM) data offshore Brunei. Data acquisition will be performed from the vesselEM Leader starting in 4Q 2012. "This is the largest 3D EM survey ever in this region, and we are delighted that this repeat customer is using EM strategically to optimize a portfolio of drilling prospects over a large area," said Roar Bekker, CEO of EMGS.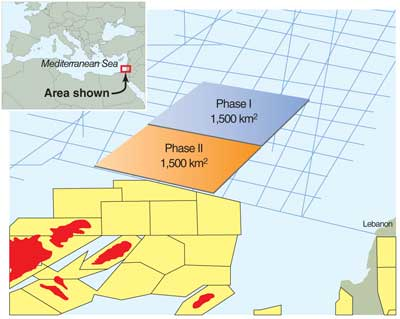 The Lebanese Ministry of Energy and Water has contracted Spectrum to conduct a new multi-client 3D seismic survey in the Levantine basin offshore in the Mediterranean. In cooperation with Dolphin Geophysical and itsPolar Duke, the final coverage will be at least 1,500 sq km using 12 streamers and dual source. Ultimately, the project will encompass 3,000 sq km. A fasttrack volume, processed on-board, will be available to interested clients in November. The final product will be completed in early 2013 which is when the Lebanese government has indicated a first-ever licensing round will open.
Geosciences in business
CGGVeritas and JSC Sevmorneftegeofizika have agreed to form a strategic alliance to address the growing Russian and CIS high-end seismic vessels market and coordinate their complementary capacities worldwide.
•••
Eni CEO Paolo Scaroni and Rosneft Vice President Igor Pavlov signed an agreement to form joint ventures to develop the Fedynsky and Tsentralno-Barentsevsky licenses in the Barents Sea, and the Zapadno-Cernomorsky licenses in the Black Sea. The joint ventures will be Eni 33.33% and Rosneft 66.67%.
•••
Fugro Seismic Imaging has adopted Paradigm SKUA for modeling of salt bodies and velocity fields. Fugro will use the technology to build detailed velocity models in the Gulf of Mexico and elsewhere, including models with complex salt structures. SKUA is a 3D modeling technology that unifies discrete subsurface models in a stand-alone application. With SKUA, Fugro says it will be able to optimize the integrity and complexity of the salt structures in the seismic image, providing a fast and seamless workflow to update a salt model and secure more accurate and reliable velocity models for seismic imaging.
•••
Sercel has deployed its latest-generation marine seismic system onto CGGVeritas' Oceanic Champion. The new equipment will perform the full range of seismic functions on the upgraded vessel. Specific equipment includes the Seal 428 new-generation marine seismic recorder, high-performance G. GUN II airguns, Sentinel solid streamers, the all-in-one Nautilus streamer positioning and control system, and the new SeaPro Nav integrated navigation system. The vessel currently is acquiring a high-resolution survey in the North Sea using a 14 x 6.6 km (8.7 x 4 mi) variable-depth streamer configuration with 50-m (164-ft) streamer separation.