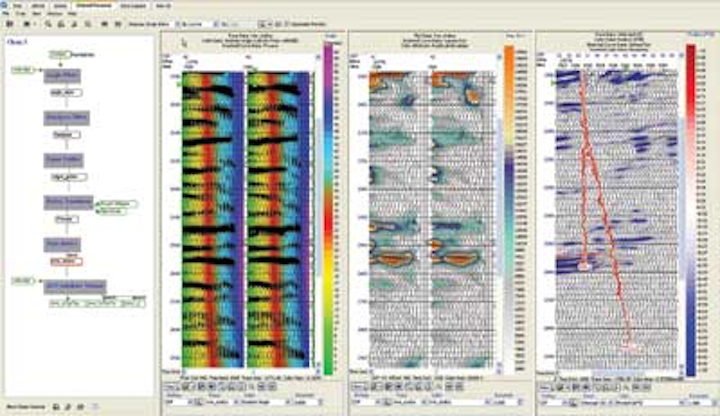 The recent EAGE (European Association of Geoscientists & Engineers) conference and exhibition held in Copenhagen brought out some new technologies for the oil and gas geologist and geophysicist. Some of the key advances are highlighted below.
Geological Expressions software providerffA says its GeoTeric product now is certified on the NVIDIA Maximus technology platform. In collaboration with NVIDIA, ffA has brought advances to the seismic interpretation workflow through development of GPU-based algorithms and technologies that bridge the gap between the interpreter interaction and analysis of 3D seismic attributes, improving interpretation productivity. Maximus combines the visualization and interactive capability of NVIDIA Quadro GPUs and the high-performance computing power of NVIDIA Tesla GPUs into one workstation. Tesla companion processors perform the work of photorealistic rendering or engineering simulation computation. This frees the Quadro GPU to be dedicated to powering interactive seismic visualization.
Fugro-Jasonused EAGE to focus on seismic to simulation workflow including case studies from the North Sea, CIS, and Malaysia. "Significant enhancements in our latest software reveal more geology through geostatistical inversion, detect ever thinner reservoirs in challenging geologic settings and improve the probability of successful wells," said Eric Adams, Fugro-Jason managing director.
Octio has announced a formal partnership with Siemens in permanent reservoir monitoring. In the joint PRM offering with Octio, Siemens will contribute with project management and execution, subsea system design, power and communication, as well as subsea system manufacturing. Octio is contributing its Permanent Oilfield Monitoring technology based on a digital network including high vector fidelity seismic MEMS sensors with interface to EM, chemical, biological, and oceanographic sensors. The system is built for permanent deployment on the seafloor with a 25 years lifetime. Once installed, the system can perform passive monitoring as well as repeated seismic surveys of the reservoir.
The Reservoir Group launched Reserves Guard and Interica, a joint entity of InfoAsset and Enigma Data. Reserves Guard is designed to provide a framework for storage of geophysical, geological, and reservoir data by business units to allow easy access to data. The basic purpose of the program is to help producers correctly estimate reserves and to make the information behind the estimates readily available.
TerraSpark Geosciences LLC previewed its new GPU-enhanced Advanced Automated Fault Extraction (aAFE) solution. Developed with NVIDIA, TerraSpark aAFE uses the Maximus platform to reduce by a factor of 10 the time required to process fault interpretation results. This is part of TerraSpark's goal of introducing Interpretation Intelligence to replace the labor-intensive work of traditional seismic interpretation software.
CGGVeritas announced thatSercel has launched its latest generation Sentinel solid streamer, the RD. Compatible with Sercel's Seal 428 and Sentinel, the Sentinel RD has a reduced diameter and a 15% weight reduction, providing reduced cable drag and increased storage capacity onboard seismic vessels. "Sentinel RD can be deployed for a wider range of layout options including denser or longer configurations to meet growing demand for high-end marine seismic techniques such as broadband, high-density and long-offset acquisition," says Jean-Georges Malcor, CEO, CGGVeritas.
Schlumberger released its IsoMetrix marine isometric seismic technology and the IsoMetrix family of products. This technology outputs isometrically sampled point-receiver data in both crossline and inline directions – capturing the returning wavefield in three dimensions to provide accurate images of the subsurface, said Schlumberger. The system uses calibrated, multi-sensor MEMS technology as part of the new WesternGeco Nessie-6 point-receiver seismic streamer. The sensors measure acoustic pressure as well as vertical and crossline acceleration throughout the frequency range, and these measurements are provided as customer deliverables.
Cairn Energy Plc has selectedParadigm's toolkit as its next generation 2D and 3D seismic data interpretation program. Cairn says it will use the system on the 3D survey data acquired in 2011 offshore Greenland. Paradigm says the system is designed to handle large 2D and 3D surveys with multiple well databases.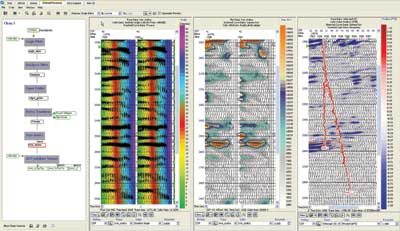 This screen shot of Hampson-Russell's HRS-9 software demonstrates the 'workflow' nature of the suite. The user-defined and savable workflow templates aim to reduce the operational complexity of the processes.
Hampson-Russell Software & Services, a CGGVeritas company, launched the newest version of its reservoir characterization software at EAGE. HRS-9 integrates all data, tools, and processes with a common interface among the modules. The enhanced software interface acts as a dashboard, integrating all functionality from the previously separate programs into a single application, centralizing the well database and project directories. In addition, new reservoir characterization technology has been added. STRATA inversion model building in HRS-9 has more and better options to handle log extensions, model interpolation, and smoothing. Xu-White's algorithm has been added to AVO fluid replacement modeling, and a new shear wave estimation tool has been created. Scenario modeling tools combining fluid replacement and synthetic generation streamline AVO modeling projects and offer new preview tools. HRS-9 has added the LithoSI application to predict facies type and fluid content from seismic inversion attributes, while quantifying uncertainty in the prediction. Multi-threaded 64-bit computing allows use of multiple CPU cores to improve efficiency, while Batch Processing means users can schedule jobs for optimum resource availability.
More Offshore Issue Articles
Offshore Articles Archives
View Oil and Gas Articles on PennEnergy.com