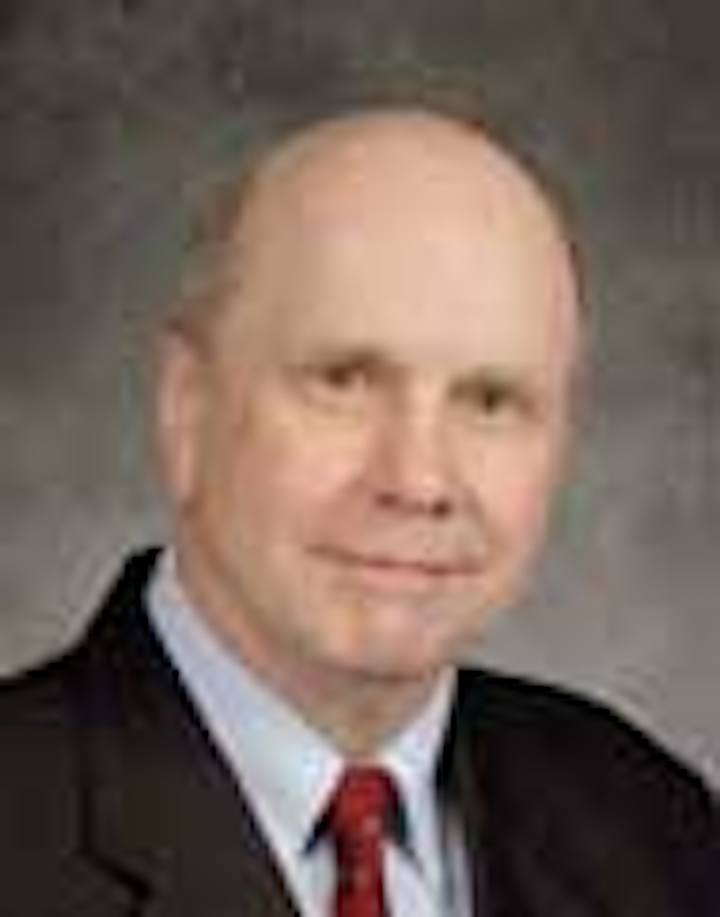 | | | |
| --- | --- | --- |
| | | Gene Kliewer • Houston |
The Society of Exploration Geophysicists held its 2012 annual meeting this past November in Las Vegas. Aside from the large number of exhibits, the big attendance and the variety of technical presentations, there were some interesting announcements and features from some of the participating companies.
One of the most interesting came fromCGGVeritas and Saudi Aramco. The two are collaborating to develop an AUV technique for seabed seismic acquisition. The SpiceRack project will see CGGVeritas and Saudi Aramco work to develop, manufacture, and commercialize automated deployment and retrieval of self-propelled recording nodes. The invention will be programmed to reach a specific subsea location and will launch itself, record data while resting on the seabed, and return to the recapture vessel for automated retrieval and data download. CGGVeritas will strengthen its ties with the King Fahd University of Petroleum and Minerals in Dhahran and establish a Center of Excellence for Automation in Geophysical Acquisition at the new technology center in the Dhahran Techno Valley with ARGAS, its Saudi joint venture with TAQA. This follows a memorandum of understanding signed by Aramco and CGGVeritas earlier this year to do joint studies on geophysical acquisition, processing, analysis, and interpretation technologies. These technologies may include not only automation in the seismic value chain for oil and gas exploration and field development, but also permanent reservoir monitoring systems, non-seismic geophysics and inversion of seismic/non-seismic data.
WesternGeco featured a look at the results of its IsoMetrix marine seismic survey done with the cooperation of Statoil in the North Sea. The IsoMetrix technology measures the full up-going and down-going notchless seismic wavefield sampled at a 6.25 m by 6.25 m (20.5 ft by 20.5 ft) point-receiver surface grid. This sampling in both crossline and inline directions makes the data suitable for a variety of interpretation and modeling applications, said WesternGeco. This ability to measure the wavefield is the result of a new type of towed streamer called Nessie. It combines hydrophones with point receiver, and multi-component, microelectromechanical (MEMS) accelerometers.
Sercel launched a new marine survey design software module to extend the capabilities of its SeaPro Nav Suite. Sercel said SeaPro Design can generate surveys from simple to complex designs in 2D, 3D, or multi-vessel seismic surveys. The module functions include geodetic definition, survey outline, streamer configuration, line direction, and anchor point. When added to the existing SeaPro products Nav, Bin, Current and Resolve, Sercel said the result is a comprehensive navigation portfolio.
NEOS GeoSolutions Inc. and Transform Software & Services teamed to feature the application of predictive analytics to petroleum exploration. NEOS said the number and size of today's data sets provides an area to apply analytically driven, multi-measurement interpretation methods to help identify targets at both regional and local scales. "The goal is to identify the subtle indicators that correlate with the best wells in an unconventional shale play or with known fields in a conventional play," said Jim Hollis, CEO of NEOS. "NEOS and Transform geoscientists have developed the algorithms, tools, and methodologies needed to mine all available datasets to identify these same indicators in unexploited areas, which represent potential targets for new wells and/or further exploration."
CGGVeritas also revealed preliminary examples of data from its IBALT multi-client Gulf of Mexico full-azimuth StagSeis seismic survey. StagSeis is a new system that uses staggered multi-vessel acquisition to get long offsets to 20 km (12 mi) and full-azimuth coverage to 10 km (6 mi). This approach results in improved illumination, multiple attenuation, signal-to-noise ratio and velocity modeling to get better results subsalt and sub-basalt, the company said.
The system uses not only the novel acquisition design but also benefits from BroadSeis streamer depth control and CGGVeritas' processing programs. The IBALT program is ongoing and should be completed late this year or early 2013.
Notable awards and agreements
Geospace Technologies Corp. and Statoil formally executed the definitive agreement whereby Geospace will provide 660 km (410 mi) of seabed seismic reservoir monitoring systems for the Snorre and Grane fields on the Norwegian continental shelf. The final contract value is approximately $160 million and requires the systems to be delivered at various intervals extending into 2015.
In another geophysical exploration agreement,Nalcor Energy Oil and Gas Inc. has contracted Ikon Science Ltd. to identify the regional pore pressure distribution in the offshore shelf and under the deep waters of Newfoundland and Labrador. The project extends from the northern tip of Labrador to the Flemish Pass basin. The data set includes 30 wells. This study, which will be available to the global oil and gas industry upon completion, is one of several ongoing Nalcor geoscience initiatives to advance the exploration and future development of Newfoundland and Labrador's frontier petroleum basins. Nalcor Energy is Newfoundland and Labrador's Crown Energy Co.
In another trend prevalent among today's seismic acquisition companies,Petroleum Geo-Services has signed charter agreements with PFTHOR for four new seismic support vessels. They will be built at Besiktas in Turkey, owned and operated by PF THOR, and taken by PGS on 10-year time charter contracts, with options for additional extension. Delivery is scheduled for 3Q 2014 onward. The vessels will provide support for PGS' seismic fleet, including the new Ramform Titan class ships. They will provide offshore bunkering, crew change assistance, supply of provision and spare parts, and support during in-sea maintenance of seismic equipment. Capabilities will include ice class 1A, passenger capacity for transporting a full seismic crew, an extra work boat, towing capability and carrying/transfer of fuel oil at sea. The propulsion systems, PGS adds, means that the vessels will operate with minimal fuel consumption, enabling fuel cost savings of up to 60% compared with the company's current vessels.
---
Offshore seismic survey set for the center of Africa
An offshore seismic survey is in the works in an unlikely location. Surestream Petroelum is planning offshore seismic on land-locked Lake Tanganyika offshore Burundi. GAC UK and GAC-Seaforth have delivered a consignment of cargo to a shore base for the job. About 60 tons of cargo were shipped consisting of fabricated steel sections, stores, tools, chemicals, seismic equipment, and a 10-m (33-ft) chase boat. The target blocks lie in water depths generally under 400 m (1,312 ft) in the shallowest part of the lake in Ruzizi and Kigoma basins. They are at a frontier stage with only a 10-km grid of academic seismic available. The exploration will carry the blocks through to 2014-15 when drilling is planned. Surestream says prospectivity off Burundi is believed to be the strongest analog within the East African Neogene rift system to the oil-rich Albertine basin of Uganda. Close analogs have been identified in the age of basin development, structural style, presence of seeps of similar geochemical character and seismic facies of potential reservoirs, source rocks, and seals.