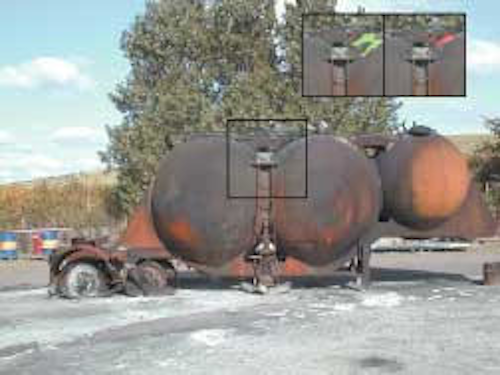 Anew gas leak detection service has been introduced by GasOptics of Lund, Sweden, that can quickly monitor an entire plant or length of pipeline and visually identify any leaks. The new technology enables escaping gases to be identified and observed on video so that repairs can be implemented with the minimum of delay.
The leak detection service uses patent pending technology unique to GasOptics that enables plumes of leaking gas to be observed by using an advanced optical viewing technique. The detection process works on the gas correlation principle. A dual image Cassegranian telescope is coupled to an Infra-Red (IR) camera equipped with spectral filtering. The camera images are processed in real time on a PC to show a gas leak in false-color, overlaid on a normal video film.
The IR sensitive camera is equipped with a filter for the selection of specific molecular IR bands for the gases most likely to be found escaping from a particular plant or pipeline. One of the images produced by the telescope is filtered thorough a cell containing a sample of the gas being sought, while the other is recorded directly by the camera.
By sweeping the camera system over an entire plant, leaking plumes of the gas being sought immediately become visible as a colored emission. Even if several are mixed, it is possible to single-out specific gases for the leak to be recorded on video. It can then be analysed so that the actual quantity of escaping gas can be measured.
Airborne scanning
The technique also permits the airborne scanning of pipelines as any leaks are recorded with their position and magnitude in a video representation. Similarly GasOptics can make a complete survey of any industrial plant to find leaks of the chosen gas without interfering with production and can deliver a full report that includes a video of the leaks.
The GasOptics process is claimed to have considerable advantages over other leak detection methods such as 'sniffer' monitors that are limited in their areas of coverage and may also be slower to deploy. Although conventional active detection systems such as laser, microwave or thermal heating tend to be effective, the GasOptics development team maintains that they are relatively limited in their range and are consequently less efficient when being used to monitor a large installation.
Statoil trials
GasOptics conducted a joint demonstration project in conjunction with Statoil over ten days last fall to provide visualization of ethylene and methane at the Statoil Karst Plant at Haugesund, Norway. The purpose of the project was to evaluate the technology and to define Statoil's needs for operational equipment. The project was judged successful and the results have now been reported to the Statoil management to form the basis for ongoing discussions for future joint Statoil/GasOptics activities.
GasOptics is located at the Research Park Ideon in Lund. It was founded in December 2000 by Dr. J. Sandsten, Prof. S. Svanberg and Dr. H. Edner. The company's board of directors also includes M.Sc. B. Persson, who is an acknowledged expert in gas emissions from the petroleum industry. The team combines some 30 years of research experience in gas detection technology that was gained at the Chalmers University and later at the Lund Institute of Technology.
The internationally recognized group has extensive experience in most conventional gas detection technologies such as lidar, DIAL, DOAS, COSPEC and diode laser spectroscopy, and has combined the best features of these methods into the GasOptics technology. The company's founders believe that their new method offers strong advantages over these alternative techniques in that it provides remote sensing, passive monitoring, imaging, selectivity and sensitivity that are efficiently combined in the gas correlation imaging concept.
GasOptics now offers real-time visualization of gas leaks, by combining a thorough spectroscopic knowledge with advanced optical design and the most modern detector and data processing technologies. This expertise is combined with an extremely user-friendly and intuitive image interpretation technique that can also allow measurement of the amounts of gas being released. The company consequently believes that it is now able to offer the oil, gas, and petrochemical industries a new and very cost-effective form of instrumentation that efficiently reduces hazards and production loss.
For more information contact Jonas Sandsten, GasOptic.
Tel: +46 46 286 53 90, Fax: +46 46 286 26 52,
Email: jonas.sandsten@gasoptcis.com, www.gasoptics.com.