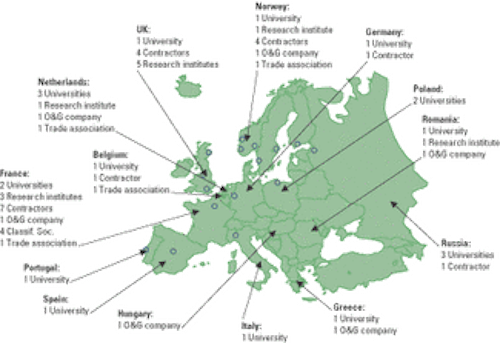 Present and future challenges in the subsurface aspects of hydrocarbon reservoir exploration and exploitation is the agenda of Smart Reservoir Net, a thematic network joining pan-European stakeholders, decision-makers, operators, and suppliers, including small and medium-sized enterprises (SMEs), universities, and others, on an equal basis. All major European research and development laboratories involved in oil and gas exploration and production are regi-stered members of this network.
The first initiative of such magnitude, Smart Reservoir Net is making substantial contributions in meeting the needs of deepwater consortiums by contributing technical improvements with limited hazards, lower environmental impact, optimized production, and cost reduction. The more than 60 researchers and developers from 14 countries are involved in identifying current state-of-the-art technology and pinpointing future subsurface exploitation research and development requirements, both in the context of innovative and sustainable technologies.
The network aims to achieve concrete deliverables and tackle projects that can be realized and implemented in the medium to long term (approximately 10 years). To achieve these goals, the group intends to stimulate industry cooperation, including extended involvement of SMEs, new European Union (EU) accessing states, and Russia; foster private-public partnerships; and encourage formation of project consortia. In particular, it will produce viable input on European policies and standardization, and should also contribute to the scope of future European research and development programs.
In addition to placing special emphasis on field conversion issues, the thematic network may also be seen as a cross-fertilizer for applications such as gas and waste storage, geothermal wells, coalbed methane, heavy oil, and ground water management.
Additional partners, major oil oper-ators and contractors, plus universities from Austria, Italy, new EU accessing states, and Russia, are being invited to participate in the three-year Smart Reservoir Net project.