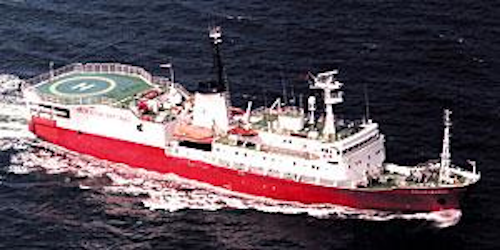 Victor Schmidt, Houston
Multipoint efficiency
Data - we are surrounded by it and always seem to want and need more, regardless of the project we are working on. But where does that data go when we are finished with it, and why can't we get it quickly again when we need it?
It's because it was spooled off the system onto tape. To get at it again, it has to be reloaded. Sounds like a good excuse to lay before your boss, right?
Well, no, it would be much better if you could just hot key over to your online, on-demand, always-ready-to-go archive. Sorry, we are not quite there yet, but there is a strategy that will move us a little closer to the dream.
Large capacity disk drives, ganged to hold a full seismic survey, hot swappable, and fault tolerant, are now available so you don't have to go through the delay of reloading and quality checking the data at each stage of a project's life cycle.
No longer do you have to wait while the stack of 3590 tapes are fed one-by-one (single-point) onto the "big iron" before you can begin to interpret. Through the use of redundant arrays of inexpensive disks (RAID), it is possible to:
Receive the pre-loaded data set from processing
Work up your interpretation
Remove and package the RAID
Travel to a partner meeting where all the parties can see the full data set
Immediately work up alternative interpretations.
The multi-point flexibility of this new, old idea overcomes many weaknesses and expenses of the current tape archive process. The cost of disk drive storage has dropped enough to make the idea viable again. New 180 gigabyte drives transfer data at 170 mb/sec, while 3590s are slow at 10 mb/sec.
Watch for new systems that can take advantage of this dense, fast storage media. One is in your future, maybe for your next project.
Vessel upgrade
TGS-Nopec has upgraded the M/V Polar Search 3D seismic survey vessel to six-streamer capacity, able to tow 8,000-m streamers. Sercel provided new fluid-filled streamers.
The vessel was originally the M/V Mobil Search, built at Mitsubushi Heavy Industries Ltd. in 1982. It was taken over by Polar Ship Management AS (ex. Rieber Shipping A/S) in 1992, then extensively converted and modernized at Wear Dockyards Ltd., England, in 1993.
Satellite service
Telenor Satellite Services now provides its service globally. Its fleet service offers the maritime community mobile satellite connections for high-speed commercial communications and enhanced sea safety.
Using Inmarsat, Telenor delivers commercial communications for voice, fax, and data at speeds of up to 64 kbps, including integrated services digital network and mobile packet data service.
New antenna
Schlumberger has expanded its DeXa.Net Remote Connectivity Services with a 1.2-m SpaceTrack stabilized antenna. The system provides low capacity connectivity using VSAT technology from moving vessels.
This antenna size operates on the Ku band and is suitable for small- to medium-sized inshore vessels. It allows them to communicate directly with voice and data, extending land-based operations to a mobile office at sea.
Nigeria/Morocco surveys
TGS-Nopec is shooting a 2D seismic survey offshore Nigeria over blocks OPL 227 and OPL 471, using the exclusive rights granted by Nigeria's Ministry of Petroleum Research. The project will provide data for a future licensing round. The Gulf Supplier will shoot the 3,400-km survey using maximum offsets of 8,000 m and tying key wells.
The company is also shooting a non-exclusive 2D seismic program offshore southern Morocco. The Northern Access is gathering the 15,000-km survey.
null
---
TECHNOLOGY
Ultradeep 4C
SeaBed Geophysical is developing, building, and testing a prototype 4C seafloor system for BP. The cable-less seismic system will include autonomous sensors with ultradeep capabilities (3,000 m).
4C processing
CGG launched VectorVista, a 4C processing workstation built by an industry consortium. It offers the full range of 4C data analysis and interpretation tools and can display compressional wave (PP) and converted wave (PS) data simultaneously. A compressed function displays squeezed PS sections and the PP/PS ratio can be computed multiple ways.
CGG formed a consortium for this project in partnership with Anitec, a UK consulting company. Norsk Hydro and Eni have joined and agreed on the specifications of the first phase of software development.
Spectral decomposition
Halliburton's Magic Earth has released SpecDecompInteractive, a new tool for reservoir imaging and interpretation. The utility is based on spectral decomposition algorithms developed by BP. It aids the qualitative analysis of reservoir boundaries, heterogeneities, and thicknesses.
Petrophysical tools
Halliburton's Landmark Graphics Corp. now makes Ultra, a Halliburton specialty application, available in the PetroWorks R2003 family of petrophysical software. Ultra is a package of advanced petrophysical tools for use in multi-well environments. Based on probabilistic analysis, the software provides estimates of wellbore lithology and fluid properties for the entire reservoir.