Sarah Parker Musarra
Editor
Accuracy and precision are critical components of the success of any industry. In the offshore industry, however, accuracy and precision can make or break a multi-billion dollar investment. Not just that, but engineers, geologists, and many others are charged to be as accurate as possible with hundreds of meters of water and earth separating them from the hydrocarbons they are trying to examine.
To this end, Baker Hughes recently introduced its JewelSuite 6 modeling software. The new version is based upon the JewelEarth 6 platform and offers users a first version of a suite of fully-integrated applications, including Subsurface Modeling, Reservoir Stimulation, GeoMechanics, and more.
JewelSuite 6 is the first result of its collaboration with Shell under a software license and joint development agreement that reaches back to 2013.
The applications offer automated workflows and built-in smart rules with the end goal of accuracy and increased operational efficiency. As such, these applications can be used independently or, as an example, as part of integrated multi-domain workflows.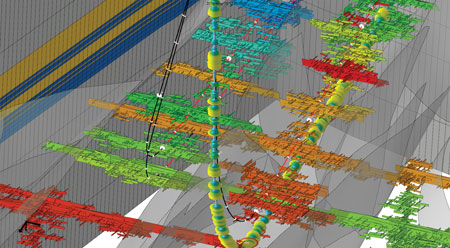 JewelSuite 6 shows fracture clusters in carbonate reservoir. (All images courtesy Baker Hughes)
JewelSuite 6 is Baker Hughes and Shell's first collaborative release following the two companies' 2013 agreement.
Once the geological structures from seismic data have been interpreted, JewelSuite 6 steps in to handle things from there. The Subsurface Modeling application allows the users to build a 3D structural understanding of the subsurface. At that point, the user can even build a 3D mesh or grid that represents the entire volume. That mesh can continue to be filled with properties. Based on the well data and logging data loaded by the user, as well as information derived from seismic data, information can then be extrapolated to populate the entire grid with properties.
"Our patented gridding technology is an important differentiator. Other products in the market have certain limitations on how their grid is created," Baker Hughes Vice President of Reservoir Technology, Martin Brudy said. "Our gridding and meshing algorithm can handle complex geological structures quickly and accurately, unlike the products from our competitors."
From that, the user can continue by defining reservoir fluid flow simulations, which depicts how the field would produce if certain wells are created. Brudy called the software's workflows "comprehensive," and noted that the models were scalable.
Of the GeoMechanics application, also built upon JewelEarth, Brudy said that it "offers everything." From 1D well-based analysis, users can interpret data and derive pore pressure profiles and stress profiles. The application then allows this to be extrapolated through that 3D grid and mesh. In this way, a static understanding of the geomechanical stresses and pressures can be created. As part of an advanced integrated geomechanical workflow, users can then continue to create 3D reservoir-centric models, perform 3D fault stability analysis, and then run 4D full-field finite-element geomechanical simulations. The geomechanic functionality ties in with reservoir simulators, so the user can understand the changes in the rock mechanical situation as fluids are produced from the reservoir. JewelSuite 6 gives users access to multiple simulator engines (such as Computer Modelling Group's IMEX and GEM, and Schlumberger's Eclipse) from one common interface.
Brudy said that the "Lego brick"-like concept, wherein the platform acts as a foundation for each application to build upon, results in lossless data and knowledge transfer and is a key differentiator between JewelSuite 6 and its competitors.
For example, Brudy explained, if someone carried out a work flow in one of these applications and is satisfied with the results, this person can drag-and-drop this result or object – it could be a well or interpreted log – into another application that is built on the same platform and it will appear there.
"We are doing all of this," Brudy said, "because I believe that in today's world, we are facing such complex problems in the development of oil fields, that we can't rely on traditional analytical, empirical methods.
"We have to go one step further and use sophisticated techniques to better understand and predict the behavior of the fields that we are developing."
In addition, the platform can be sold to clients with a software development kit (SDK) to allow a customer's development team to build standalone applications, or to customize a JewelSuite application by creating add-ins for augmented functionality. Brudy explained that this, too, is another key differentiator, as other platforms only allow users to build on existing applications.
"With the platform that we are bringing out with JewelEarth 6," he said, "clients are able to build their own applications on the JewelEarth platform to use internally or distribute and sell. They can also build add-ins or additional modules to use on top of our existing JewelSuite applications. These add-ins and applications, built with the JewelEarth 6 SDK, would be automatically integrated with the JewelSuite family of products. Should customers go this more customized route, they are able to purchase additional licenses to roll out their new technology within their respective organizations as needed."
Brudy places the origination of the JewelSuite software in 2005. Baker Hughes' subsidiary in the Netherlands acquired 40% of JewelSuite developer JOA Oil & Gas BV in 2009, procuring the remaining 60% in October 2010. In 2012, Baker Hughes debuted JewelSuite 2012 at that year's Offshore Technology Conference in May. The agreement with Shell to jointly develop the JewelSuite 6 software came soon after, in September 2013.
"I think the project very nicely combines strengths of both companies. Shell certainly brings in a tremendous amount of the modeling experience, and the experience with the workflows that our customers expect for such a tool: building the structural model, the property model, and creating a full-field reservoir flow simulation," Brudy said. "Baker Hughes brings in a lot of the software development expertise, and the basic software architectural concepts, which Shell also has."
He continued by noting that both companies offered each other "deep technical expertise" in their respective areas of specialization.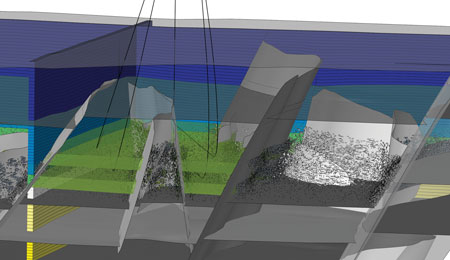 DFN in Mid-Cretaceous faulted reservoir, modeled by JewelSuite 6. HERE
Collaboration with Shell
Software collaborations can be routine for the industry, pointed out Bettina Bachmann, vice president for Subsurface and Wells Software in Shell's Projects and Technology group. In fact, Shell's collaboration with Baker Hughes to develop JewelSuite 6 is one of many it is involved in, including an alliance with Computer Modelling Group and Petrobras, which is working on, she said "the next-generation simulator."
However, she toldOffshore, the Baker Hughes and Shell alliance that produced JewelSuite 6 is probably the biggest joint software development effort the international operator has undertaken.
"It's a bit bigger, a bit more comprehensive than what we would normally do, but we firmly believe that this is a good thing for us," she said.
In any collaboration, a shared vision is key. In this case, she said that the companies shared the goal of making a more modern, extendable platform capable of integrating across the lifecycle.
The wheels were set in motion toward what would eventually become the joint software agreement with Baker Hughes when, three years ago, Shell evaluated the portfolio it built around static and dynamic modeling. Conclusions were drawn that while the portfolio was a strong one, it was also very fragmented.
"The first decision we made was, we wanted something more integrated, and we wanted to be in an environment where we can leverage the novel algorithms coming out of our R&D department faster and more easily," Bachmann explained.
Additionally, the fragmented and congested portfolio was costly to maintain, so Shell decided to find and adopt a simpler approach to allow for greater efficiency.
"The first idea is of course always, 'Okay, let's just sit down and start from scratch,'" Bachmann said. "Now, it is a big area. It is complicated; it is not easy to do that, and when you look at the standard timeline, such as in this case, you were talking about eight to 10 years plus [to develop the product]. We decided we didn't have that."
Bachmann said that Shell was aware and "intrigued" by the JewelSuite product, and after talking with Baker Hughes, the operator realized that the relatively new, yet "stable and robust product could form the basis for where we wanted to go."
Prior to the agreement, the two companies assembled an evaluation team with equal representation of both Shell and Baker Hughes. Bachmann said that pilot projects were assembled to ensure that the objectives were attainable. Other, less tangible factors were tested as well.
"We tested two things there: One was the technology alignment and whether the potential was there to actually achieve what we were looking for, and the second thing we tested was the compatibility of the teams. How do the two company cultures come together?
"This was tested before we signed in 2013, and that gave us the confidence that we could build an alliance that had a chance to succeed," she said. Many of these alliances in the industry don't last, and it was clear for us from the beginning that we were going to embark on a multi-year journey."
With the 2013 agreement, Baker Hughes' JewelSuite became the platform for which both companies would combine their domain expertise to build upon. Bachmann said that, as an operator, Shell brought knowledge on what the end-user actually needs and looks for to the table.
Following the agreement, Brudy said that a development team was assembled by Baker Hughes as part of the contract. In its first stage, about software developers and domain experts gathered in Delft. Beginning in early 2014, the team worked together to develop JewelSuite 6.
Bachmann said that Shell counts JewelSuite 6 as a success and sees greater things for the two companies' future works. This first year was focused on maturing and expanding the project, she explained, while future versions will continue to address the platform's comprehensiveness and robustness.
"What an operator will see … is the extendibility of the applications; to bring in other things; and then indeed they will see the first steps towards what we want to achieve at the end, which is full integration across the static and dynamic modeling and, in particular, also into geomechanics," Bachmann said. •
Emerson introduces Roxar RMS update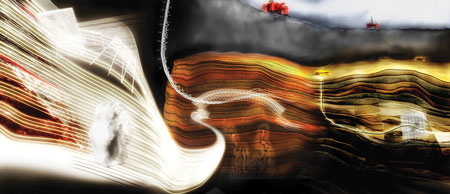 In Emerson Process Management's new Roxar RMS 2013.1 release, the company remains focused on the geophysical domain with enhancements to the original software and model-driven interpretation. (Image courtesy Emerson Process Management)
Also released in mid-June, Emerson Process Management launched Roxar RMS 2013.1, an update to its RMS 2013 reservoir modeling software. The product capitalizes on its model-driven interpretation tools, aiming to improve those functions and velocity modeling. The Stavanger, Norway-based company says that the system's structural modeling tools more effectively quantify uncertainties in the data and improve volumetric sensitivities. Additionally, RMS 2013.1 also sees fault uncertainty tools integrated with structural modeling and 3D gridding, enabling users to build fault uncertainty models in full and investigate a wide variety of scenarios corresponding to the uncertainty in the input data.
The company said that its flagship software has improved model-driven interpretation, and a redesigned SEG-Y import dialogue box. It can also read seismic data directly from OpenWorks and OpenSpirit sources without the need to export to SEG-Y files.