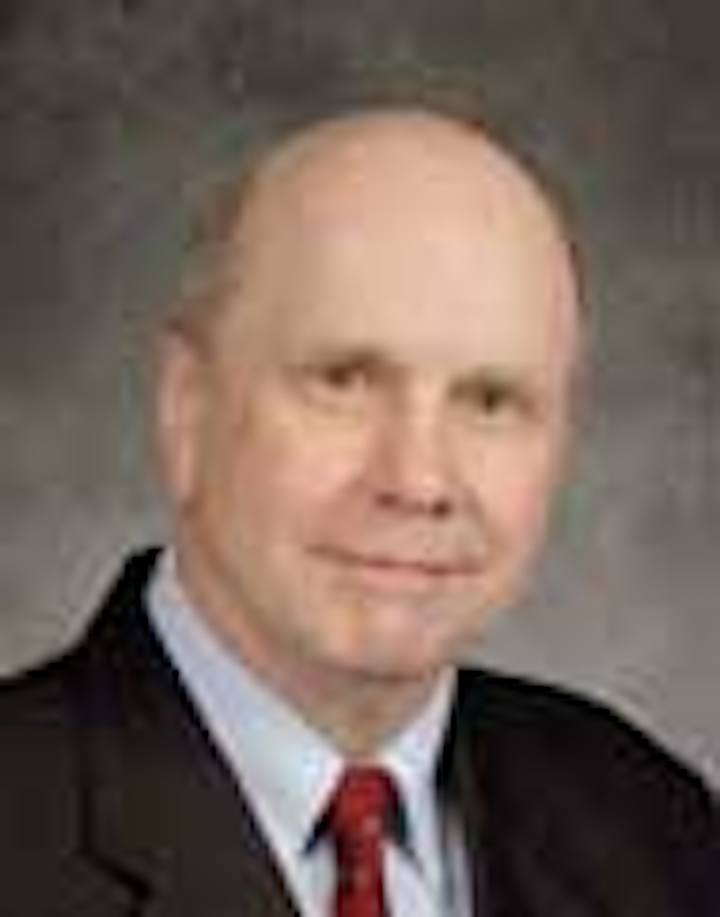 | | | |
| --- | --- | --- |
| | | Gene Kliewer • Houston |
TGS has signed a letter of award (LOA) with SeaBird Exploration to acquire up to 300,000 km (186,411 mi) of 2D seismic data offshore Mexico and in US Atlantic waters. The LOA provides TGS access to charter up to six seismic vessels over a period of approximately 36 months. This activity is expected to begin in 2015.
"TGS is pleased to have secured customer funding and access to seismic vessels for the regional 2D activity that is targeted for 2015," said Rod Starr, senior vice president of the Western Hemisphere for TGS. "There is a high level of oil company interest in Mexico and US Atlantic, and we believe that these will be important regions for future exploration."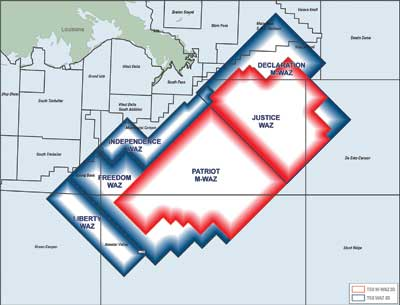 TGS announces the expansion of its Constitution group of WAZ 3D projects with the commencement of the Declaration survey. Declaration will cover 6,061 sq km (2,340 sq mi) in the Mississippi Canyon and Viosca Knoll protraction areas of the Central Gulf of Mexico and will be acquired orthogonal to TGS' underlying Justice WAZ 3D survey with 16 km (10 mi) offsets. Once the two data sets are combined, the resulting image will provide the industry with an additional level of subsurface clarity. The TGS' Constitution group of projects includes Declaration, Liberty, Freedom, Patriot, Justice, and Independence surveys, totaling approximately 55,000 sq km (21,235 sq mi) of 3D wide azimuth coverage. All data, including the fasttrack of Declaration, is available in preparation for the Central Planning Area Lease Sale 235 scheduled for March 18, 2015. (Image courtesy TGS)
EMGS receives survey contract award in Brazil
Electromagnetic Geoservices ASA (EMGS) has received a contract worth $1.5 million for a research project in Brazil. The project will use 3D EM data to map shallow gas hydrates in the Pelotas basin. The vesselEM Leader has begun the survey.
The project is a collaboration between the Pontifical Catholic University (PUCRS) of Rio Grande do Sul and Petrobras' research and development center, CENPES.
Offshore Newfoundland and Labrador pore pressure study available
Nalcor Energy and Ikon Science Canada have released the first large-scale regional pore pressure study for offshore Newfoundland and Labrador.
The Regional Pore Pressure Study evaluates the subsurface pressure systems in Newfoundland and Labrador's eastern frontier slope and deepwater basins. The study spans an offshore area from northern Labrador to the Flemish Pass in the south, including the newly discovered Chidley, Henley, and Holten basins in the Labrador Sea. The analysis integrates well data and new regional seismic data that were compared to global analogous.
The study is funded in part by the Provincial Government's Offshore Geoscience Data Program. Since 2009, the Provincial Government has invested $17.3 million in offshore exploration through the Offshore Geoscience Data Program. The report is available for free on the Nalcor Energy website.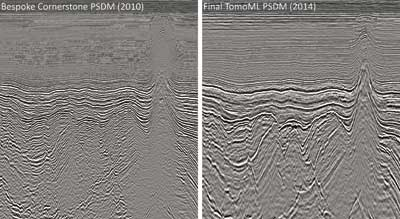 Comparison of new regional Cornerstone PSDM data with previous locally tailored data. CGG's 35,000 sq km (13,514 sq mi) Cornerstone dataset addresses imaging challenges in the deep, high-pressure/high-temperature central graben of the North Sea. The entire volume has been enhanced with recent developments in broadband technology, velocity modeling, and demultiple. Recent phases of acquisition have used BroadSeis variable-depth streamers, and the most recent employed a broadband source, delivering ghost-free data with over six octaves of bandwidth. Advanced Ghost Wavefield Elimination (GWE) has been applied to the legacy Cornerstone data to extend the bandwidth as near as possible to the new BroadSeis data, so that it can be merged to create a contiguous broadband pre-stack depth-migrated (PSDM) dataset. Recent advances in full waveform inversion and dip-constrained tomography have enabled detailed velocity models to be built incorporating these channels. (Image courtesy CGG)
SeaBird to conduct 2D survey in Southeast Asia
SeaBird Exploration has a letter of intent for a 2D seismic survey in Southeast Asia. The survey will have an estimated value of $12-13 million. The project is expected to start during January 2015 and to have an estimated duration of as much as four months.