Increased seismic, studies shed new light on existing acreage
Jeremy Beckman
Editor, Europe
Basins in the eastern Mediterranean Sea are of increasing interest following the discovery of deepwater gas offshore Israel. However, some of the newly-licensed areas could be more prospective for oil, according to presentations at IRN's Oil & Gas International Licensing Summit in London earlier this year.
Interest is growing too in the North Atlantic since Statoil and Husky Energy proved oil earlier this decade in the deepwater Flemish Pass basin off Newfoundland & Labrador. The provincial government is now looking to ratchet up exploration much farther north, based partly on analysis of one of the world's largest-ever 2D seismic surveys over a frontier offshore province.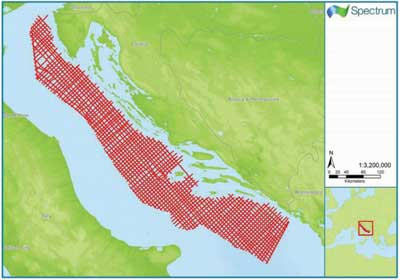 Seismic grid over acreage offshore Croatia. (Map courtesy Spectrum)
Croatia overhaul
Neil Hodgson, Spectrum ASA's executive vice president, Mediterranean and Middle East Region, outlined how his company supported Croatia and Lebanon's recent licensing rounds. Earlier this year, Croatia's government awarded licenses for 10 offshore exploration blocks to Marathon, OMV, Eni, Medoilgas Italia, and Croatian oil company INA.
Explorers new to this part of the Adriatic Sea, Hodgson said, are looking to find oil, not gas. To generate interest in the round, the government invited Spectrum to examine its existing petroleum database, including a review of its legacy seismic data. Much of this old 2D data was acquired by INA between the 1970s and 1990s, and most of it was in poor condition. INA was subsequently privatized and the data transferred to a new department.
"They didn't know what to do with the information," Hodgson explained, "so they asked us to build a data room for them, providing international oil companies with legacy data organized in such a way that it could be interpreted to establish basins and plays." Spectrum reprocessed some of the data, updating it with new algorithms to give a clearer picture of the geology, which Hodgson said makes it easier for oil companies to pinpoint source rocks and so on. Additionally, the company created a website for the government to promote the fact that it was planning a licensing round, inviting Croatian officials to various conferences to assist this process.
Aside from the legacy seismic, Spectrum scanned and re-digitized well logs from 51 offshore wells into a package that bidders could analyze. "We also acquired complementary new gravity and seep data sets [based on satellite images of thousands of seeps in an area covered by tourist boats]. This information is critical for licensing rounds, as current exploration involves a mixture of CSEM [controlled source electromagnetic], gravity, seep data, and remote sensing, all integrated to achieve a picture that makes interpretation more confident.
"We felt that most interested companies had looked at Croatia before. The issue in the past has been with the area's hydrocarbon system reservoir charge: If the industry believes there is not much potential, we won't get many IOCs knocking at the door. We had to create a narrative to address these facts, so we also acquired and interpreted nearly 15,000 km [9,321 mi] of new 2D seismic."
The resultant data allowed Spectrum to improve imaging of potentially prolific Triassic source rock – where this is deposited and where it appears to be mature, and to determine from this where structures might be present and how the basins might work. The company also used the new data to map out a Mesozoic carbonate platform play that had not been visible on the old INA seismic, and to explain why the earlier dry wells had missed their targets. If INA had been able to access this data, Hodgson said, it would have found hydrocarbons.
There are oilfields on the Italian side of the Adriatic, he pointed out; the prospects are closer to the source rocks on the Croatian side. Therefore, there is potential for oil in greater volumes. "Again, that insight is only available on the new data."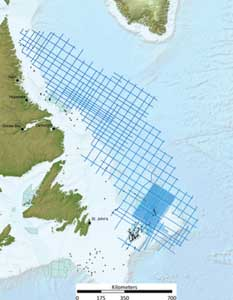 Map shows area offshore Newfoundland & Labrador covered by 2011-13 regional 2D seismic program. (Map courtesy Nalcor Energy)
Lebanon licensing preparations
Lebanon's government opened the country's first offshore licensing round in December 2012. No wells had previously been drilled off the country's shores, although the Lebanese offshore was covered extensively by a dense grid of 2D seismic. Some of this data was acquired by Spectrum in the early 2000s. The government also encouraged Spectrum and PGS to perform a multi-client 3D survey over 70% of the offshore area prior to opening the licensing round.
It is unusual to find this level of coverage in a frontier unexplored area, Hodgson said, "but the availability of 3D seismic definitely energizes a licensing round, knocking three years off the initial work program. Instead of spending the first term chasing seismic, they can prepare for drilling wells."
South of Lebanon, Noble Energy discovered the 8 to 9-tcf Tamar gas field in 2009 in the Israeli deepwater sector, followed by the 25-tcf Leviathan and 6-tcf Tanin finds. All of the wells drilled to date in the South Levantine basin have delivered very dry biogenic gas, as opposed to heavier thermogenic gas from source rocks, Hodgson explained.
"There is a feeling in the industry of, do we really want to find deep, dry gas in 2 km of water off Lebanon?," he asked.
"The Lebanese Petroleum Administration came together in 2012, but the license process could have been a turn-off to the IOCs if the perception was just of gas in really deepwater. So we felt it was our job to look at the hydrocarbon picture and generate a different story – again, we needed to create a narrative to capture the industry's imagination. The source rock for Tamar is Oligocene – it's too shallow to generate oil, although there is this capability deeper down. If you apply that picture to Lebanon, it may be that offshore oil is generated there."
Displaying 1/3 Page 1,2, 3Next>
View Article as Single page