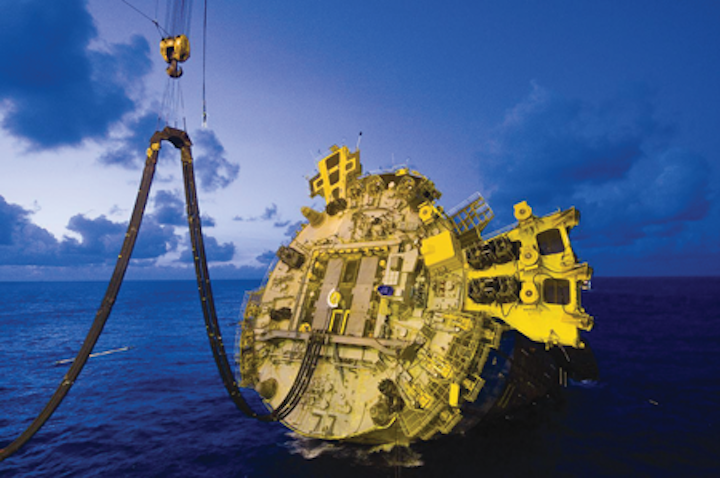 Sarah Parker Musarra
Editor
After a run of prolific discoveries in the last few years, including Kaskida, Tiber, Gila, Anchor, and more, the Gulf of Mexico's Lower Tertiary reservoirs, also termed the Paleogene play, have been likened by industry experts to a modern-day gold rush for the offshore industry.
However expensive it is to explore and develop, even without signs of recovery for the currently depressed market, the Paleogene has retained its importance in the eyes of seismic contractors, oilfield service providers, and operators alike. Despite the down market, despite the cost, despite the frontier challenges, exploration and maturation of the Lower Tertiary is still ongoing.
Four projects are currently producing in the Lower Tertiary, with Chevron's Jack/St. Malo complex most recently brought online. Developmental drilling is ongoing at the Jack, St. Malo, Julia, and Stones fields.
The area's infamously difficult salt canopies present several challenges to development. They can run more than 4,000 m (13,120 ft) thick, and are often located in isolated and remote field locations; and they often have low rock porosity and low permeability. Each challenge has in turn driven the industry to advance the technology necessary in these respective areas to hit pay in one of the world's deepest water and toughest regions. In this process, advances in seismic and drilling technologies have been vital to any celebrated success.
Recently, Offshore discussed these challenges with several industry experts, who offered their thoughts on how the current market might affect the future of the play.
Seismic advances
One thing is clear. The question becomes not if activity will continue in the Lower Tertiary, but how and when. To this end, innovations in seismic technology are a critical component to recent and future successes in the region.
"The deepwater Lower Tertiary trend in the central Gulf of Mexico continues to see exploration success," said Mike Celata, US Bureau of Ocean Energy Management (BOEM) Gulf of Mexico acting regional director. "Over the past 12 months, the industry announced Paleocene/Eocene Wilcox discoveries at KC642 (Leon), KC10 (Guadalupe), and GC807 (Anchor). Success has been enabled by improved subsalt imaging through wide-azimuth, depth-migrated 3D seismic data acquisition and processing."
While located in a world-class petroleum basin, the Paleogene is a frontier area rife with risk. Schlumberger's Mohamed El-Toukhy, Western Hemisphere multiclient exploration service manager, explained that Lower Tertiary wells, which include high-pressure/high-temperature wells, could stretch some 30,000 ft (9,144 m), pushing costs for exploratory and developmental wells into the $200-million and $300-million range, respectively.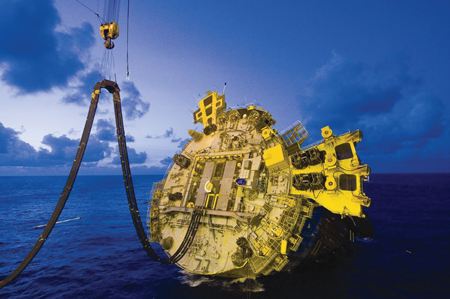 Shell's Perdido field was the first to commercialize the Lower Tertiary. Pictured is the Perdido spar lying horizontal in the Gulf. Shell's Stones, also located in the Lower Tertiary, is on track to start up in 2016 through theTuritella FPSO. (Photo courtesy Shell)
"With this kind of investment, you would really like to ensure that you select the best drilling location with the highest probability of success by getting the best image of the subsurface," El-Toukhy observed.
Additionally, El-Toukhy points out that volumetrically, the trend has large upside potential and extends into the Mexican sector. Success here could translate into big finds for operators interested in the Mexican side of the Gulf as well.
"It is very much underexplored in both the US and Mexico, so the play extends into Mexican side as well in a big way, which means that whatever technology we develop on [the] US side would be applicable also on the Mexican side," he explained. In Mexican waters, across the international boundary from the Perdido Foldbelt, four discoveries have been announced in analogous structures and reservoirs: Exploratus, Trion, Maximino, and Supremus. PEMEX is actively exploring and appraising the Paleogene trend in deepwater Mexico.
At this point, it is unquestionable that the reward is there, running throughout the basin. Estimations of the reserves in the Lower Tertiary range from 5 to 15 Bboe. Speaking at May's Offshore Technology Conference in Houston, Chevron's Steve Thurston, vice president, Deepwater Exploration & Projects, said that the deepwater GoM alone has produced 9 Bboe. There has been 24 Bboe discovered to date, with another 14 Bboe that can be produced in the future.
"The salt canopies are a blessing and a curse because they trap oil, but complicate seismic surveying and drilling," Thurston said at the time. He noted that of the 55 wildcats in the Lower Tertiary trend, about 23 hit oil. In discussing challenges that the industry needed to overcome in order to enjoy continued success in the Lower Tertiary, he commented that the industry needed to continue to focus on seismic imaging.
The success companies have seen in the last few years in the Lower Tertiary has not abated, and data from the US BOEM's Celata seems to back up Thurston's assertion regarding the salt canopies. "Overall exploration success for the trend stands at 51% of 49 drilled structures," Celata said. "Four-way closures more common in the salt-cored anticlines and folds beneath the leading edge of the Sigsbee Salt Canopy have been more successful (59%) than the three-way traps against salt and salt welds (41%) typical of the inboard portions of the trend. Particularly encouraging is the Anchor discovery, which represents the northern-most extension of the trend beneath the salt canopy."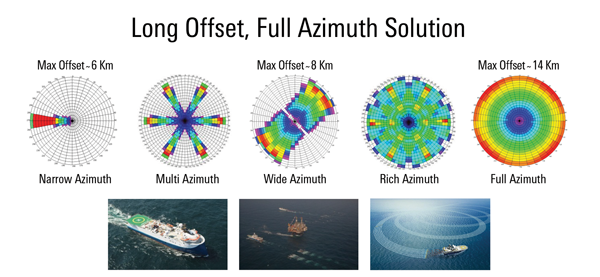 The evolution of seismic technology from limited viewing angle (narrow azimuth) into 360 (full azimuth) enables explorers to get the best image of the subsurface and mitigate risks. (Image courtesy Schlumberger)
Craig Beasley, chief geophysicist and Schlumberger Fellow, WesternGeco, also explained that high-quality seismic was necessary to ensure that investments made in the Lower Tertiary paid off, noting that the salt canopies and salt domes historically resulted in blind spots in the collection of seismic data.
"There are big prizes out there, and a lot of risk and a lot of financial muscle is needed to do these projects," Beasley said. "You need to de-risk them as much as possible. The best way to do that is with high-quality seismic data."
WesternGeco, according to Beasley, has been working to solve the challenges presented by the salt for more than two decades.
"Depth migration, which is needed to unravel the complexities in seismic data due to the salt came into its own more than 20 years ago but success was limited when the salt got very complex. In the mid-2000s, we began to realize that we could solve some of this with seismic acquisition if we were just willing to invest in better seismic data," Beasley said. "At that time, a lot of modeling was done. We understood finally that to image beneath the salt, we really needed to give ourselves the best chance of recording reflections beneath the salt. This involved so-called wide azimuth surveys which gave dramatic improvements in images."
Beasley said that the company proceeded from wide to full azimuth surveys, with the progression corresponding to improvements in the images of the salt. Full-azimuth has now ascended to one of Schlumberger's main tools when the company is shooting in the Lower Tertiary and other technically challenging areas.
"This technology has evolved over time to the point that it's absolutely essential," he explained, while pointing out the evolution of a particular seismic data business model that allows Schlumberger to deploy this and other technologies as cost-effectively as possible in the Lower Tertiary.
"One of the things that lets us use such high-end technologies is the multi-client data model in the Gulf of Mexico," Beasley said. "That's something that has evolved in the US waters. Over time, it has become a very well-known practice. It's one of the most attractive places to explore in the world because of the cost savings that come out of the multi-client model."
E&P companies and investors alike are impacted differently by the low oil prices currently impacting the market. Some have deemed the expense of exploring too expensive, while others expect to take advantage of the lower costs that such a downturn inevitably brings. Beasley observed that to keep competitive in this environment, WesternGeco and Schlumberger took a multi-faceted approach. In advance of the downturn, the company embarked on a transformation initiative that, among other things, aimed to streamline processes, improve reliability, lower costs, and improve supply chain management. Further, it continues to invest in and advance its seismic technology, creating new products while looking to combine new offerings with current ones. One example of how the company's technology is evolving can be seen in its Quad Coil Shooting, which sprung from its Dual Coil Shooting multi-vessel full-azimuth acquisition method.
This acquisition method collects data at every azimuth with longer source-receiver offsets, around 12 to 15 km (7 to 9 mi). In Quad Coil, four recording vessels are driven in in overlapping circles, while four other shooting vessels are deployed far away to obtain the azimuths and the offsets needed.
Schlumberger is also examining the possibilities of bringing technology developed in other harsh environments to the Lower Tertiary, including its IsoMetrix marine isometric seismic technology, which Beasley referred to as the company's "largest single technology development ever undertaken." IsoMetrix enables detection of fine-scale structures in the subsurface in all directions.
While it is ideal to deploy cables as far apart as possible for efficiency's sake, Beasley explained, that method presents its own set of problems. Information can be missed in the gap between the cables. Beyond fine-tuning the directions in which information can be acquired, Schlumberger also set out to deploy the cable deeper under the water - 15-20 m - to further decrease environmental noise.
"We solved these two problems together by putting new measurements in the cable. One of them is a vertical accelerometer and the other one is a lateral accelerometer that measures the particle motion in the water, both in the vertical sense and laterally, which allows us to see that data between the cables," he said.
Beasley said that one of the most important reasons to continue to invest in high-quality seismic shooting goes far beyond those of improving imaging.
"The process from exploration to production used to be 10 years for such challenging prospects," Beasley said. "The industry has brought that time down and today, around four years is possible. An important factor is the multi-client data model, which provides excellent-quality data, is available immediately, and [enables] companies to move from exploration to appraisal and development without acquiring the new data. That's really one of the key drivers for operators as well as for WesternGeco to acquire very high-quality data in the Gulf of Mexico."
Drilling developments
On the drilling side, efforts in the Lower Tertiary have pushed current technology to its boundaries while forcing service companies to look ahead to the future, says Baker Hughes' Talmadge Wright, regional manager, Evaluation and Specialty Services.
"Pressures are at the upper end of operating specs for most drilling tools," he explained. "Temperature has really not been an issue to date because you get a lot of cooling effect from the long riser as long as you're circulating, [but] we can see looking a few years out in the future that temperature is going to be a concern also."
Based on that, from the service provider point of view, he added that "we've had to go back through and redesign our equipment pretty much component by component to engineer the safe and reliable performance we need under these conditions. Especially when it comes to downhole electronics. That means going back to the drawing board and doing a total redesign because we have to go to different electronic components."
Wright also explained that, in addition to the tough environment that the Lower Tertiary presents, mud windows are particularly tight, particularly in the subsalt. For drilling contractors, that can translate into additional casing strings and additional design constraints. A well might balloon or breathe without engineers knowing if they are looking at ballooning or the start of a well kick or well control situation.
"We are coming up with more exact or more precise understanding of pressures and volumes when it comes to the fluid. We're also monitoring flowback fingerprints, which are a normal part of operation," Wright said, explaining that pump shut-offs would monitor and record to ensure that each shut-off is consistent. Variations in that data could indicate the start of a well control situation.
Baker Hughes says it continues to advance technology development in this area. The goal is to address the complications of drilling in the Lower Tertiary while ensuring that the wells are designed and executed within the cost constraints of both the operator and the service providers. The best way to achieve that is through the collaboration between operators and service companies. Though this practice has been ongoing, Wright said that companies were beginning to work together earlier in the process, a paradigm shift in the traditional operator-contractor relationship.
In environments like the Lower Tertiary, where best practices are sparse, such collaboration could be a key to success, particularly in a down market. By working with the operator on the well construction and completion plan instead of just working with the operator-approved plans, Wright said service companies could better address cost-efficiency issues. There are other benefits to the modified relationship, too.
"Technology is changing. We're coming out with new technology," he noted. "The operators are pushing the boundaries. I think having the discussion earlier is of great benefit to both."
One of Baker Hughes' newest technologies, designed specifically for the Lower Tertiary and environments with similar conditions, is the Hammerhead completions system, which debuted at this year's OTC. The company says it is the industry's first fully integrated wellhead-to-reservoir ultra-deepwater completion and production system.
The system includes an upper completion, a lower completion, an isolation assembly and intelligent production capabilities, and is fully compatible with subsea boosting. Designed and tested for conditions in well depths up to 33,000 ft (10,060 m) and water depths up to 10,000 ft (3,050 m), including temperatures to 300°F (150°C) and pressures to 25,000 psi (1,700 bar).
"We expect the Hammerhead system to improve recovery factors by 2% in the Lower Tertiary through enhanced reservoir stimulation, higher drawdown capability and long-term optimized production," said Richard Ward, president, Global Products and Services at Baker Hughes. "Using a standard well in a Lower Tertiary field as an example, a 2% improvement could translate to more than $4 billion at prices of $50 per barrel over the life of the well."
Looking ahead
Although the Lower Tertiary's sheen has not seemed to dull, it is unlikely that we will see activity continue in the Lower Tertiary and elsewhere at the same breakneck pace at which it has been developing. That analysis was recently expressed by Dr. Michelle Michot Foss, Chief Energy Economist at The University of Texas at Austin.
"We are coming off of one of the toughest high-price cycles for mega-projects ever," Foss told Offshore. "It has been phenomenal watching companies pursue things that have accelerated at the pace that they have around the world in cost, [despite] schedule delays and technical problems and everything else that the industry has faced. That's a whole new paradigm."
Foss also said that having the technology to unlock areas like these is just one piece of the puzzle. Companies also need to consider financing throughout the project development cycle while ensuring that their business models are sound. Vertically integrated IOCs will typically shuffle cash flow from their downstream businesses to fund upstream operations. Non-integrated companies don't have that luxury. An increasing amount of external funding is flowing into deepwater projects, exposing companies to new performance pressures.
"The dilemma is how on earth to do the pre-front-end engineering and design, the FEED, the FID, and the EPC contracting in ways that can put some better boundaries around the costs of these projects," Foss observed. "I think that in a lower price environment, if you can't figure that out, you simply cannot proceed with these projects. That is a challenge that everybody really needs to give some serious thought to."
She said that one of the major challenges in developing these mega-projects was ensuring strong risk management by all parties throughout these stages. "This includes external investors jumping into these projects via equity funds or other vehicles for the first time," she said.
Another factor that could affect the cost of development in an ultra-deepwater play like the Lower Tertiary is the recent activity amongst companies in the subsea sectors, where joint ventures aligning to jointly handle all aspects of subsea development have been springing up in an unprecedented rate. On the service and seismic company sides, fleets have been downsized and other organizational changes made to lower cost ceilings, observes James West, Evercore ISI's senior managing director. But he notes that only the future will tell what model changes, if any, will succeed.
"If pricing is coming down just in general for all this offshore equipment and services, and then you have new business models that also bring down pricing, then your economics start to look more attractive," West said. "That said, the Lower Tertiary will probably start at $80/bbl; it's not $45 or $50, as it is in the rest of the Gulf of Mexico deepwater. There are much more challenging economics for the Lower Tertiary."
Foss said that the initial reactions after the 2008-2009 oil price collapse and now the downward-trending, lower, flatter oil price curve would be to immediately right the ship and reset major projects with matching major cost de-escalation curves. But in the longer term, companies will need to resolve the technical, cost, and financing issues affecting these major ultra-deepwater projects and continue forging ahead, albeit in a modified model.
"The reality is that they cannot continue to go forward at the same pace and probably not in the same way as they were," she commented. "Yet, deepwater plays are where the material reserves and production volumes are. That leaves the larger oil companies, especially, with few choices except to continue to push ahead." •