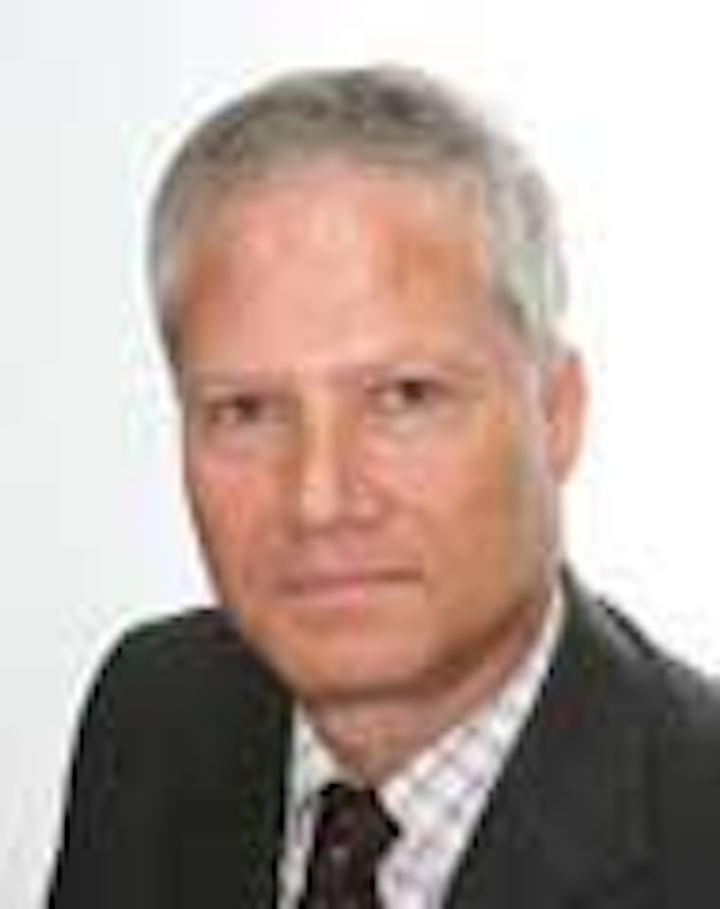 | | | |
| --- | --- | --- |
| | | Jeremy Beckman • London |
Statoil and Husky Energy have started to acquire 3D seismic over their Bay du Nord discovery area in the Flemish Pass basin off Newfoundland & Labrador. This will be followed by a new 18-month deepwater drilling campaign.
Caribbean Sea
BG Group has agreed to take a 30% stake in a 14,356-sq km (5,543-sq mi) exploration block offshore Aruba. The concession is in water depths of 400-1,800 m (1,312-5,905 ft) with identified prospects. 3D seismic will be acquired over the acreage this year.
•••
Offshore Trinidad and Tobago, BG Group and BHP Billiton were the successful bidders for the Deep Atlantic Area blocks 3 and 7, under the 2013 deepwater bid round. Both sets of blocks are off the islands' southeast coast. Initial commitments call for 2D seismic acquisition and geological studies, followed by four wells in later phases. Total investments for the blocks will be around $250 million.
BP has committed to build its fourth platform offshore Trinidad. The Juniper project will harness gas from the Corallita and Lantana fields 50 mi (80 km) off Trinidad's southeast coast, connected via five subsea wells to the normally unmanned platform with production capacity of 590 MMcf/d (17 MMcm/d). From there the gas will head through a new 10-km (6.2-mi) flowline to the Mahogany B hub. BP expects start-up in 2017.
•••
Rosneft and PDVSA will collaborate on two development programs offshore Venezuela in the Rio-Caribe and Mejillones blocks (Phase 2 of the Mariscal Sucre project). Additionally, the companies plan to form a joint venture engaged in drilling, re-completions, and well infrastructure.
•••
Repsol was awarded operatorship of the COL4 license in the Caribbean Sea under Colombia's 2014 licensing round, in partnership with ExxonMobil and Statoil. Initial work commitments include acquiring 2D and 3D seismic.
Brazil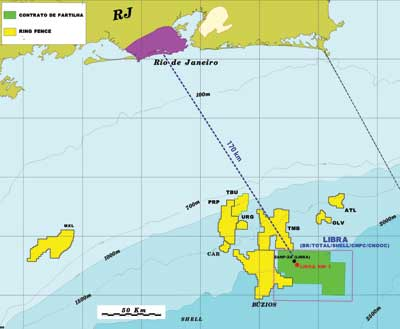 Location of the Libra well in the Santos basin. (Map courtesy Petrobras)
Petrobras has started to drill its first appraisal well in the presalt Santos basin Libra area, 5 km (3.1 mi) southwest of the discovery well and 170 km (105 mi) from Rio de Janeiro state. TheNS-36 rig was due to drill down to a final depth of 5,850 m (19,193 ft). Petrobras has also nominated Odebrecht Oil & Gas as lead commercial bidder for the Libra FPSO, which is due to start operations in early 2017.
In the Santos basin presalt block BM-S24, the company has also confirmed an extension of the Jupiter discovery. The Apollonia well intersected a 285-ft (87-m) oil column, along with gas and condensate.
West Africa
Liberia's government has opened the country's latest bid round covering four undrilled offshore exploration blocks. TGS has acquired 2D seismic over blocks LB-6 and LB-7, and 2D/3D data over blocks LB-16 and LB-17. Bids are due in by Oct. 31, 2014.
•••
Tullow Oil and partner Hyperdynamics could spud the Fatala-1 exploration well offshore Guinea later this year. This follows Tullow's decision to lift Force Majeure on the block in May, which it imposed briefly after a US regulatory investigation of its partner.
•••
Vioco Petroleum, a part-owned subsidiary of Australian company Azonto, has submitted a new development plan for the shallow-water Gazelle gas field in block CI-102 off Côte d'Ivoire. This involves supplying the gas directly to a new power plant that would be built next to the field's onshore processing facilities. The project could start by year-end.
•••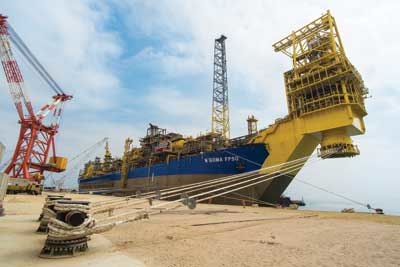 TheN'Goma FPSO at the Paenal yard. (Photo courtesy SBM)
The FPSON'Goma has sailed from the Paenal yard in Port Amboim, Angola to its offshore location in block 15/06, where it will serve Eni's West Hub development. The company hopes to achieve first oil by year-end. The project takes in the Cinguvu, Mpungi, and Sangos fields in water depths of 1,000-1,500 m (3,281-4,921 ft) and involves drilling 21 subsea wells including four alternate water and gas injectors.
•••
Ghana's parliament has ratified a petroleum agreement giving Eco (Atlantic) Oil & Gas a 50.51% operating interest in the Deepwater Cape Three Points West block, adjacent to the producing Jubilee field. Water depths range from 800-2,000 m (2,625-6,562 ft). The agreement could last for 25 years, pending discovery of oil within the first seven years.
•••
Shell has started oil production from the deepwater Bonga North West development. The oil is transported through a new subsea pipeline to the existing Bonga field FPSO, which has been upgraded to handle the extra input. One oil well is online, but eventually Bonga North West will deliver 40,000 boe/d through four oil producers and two water injectors, all connected to the FPSO.
Sirius Petroleum has raised funds through a share placing for a drilling program in Nigeria's offshore OML 95 lease. The company plans three development wells on the Ororo field, which Schlumberger has agreed to drill on a turnkey basis.
•••
Eni has discovered gas and condensate with its presalt Nyonie Deep exploratory well on Gabon's D4 block, 13 km (5 mi) from the coast. The NFW Nyonie Deep 1 well, drilled in 28 m (92 ft) of water, encountered hydrocarbons in the presalt Aptian-age clastic sequence. Eni says the structure, which extends for more than 40 sq km (15 sq mi), covers two blocks and could hold 500 MMboe. It plans a follow-up appraisal campaign.
Harvest Natural Resources has signed a declaration of commerciality for Gabon's Dussafu offshore block, which contains four presalt oil finds. These have been renamed Ruche A, B, C, and D. Harvest and partner Panoro Energy plan subsea wells tied back to an FPSO.
Gabon's government has awarded new offshore licenses. Noble Energy operates block F15 in partnership with Woodside Petroleum: the concession, 140 km (87 mi) offshore southwest Gabon, extends more than 2,700 sq km (1,0142 sq mi) and in water depths from 2,300-3,000 m (7,546-9,842 ft). It includes identified subsalt leads. London-based Impact Oil & Gas has secured offshore blocks B7, D13, and D14.
Displaying 1/2 Page 1,2, Next>
View Article as Single page