Industry responds to BOEM PEIS
The US Bureau of Ocean Energy Management recently completed a draft programmatic environmental impact statement, and its public meetings in the GoM area will begin in New Orleans in April.
Nov 9th, 2016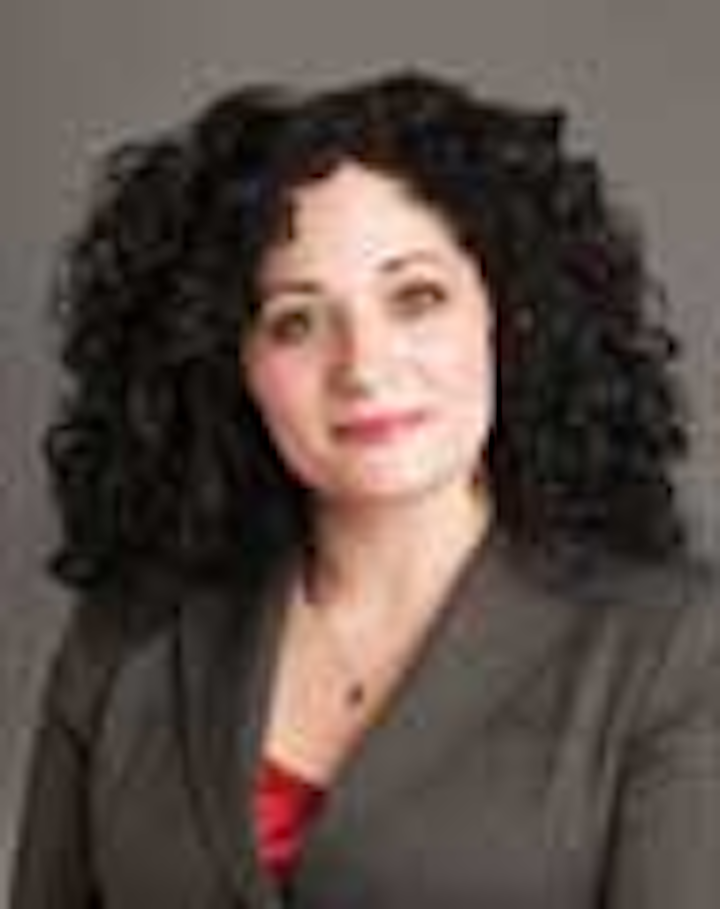 | | | |
| --- | --- | --- |
| | | Sarah Parker Musarra • Houston |
The US Bureau of Ocean Energy Management (BOEM) recently completed a draft programmatic environmental impact statement (PEIS), and its public meetings in the GoM area will begin in New Orleans in April.
The draft PEIS evaluates the potential environmental impacts of G&G survey activities on marine mammals, fish, corals, and other environmentally sensitive species in the seabed and water column of the Gulf's outer continental shelf. The bureau said the aim of the document is to recommend measures to protect marine mammals and coastal environments in the Gulf of Mexico from the potential impacts of geological and geophysical surveys.
Activities assessed in the draft include deep-penetration and high-resolution seismic surveys, electromagnetic surveys, magnetic surveys, gravity surveys, remote-sensing surveys and geological and geochemical sampling.
Among the mitigations the bureau has recommended in its preferred alternative are: requiring protected species observers on each boat, mandatory vessel avoidance of marine mammals and start-up/shut down rules that apply if/when marine mammals are observed in the area.
The International Association of Geophysical Contractors (IAGC) and API were among those industry bodies that commented in response to the draft PEIS. IAGC President Nikki Martin called the document "an important step in the process of ensuring the continued assessment, exploration, and development" in the GoM.
Nonetheless, Martin continued by noting that the association was evaluating the PEIS to ensure that "BOEM's framework for permitting seismic exploration and its suggested mitigation measures are proportionate to the level of risk of potential impacts to marine life, based on sound science, and within existing legal framework...
"The industry has worked in a constructive manner with regulators worldwide as they have developed policy on geophysical operations. IAGC supports science- and risk-based regulations consistent with existing practices that are proven to be effective and operationally feasible.
Martin also emphasized that "subsurface imaging is key to making informed decisions on future leasing and to reducing or eliminating any potential economic, safety and environmental risks."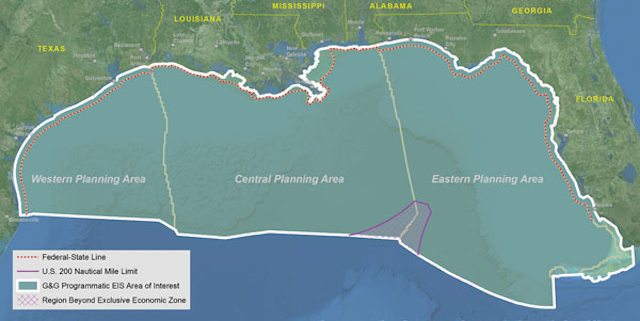 BOEM's Western, Central, and Eastern GoM planning areas as well as adjacent state waters comprised the proposed project area. (Image courtesy BOEM)
Similarly, API Offshore Sr. Policy Advisor Andy Radford highlighted the importance of seismic surveys in the GoM.
"Seismic surveys help make offshore energy development safer and more efficient," Radford said. "They are essential in the US and around the world to locate potential new sources of energy. Advances in seismic imaging technology and data processing over the last decade have dramatically improved the industry's ability to locate oil and natural gas offshore."
Both organizations highlighted their respective commitments to safe operations.
"The geophysical industry has over the past 50 years consistently demonstrated its ability to operate seismic exploration activities in an environmentally responsible manner. Experience shows that seismic activities, tourism, fishing and fisheries can and do coexist successfully around the world and, in particular, in the Gulf of Mexico," Martin said.
"Our industry remains committed to improving the scientific understanding of the impacts of our operations on marine life. Seismic surveying in the Gulf of Mexico is a critical part of safe offshore energy development that is necessary if we are to continue to harness our nation's energy potential for the benefit of American energy consumers," Radford said.
BOEM is the lead agency on this draft PEIS, with the Bureau of Safety and Environmental Enforcement and the National Marine Fisheries Service (NMFS) as cooperating agencies. The PEIS will support both BOEM's G&G permitting and NMFS's Marine Mammal Protection Act decision-making for oil- and gas-related G&G.
The proposed project area evaluated BOEM's Western, Central, and Eastern GoM planning areas as well as adjacent state waters.
Completion of the draft PEIS was a condition of a federal court settlement between BOEM and the National Resource Defense Council and other co-plaintiffs announced earlier this year. The bureau prepared the PEIS pursuant to the National Environmental Policy Act and targets September 2017 for its completion.
Partnership proves fruitful
Searcher Seismic and BGP began acquisition on a new survey just about one week after BGP wrapped up the pair's Buscador near-shore 2D seismic survey.
After completing work for Buscador offshore Mexico, the duo got to work on the 11,000-km (6,835-mi) Hahonua 2D seismic survey offshore Papua New Guinea.
This new acquisition increases Searcher's total seismic data library in the region to more than 70,000 km (43,496 mi). In addition, Searcher and Gardline have initiated the Davaria geochemical survey, a multi-beam and coring survey in the Gulf of Papua. The survey will identify and analyze hydrocarbon seeps.
CNOOC updates on Iceland seismic
Partners China National Offshore Co. (CNOOC), Eykon Energy, and Petoro Iceland recently met as they attempt to move forward with exploration on the Icelandic continental shelf.
There, CNOOC discussed initial results of a 2015 2D seismic survey. All results should be finalized by 2017, as planned. CNOOC said that it would like to continue with 3D seismic at certain locations, to be selected by the end of 2017. Acquisition could then begin immediately afterward.
Assuming positive results from the 3D seismic survey, an initial exploration well would be drilled between 2022 and 2026. Icelandic national energy authority Orkustofnun said that past experience shows that a discovery could take 10 years to enter production. The state is also said to be uncertain whether hydrocarbons were present in Dreki, and if they are commercially viable.
The CNOOC-led consortium was granted a license for the Dreki area, located northeast of the Icelandic coastline, in 2014. Orkustofnun says the area has geological similarities to the western Norwegian continental shelf, the Faroe Islands, and Shetland. Dreki is around 9 million years old with sediments that can reach up to 4 km (2.5 mi) thick. CNOOC Iceland will operate with 60% interest, in partnership with Eykon Energy (15%) and Petoro Iceland (25%).