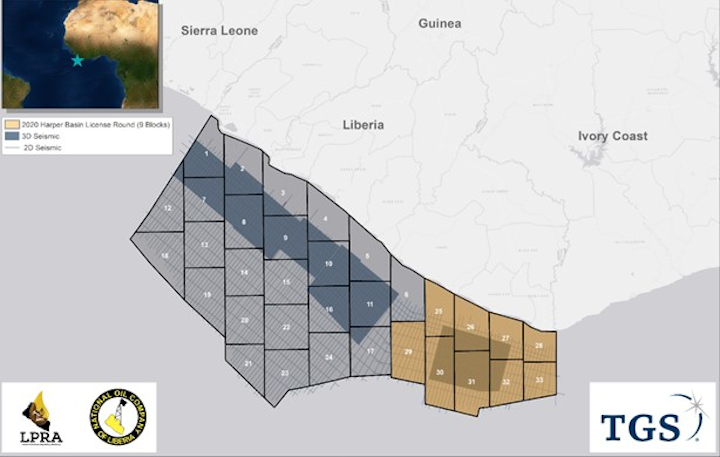 Courtesy TGS
Offshore staff
ASKER, Norway – The Liberia Petroleum Regulatory Authority (LPRA) expects to open the country's next offshore licensing round in April 2020.
According to TGS, which is supporting the round, nine blocks will be offered in the Harper basin, which the company describes as one of the last unexplored and undrilled regions offshore West Africa.
TGS's supporting multi-client data across the acreage includes 5,272 km (3,276 mi) of 2D and 6,276 sq km (2,423 sq mi) of 3D seismic, gravity and magnetic data.
The company has identified syn-rift structural traps over much of the area with multi-level prospectivity and direct analogues to producing fields in neighboring basins.
Modeling predicts the source rock maturity; expulsion post-dates the main tectonism in the basin, while seal presence is evident in West African Transform Margin analogues.
In addition, certain Cretaceous slope and basin floor fan systems demonstrating high amplitude character extend over 300 sq km and could potentially contain fields with over 1 Bbl of oil in place.
"This is a watershed moment for the country and the Authority (LPRA) is excited to reach an agreement with all parties including TGS and NOCAL in promoting Liberia's offshore acreage and attracting the needed investment in Liberia," said an LPRA official.
12/11/2019