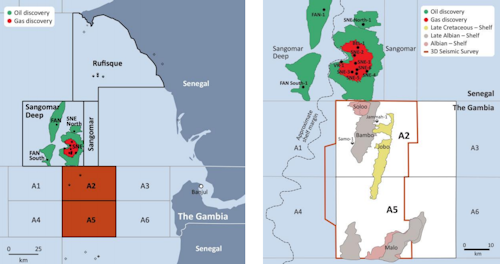 (Courtesy FAR)
Offshore staff
MELBOURNE, Australia – FAR has completed geotechnical studies on its blocks A2 and A5 offshore The Gambia incorporating results from last year's unsuccessful Samo-1 exploration well.
The concessions, spanning a total area of 2,682 sq km (1,035 sq mi) in water depths ranging from 50 to 1,500 m (164 to 4,921 ft), are on trend with the deepwater SNE oil field off Senegal to the north.
FAR operates both licenses with a 50% interest.
The new studies have led to identification of large prospects similar to the shelf edge plays drilled off Senegal, with combined prospective resources across the four main prospects of up to 1.2 Bbbl.
All have access to the same prolific oil-prone system that charged SNE, and FAR has mapped the Soloo prospect as an extension of SNE into Gambian waters. Its two main reservoir targets were both hydrocarbon-bearing in the SNE wells.
A well drilled into Soloo could also serve to investigate the shallower Bambo 454-MMbbl prospect, directly updip and on an oil migration pathway (as learned from Samo-1).
Jobo (280 MMbbl) is at a shallower level to the SNE reservoirs but with a similar trapping style and with access to the same source kitchens.
In addition, FAR has mapped numerous large leads in block A5, the most prominent of which – Malo – extends outside the existing 3D seismic coverage. The partners plan a new 3D seismic survey for delineation purposes and to convert Malo to prospect status.
At the same time, the company has been reprocessing seismic over A2 using the data from Samo-1 and full waveform inversion processing to improve the depth model for Soloo, Bambo, Jobo and other prospects undergoing mapped on the block.
This work will support selection of a drilling candidate for 2020.
10/24/2019