Cuba pushing exploration to deeper water frontier plays
Jul 1st, 2019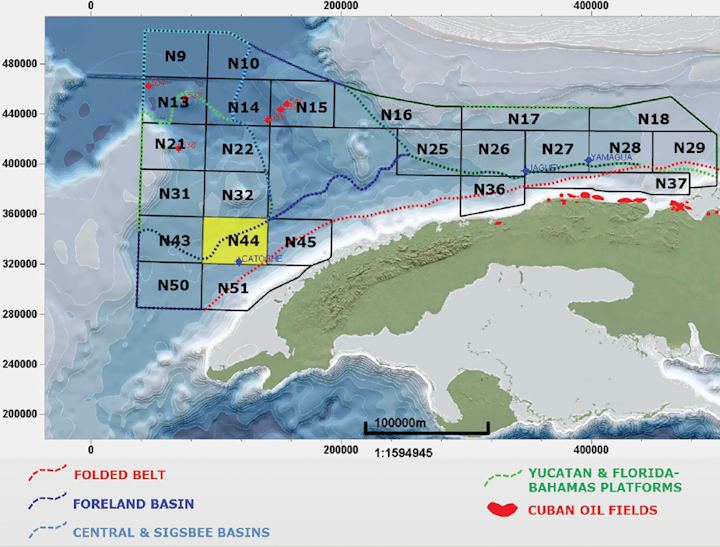 (All images courtesy CUPET)
Cuba is looking to attract new foreign investors to explore and develop its offshore sector. State oil company CUPET launched the country's 1st License Round at a roadshow in London early last month, offering 24 blocks in mid- to deepwater off the north coast in the Cuban Economic Exclusive Zone (EEZ) of the Gulf of Mexico. Much of the acreage is covered by 26,880 km (16,702 mi) of new 2D long-offset, broadband seismic, recently acquired and processed by BGP. This has revealed numerous potentially large prospects, with possible analogies to some of the proven deepwater plays off Mexico and the US presalt to the north.
Until 1959, American oil companies dominated production of the country's hydrocarbons. Cuba's new administration subsequently created scientific institutes to develop the resources, with assistance from organizations in the USSR and Eastern Europe. Exploration gathered pace in the late 1960s onwards, leading to various oil discoveries along the folded and thrusted belt east of Havana on/offshore the northern coast, including the large Boca de Jaruco and Varadero fields. CUPET proceeded to develop the Late Jurassic fractured carbonate reservoirs via vertical and extended-reach wells drilled from shore, and over 10 offshore fields remain in production today. Total output from the western offshore is currently around 60,000 boe/d.
In 1999 the government opened the Cuban EEZ in the GoM for the first time to foreign oil companies, with CGG acquiring 7,000 km (4,349 mi) of 2D seismic data across the opened offshore area the following year. CUPET went on to sign contracts with various European and Asian IOCs such as Repsol and Petronas, and NOCs including PDVSA and Sonangol. Exploratory drilling started in 2004, the last major phase being in 2012, when three wells were drilled in waters beyond the proven fields. None found commercial hydrocarbons but some had oil shows, which biomarker analysis indicated had originated in Late Jurassic pelagic carbonates that are also prevalent in the folded belt.
As a result of these findings, CUPET's focus switched to proving an extension of these source rocks farther offshore. BGP's 2017 2D multi-client survey provided new information on basement depth and sedimentary thickness in this area and led to a re-definition of the presumed play types in the folded belt. In addition, it helped confirm the existence of potential plays in the Central, Foreland and Sigsbee basins, the Florida-Bahamas shelf, and the Yucatan shelf.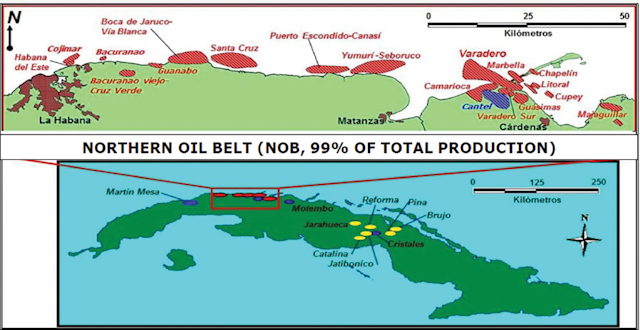 Northern Oil belt, discoveries offshore/onshore northern Cuba.
Emerging laws, investor protection
CUPET was formed in 1992 as an integrated oil and gas company after the government decided to merge the country's upstream and downstream organizations. "We have a mandate from the government to perform activities in the Cuban EEZ, and to join with foreign companies for this purpose," said Deputy General Director Roberto Suárez Sotolingo at the London event. The company operates across the entire value chain, he added, from upstream oil and gas E&P to midstream and downstream operations, including refining and production of lubricants via its subsidiary CUBALUB.
Although Cuba currently has no established Petroleum Law, a draft has been submitted for approval by the National Assembly, and a new constitution approved last February will develop legislation to regulate hydrocarbon activities.
Contractual stability is guaranteed for foreign investors, Sotolingo stressed. When the new Foreign Investment Law was approved in 2014, the stipulated tax on profits was higher than before. But even if changes are made at a future point, terms agreed with foreign investors for the signing of contracts will remain in place.
Since Cuba opened exploration to outsiders, CUPET has signed 47 production-sharing contracts of which 12 remain active today. The company has also formed five joint ventures with foreign partners: four are still operating and in two cases, the validity has been extended by a further 10 years. "Technology transfer is a priority to help develop Cuba's resources in order to increase oil and gas production," Sotolingo said, adding that CUPET is open to bringing in IOCs with IOR experience to improve oil and gas recovery from producing fields.
The 24 blocks offered under the 1st Licensing Round extend across a total area of 45,510 sq km (17,571 sq mi) in water depths ranging from 500-3,000 m (1,640-9,842 ft), and are covered by 440 lines of modern high-resolution 2D seismic. CUPET's initial mapping of identified leads and structures, in co-operation with BGP, and information from previous wells in the area, has led to mapping of 45 leads with potential oil resources of 6.3 Bbbl.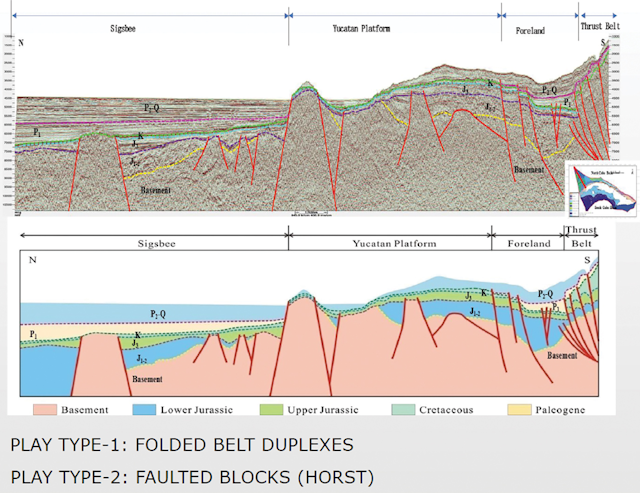 Play types from new BGP-acquired seismic data.
Cuba's environmental regulations for offshore activity are based on international practice and standards, experience from the Cabo de San Antonio, Catoche, Jaguey, and Yamagua wells drilled in 2014-12, and maritime traffic in the area. The country's environmental agency ORASEN exchanges practice with the BSEE and has developed operating procedures with its counterparts in Mexico and the US for activities conducted in overlapping waters in this part of the Gulf of Mexico. "Over 100 MMbbl goes back and forth in this area each day in the form of heavy transportation traffic," Sotolingo explained, "so the environmental law is not just for offshore E&P. ORASEN also has a national oil spill contingency plan and collaborates with drilling contractors and operators on submission of a Safety Case. Both need to be approved by the regulatory authority in order to operate."
He emphasized that the new initiatives to promote investment in Cuba's oil and gas sector have the government's full support, and no laws are planned to change what has already been approved. The country offers a proven petroleum system and a stable fiscal regime, he added, and investors can draw on a skilled engineering workforce in each of the provinces.
Drilling advances
According to Osvaldo López Corzo, Exploration Manager at CUPET, Cuba's oil production to date has mostly come from volcanic sequences (ophiolites). In 1978 the exploration focus switched to fractured carbonates; then in the mid-1990s, when knowledge of the geological model had improved, CUPET started horizontal drilling into the offshore fields in the folded belt. This delivered spectacular results, in certain cases increasing production by 8-12 times compared with the previous vertical wells. From that point, all new wells were drilled horizontally – the most recent have been 6,000 m (19,685 ft) or more, with the distances growing as the company gains experience.
The northern oil belt fields are in 500-1,000 m (1,640-3,281 ft) of water, and extended reach drilling from shore into these depths is probably unparalleled anywhere in the world. But accessing the more complex oil compartments is proving to be technically challenging and more costly, Corzo lamented. "Fifteen years ago we were completing 10-12 wells a year, now four to five wells only, and that impacts national production." Drilling can be complex due to the presence of reactive clays, Sotolingo explained: "We have developed knowledge of the formations and the technologies required – for these clays, we have to use oil-based muds. But the geology is so complicated – in some areas you can come across a completely different stratigraphy to what you were drilling before."
One problem had been a reliance on old seismic and processing technologies, although in recent years the acquisition of modern 3D data has helped improve the subsurface picture, allowing production to be stabilized via better well placement. Nevertheless, annual output from the northern fields continues to fall by 5-6%, and stopping the decline is a short-term priority. CUPET is open to bringing in other companies with experience of, for instance, more advanced drilling technologies to help speed up drilling of new wells. "We also want to increase recovery rates from the existing reservoirs," Sotolingo said, adding that the company had been investigating forming joint ventures to test alternative EOR techniques such as steam injection.
"Many people think that the traps offshore Cuba are saturated by heavy oil," said Corzo, "but 15 years ago there was a mid-gravity oil discovery, which produced more than 500,000 bbl over 18 months, controlled with a choke. In the northern belt the oil is heavy not due to biogenics, but because of the maturity. The recovery rate is only 5-7%, and the challenge is to increase that factor."
The main target of all the foreign companies drilling offshore wells during 2004-2012, he continued, had been to prove analogies from the Cantarell field on the Mexican side into the top of the Cretaceous, and all the wells penetrated deeper carbonates. The correlation of the oil shows with the oils in the folded belt to the south, suggesting origins from source rocks in the Jurassic, led to the focus of BGP's planned 2D survey on deeper Jurassic targets. The subsequent interpretation of the pre-stack time migrated and depth data also indicates correlation with source rocks on the US side, Corzo said.
Shi Kutai, Chief Geologist at BGP, added in his presentation that there appears to be a similar geology in parts of the Cuban offshore to the Zama oil discovery in Tithonian source rocks, which have generated billions of oil in Mexico's Sureste basin. He concluded that the Jurassic deepwater potential in the Cuban EEZ had yet to be proven by the drillbit, with only four deepwater wells drilled to date. However, the new 2D data had identified huge leads across four main play types, and the industry should therefore consider investigating multiple geological sequences.
CUPET will stage further international road shows to promote the licensing round, culminating in a final presentation at the 3rd Cuba Energy Oil and Gas Conference in Havana on Nov. 26, 2019. Interested applicants must qualify with the National Office of Mineral Resources (ONRM) prior to submitting their formal offer. The main features of the contract model are typical production-sharing agreements, with the contractor assuming all risks, costs and responsibilities for exploration activities. No taxes will be levied during the exploration phase, which carries two initial terms of three years each. All participants must pay an Eur15,000 fee ($17,006) to access all technical information for the 24 offshore blocks, and deal directly with BGP for the 2D data. License awards should follow on July 1, 2020, three days after the opening of proposals. •