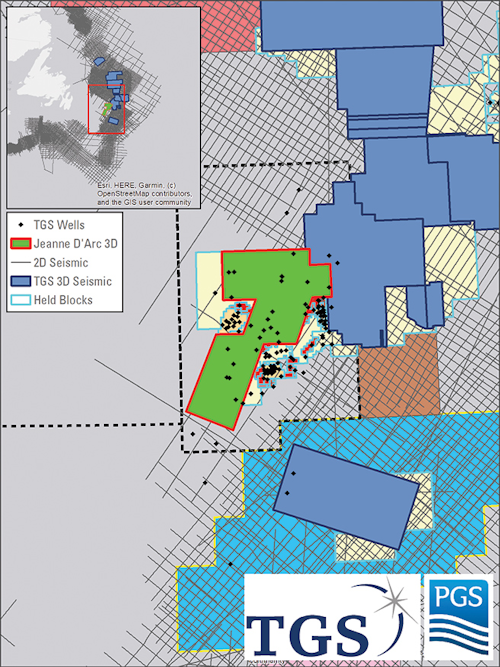 3D multi-client survey under way over the Jeanne d'Arc basin
TGS and PGS have committed to the Jeanne d'Arc High Density 3D (HD3D) multi-client survey offshore Newfoundland. The program, which PGS' Ramform Atlas has started, will cover around 5,000 sq km (1,930 sq mi) over multiple exploration licenses, significant discovery licenses, and parts of the open acreage included to be included in the November 2019 bid round.
PGS will deploy its high-resolution Geostreamer technology. Acquisition is expected to finish in late summer.
Kristian Johansen, CEO of TGS, said: "This survey will provide our clients with the first comprehensive, high-resolution 3D dataset within the mature Jeanne d'Arc basin. This highly productive and prospective area has long been a priority to our customers…"
The HD3D survey will be close to producing offshore fields such as Hibernia, Terra Nova, White Rose, North Amethyst, and Hebron.
Following this ninth consecutive season of data acquisition offshore eastern Canada, the jointly-owned TGS/PGS library will have more than 189,000 km (117,439 mi) of 2D GeoStreamer data and about 56,000 sq km (21,622 sq mi) of 3D GeoStreamer data.
In addition, PGS has started acquiring a 9,500-sq km (3,668-sq mi) 3D GeoStreamer survey over frontier acreage in the Norwegian Sea within the Trøndelag Platform and Helgeland basin. The contractor is using a triple source to maximize data density. It expects to deliver final pre-stack depth migration results in July 2020, adding that the dataset could be used as a baseline survey for future 4D studies.
Applying GeoStreamer technology to the Trøndelag Platform should assist seismic velocity estimation and imaging of the Jurassic targets, PGS said, also providing new information on the presalt potential in the Permian. Integrated Wavefield imaging of the GeoStreamer data should allow detailed prospect evaluation and exploration for new plays.
CGG, Shearwater enter vessel, technology partnership
CGG and Shearwater GeoServices Holding have agreed to form a strategic partnership for marine seismic acquisition services and to create a new streamer technology company. They have signed a binding term-sheet under which Shearwater will purchase five high-end streamer vessels jointly owned by CGG Marine Resources Norge and Eidesvik Offshore ASA.
The agreement carries mutual commitments of securing CGG access to strategic vessel capacity for future multi-client projects and to provide Shearwater with cash flow and activity for several years.
As for the technology partnership, this will be under the Sercel brand name and CGG's majority ownership, covering development, manufacturing, commercialization and support of marine streamer seismic acquisition systems.
CGG will continue to operate the vessels and perform ongoing acquisition contracts and customer commitments until deal closure.
Sophie Zurquiyah, CEO of CGG, said the arrangement would "create the leader in marine streamer equipment under the Sercel brand with the combination of our proprietary technologies," adding that "Shearwater's modern fleet, global scale and efficient acquisition operations will also support CGG's multi-client projects and provide more flexibility to execute our long-term asset-light multi-client strategy."
Irene Waage Basili, Shearwater's CEO, said the arrangement would "enable us to bring our streamer technologies to the market faster, better and more cost efficiently."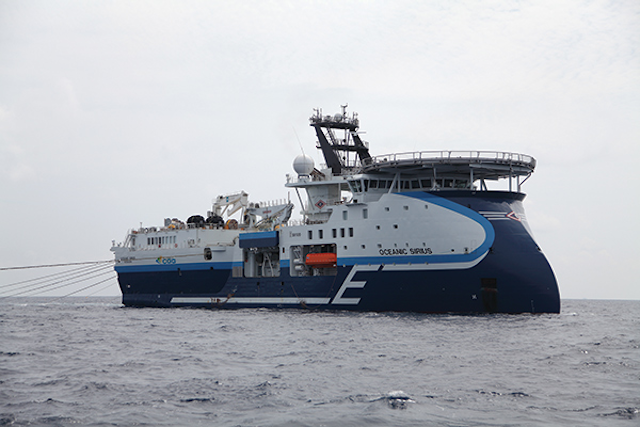 The Oceanic Sirius is one of five high-end streamer vessels that Shearwater GeoServices will purchase under the binding term-sheet. (Courtesy CGG)
Shearwater operates a global fleet of 16 'high-end' 3D vessels. Following completion of the transaction this will grow to 23 vessels, including three ocean bottom seismic multi-purpose vessels and two dedicated source vessels. The company will also take over five complete streamer sets owned by CGG.
Both companies were expected to execute final transaction agreements before the end of June followed by closure before year-end.
In addition, ADNOC has contracted Subsurface Imaging, part of CGG's Geoscience division, to perform time and depth imaging of large volumes of data from what may be the world's largest ocean bottom node (OBN) seismic survey to date.
The contract started in May and could run for up to seven years. CGG is due to process a minimum 20,000 sq km (7,722 sq mi) of high-density wide-azimuth OBN data at its Abu Dhabi geoscience center. •