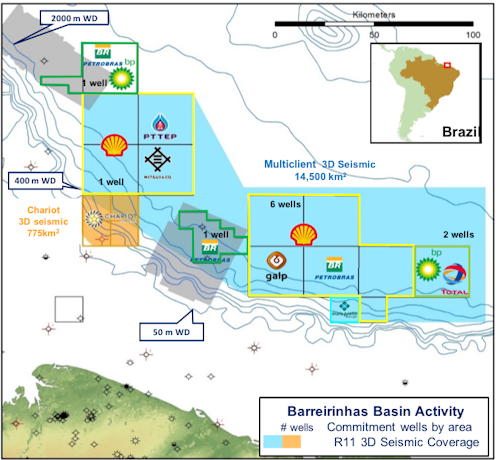 Chariot Oil & Gas
Offshore staff
LONDON – Chariot Oil & Gas has issued updates on studies of its various offshore licenses.
The company operates four shallow-water blocks in the Barreirinhas basin off Brazil.
Here an integrated seismic interpretation and a competent persons report have identified a large four-way dip-closed structure and a total of seven reservoir targets, with individual potential resources of up to 366 MMbbl.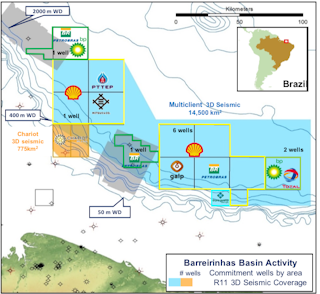 Exploration activity in the Barreirinhas basin offshore Brazil.Chariot Oil & Gas
Chariot believes a single vertical well on Prospect 1 could penetrate the TP-1, TP-3 and KP-3 stacked targets, with combined prospective resources of 911 MMbbl.
As for the Mohammedia and Kenitra licenses offshore Morocco, geochemical analysis indicates a hydrocarbon charge from Cretaceous or younger source rock.
In addition, good-quality upper Jurassic sandstone reservoirs and effective seal identified in the Rabat Deep 1 well have de-risked various clastic prospects and leads.
Chariot has identified two priority targets, with potential reserves in the MOH-B prospect estimated at 637 MMbbl, and at KEN-A, 445 MMbbl.
07/09/2019
Geochemical analysis indicates a hydrocarbon charge from Cretaceous or younger source in the Mohammedia and Kenitra licenses offshore Morocco.Chariot Oil & Gas