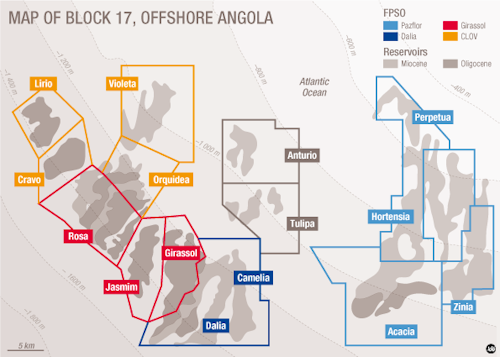 Offshore staff
PARIS – Total and its partners have committed to the Zinia 2 development in deepwater block 17, 150 km (93 mi) offshore Angola.
This will have a production capacity of 40,000 b/d, via nine wells in water depths of 600-1,200 m (1,968-3,937 ft) tied back to the Pazflor FPSO. Estimated cost of the development is $1.2 billion.
Further short-cycle tiebacks could follow of other reservoirs to the various block 17 floaters, Total added, helped by the favorable fiscal framework introduced by the Angolan authorities for satellite developments.
To date the block's four field centers have produced more than 2.6 Bbbl.
Arnaud Breuillac, president of Total Exploration & Production said the Zinia project "is also a good example of capex discipline and cost optimization: the work carried out to simplify the design while capturing deflation allowed the partners to cut the development costs by more than a half."
Partners are Equinor (23.33%), Exxon Mobil (20%), and BP (16.67%), while Sonangol is concessionaire.
João Lourenço, the president of the Republic of Angola, Patrick Pouyanné, chairman and CEO of Total, and Carlos Saturnino, chairman of Sonangol, have also signed a risk service agreement for the ultra-deepwater block 48 exploration license, which Total will operate, under a 50/50 partnership with Sonangol.
The first, two-year phase commitments include drilling a well.
Pouyanné added that his company expected to produce first oil this summer from the deepwaterKaombo project in offshore block 32.
The development is designed to extract 650 MMbbl via two converted FPSOs with a total production capacity of 230,000 b/d. Kaombo Norte will be the first to come onstream.
05/29/2018