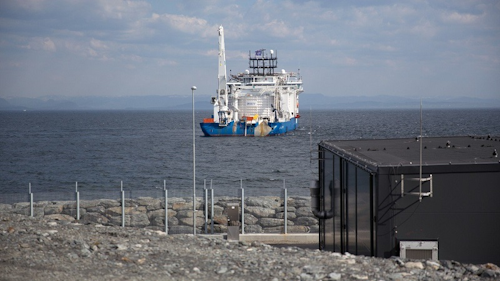 Offshore staff
STAVANGER, Norway – The NKT Victoria has started laying the subsea power cables that will bring electricity from the Norwegian mainland to the Johan Sverdrup field complex in the North Sea.
The starting point was the Johan Sverdrup converter station at Haugsneset near Kårstø. By the end of May, the vessel should have laid nearly 200 km (124 mi) of power cables, according toSverdrup operator Statoil.
A fiber-optic cable bundled with the power cables will provide communication and monitoring and, when needed, remote control of parts of the field's operations from shore.
Statoil claims the arrangement will make this one of the world's most carbon-efficient oil and gas fields in the world, with power from shore cutting the field's carbon dioxide (CO2) emissions by more than 400,000 metric tons/yr (440,924 tons).
Sverdrup's emissions, at around 0.5 kg of CO2/bbl, should also be 20 times lower than the average on the Norwegian continental shelf, and 30 times lower than the international average, the company added.
To help the cause further, theNKT Victoria was designed to be supplied with power from shore while in harbor, while the mobile accommodation vesselHaven, in use at the field from June onwards, has been modified to use power from shore while in service.
Based on current plans, the field will be powered from shore this autumn, covering all needs during the remaining hook-up and finalization phase.
After the cables reach the field center at the end of May, the next step will be to pull them into the riser platform where the converter station for the first-phase development is situated. The cables will then be connected, before preparations and testing of the system start.
After the start-up of thesecond phase of the development in 2022, a network will be in place extending power from shore to the other producing fields on the Utsira High, Edvard Grieg, Gina Krog, and Ivar Aasen.
Statoil expects to receive approval to change its trading name toEquinor later this week.
05/14/2018