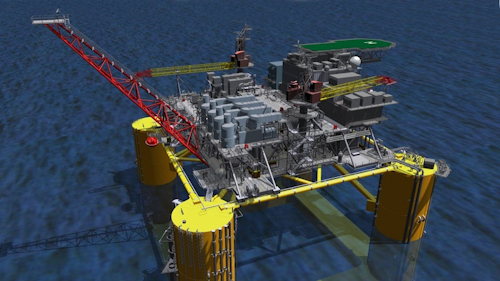 Offshore staff
HOUSTON– Shell Offshore Inc. has taken the final investment decision for Vito, a deepwater development in the US Gulf of Mexico.
This decision sets in motion the construction and fabrication of a new, simplified host design and subsea infrastructure. A forward-looking, breakeven price is estimated to be less than $35/bbl.
Located over four blocks in the Mississippi Canyon area, the Vito development will consist of asemisubmersible host facility and eight subsea wells with deep (18,000 ft) in-well gas lift. First oil is scheduled for 2021.
Vito is expected to reach peak production of about 100,000 boe/d. Estimated recoverable resources are 300 MMboe.
The Vito development is owned by Shell Offshore Inc. (63.11% operator) and Statoil USA E&P Inc. (36.89%); the field is located beneath more than 4,000 ft (1,219 m) of water, about 150 mi (241 km) southeast of New Orleans.
In 2015, Shell began to redesign the Vito project, reducing cost estimates by more than 70% from the original concept. The cost savings, the company said, are due to the simplified design, in addition to working collaboratively with vendors in a variety of areas including well design and completions, subsea, contracting, andtopsides design.
"With a lower-cost developmental approach, the Vito project is a very competitive and attractive opportunity industry-wide," said Andy Brown, Shell Upstream Director. "Our ability to advance this world-class resource is a testament to the skill and ingenuity of our development, engineering and drilling teams."
04/24/2018