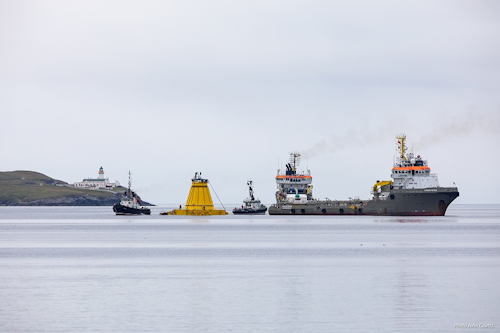 Offshore staff
LERWICK, UK – The turret buoy mooring system for the FPSO for Hurricane Energy's Lancaster development west of Shetland has sailed into Lerwick Harbour.
It was delivered from Dubai on board theJumbo Kinetic which berthed at Mair's Pier East in mid-June to lift the system from its deck into the water.
The Port Authority vessels,Kebister and Knab then towed the floating buoy to a holding location at Mair's Pier South.
The buoy, built byDrydocks World, is more than 20 m (65 ft) in diameter and height, and weighs around 1,200 metric tons (1,323 tons).
Early this month the harbor vessels moved the buoy to the Shetland port's Brei Wick area where anchor handling vessels picked up the tow, prior to taking it to the Lancaster field, 150 km (93 mi) west of Lerwick.
The buoy, which will be anchored to the seabed, will form part of theLancaster field's early production system turret mooring system around which the FPSO Aoka Mizu will weather-vane.
Currently the vessel is undergoing upgrade work in Dubai. First oil is due to flow during the first half of next year.
07/09/2018