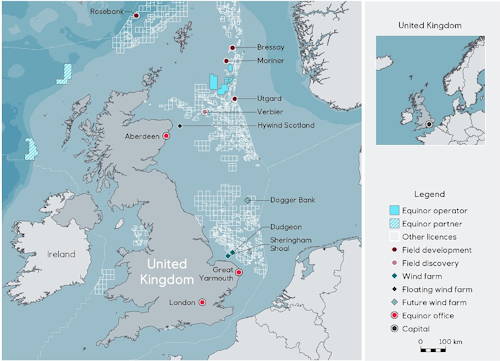 Offshore staff
STAVANGER, Norway – Chevron has agreed to sell its 40% operated interest in the deepwater Rosebank projectwest of Shetland to Equinor, for an undisclosed price.
Rosebank, discovered in 2004 around 130 km (80.1 mi) northwest of Shetland in water depths of around 1,110 m (3,609 ft), is one of the largest undeveloped oil fields on the UK continental shelf. The other partners are Suncor Energy (40%) and Siccar Point Energy (20%).
Al Cook, Equinor's executive vice president for global strategy & business development and UK country manager, said: "We have a proven track record of high value field developments across the North Sea and will now be able to deploy this experience on a new project in the UK.
"Today's agreement allows us to buy back into an asset in which we previously had a participating interest, demonstrating our strategy of creating value through oil price cycles."
Hedda Felin, the company's senior vice president for UK & Ireland offshore, added: "With Rosebank, a standalone development in the underexplored west of Shetland region, we strengthen our upstream portfolio, which also includes Mariner, one of the largest investments on the UKCS in over a decade.
"As we have done with other projects in our portfolio, such asJohan Castberg and Bay du Nord, we intend to leverage our experience and competence to create further value in Rosebank, in alignment with the UK government's priority of maximizing the economic recovery of the UKCS."
Kevin Swann of Wood Mackenzie's Europe upstream research team said: "Those with long memories will recall Statoil, as Equinor was then, sold its original interest in Rosebank to OMV in 2013 at a commanding price. With this deal, Equinor is returning at a good time in the industry cycle.
"We believe this deal is good for the project, the other partners in the project, and the UK upstream sector. Equinor can come in and move this project forward."
He added: "Rosebank has been an on-off affair for Chevron since it was discovered in 2004. Selling its stake to Equinor could spell the end for Chevron in the UK and Europe. It has already moved on from Norway and Denmark and is looking to offload its UK North Sea assets.
"If all the sales go through, it would leave Clair [west of Shetland] as its only UK asset – the 19.42% stake is valuable but may not be enough for Chevron to retain a UK presence."
Swann said the problem for Rosebank had been high development costs (prior to the 2014 downturn), not helped by the fact that field is in the deepest water of any UK discovery and in an area of rough conditions.
"However, we believe Equinor sees an opportunity to re-scope the project and reduce costs," he added. "It has done similar work on Norway's Johan Castberg.
"Until now, Equinor's only significant development project remaining in the UK was Mariner, a heavy oil field, holding 322 MMboe, that is due to start production by the end of the year.
"Equinor also has some interesting recent discoveries and exploration prospects to go after but, to remain committed to the UK, always needed more of a foothold. This deal cements its commitment to the UK upstream sector."
10/01/2018