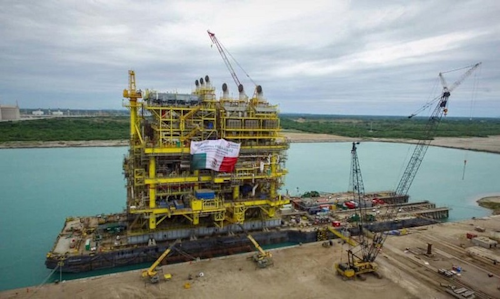 Offshore staff
ALTAMIRA, Tamaulipas – The largest offshore oil platform to be built in Mexico in 10 years left the port of Altamira, Tamaulipas, yesterday bound for Campeche Bay, according to Mexico News Daily.
The $454-million shallow-water platform, called PB-ABKATUN-A2, was built entirely in Tamaulipas by McDermott for the state oil company Pemex.
At a ceremony to see off the new platform, Tamaulipas Governor Francisco García Cabeza de Vaca said the state was the biggest beneficiary of the energy reforms introduced by the federal government. "We have the largest gas and oil deposits, the largest shallow-water, deep-water and ultra-deep-water deposits in the Gulf of Mexico and these kinds of projects will continue to take place in Tamaulipas," he was quoted to say.
García explained that 40% of a forecast US $2-billion investment in new energy projects will go to the northern border state.
Tamaulipas' leadership in the petroleum sector, its proximity to the United States oil market, the availability of already-trained specialized labor and growing infrastructure all make the state an attractive place to invest, he said.
11/05/2018