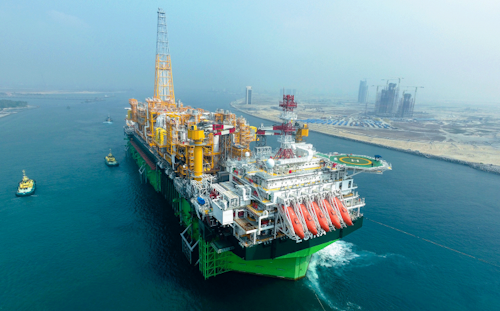 Offshore staff
OSLO, Norway– Samsung Heavy Industries (SHI) has contracted Aqualis Offshore to provide position keeping services for the installation of the Egina FPSO offshore Nigeria.
The newbuild FPSO was towed from the SHI shipyard in Geoje, South Korea and arrived in Nigeria in late January for final integration of topside modules built in Lagos.
Once the FPSO is at the Egina field, Aqualis Offshore will manage the position keeping procedure and provide position keeping masters offshore while it is being connected to the pre-installed mooring spread. In total, the FPSO will be spread moored on 16 mooring lines (4x4).
Total is the operator of theEgina field, which is located some 130 km (81 mi) offshore Nigeria in water depths of more than 1,500 m (4,921 ft).
The FPSOEgina is 330 m (1,083 ft) in length, 61 m (200 ft) across, and 34 m (112 ft) high, with a storage capacity of 2.3 MMbbl of oil and topsides weighing 60,000 tons.
08/08/2018